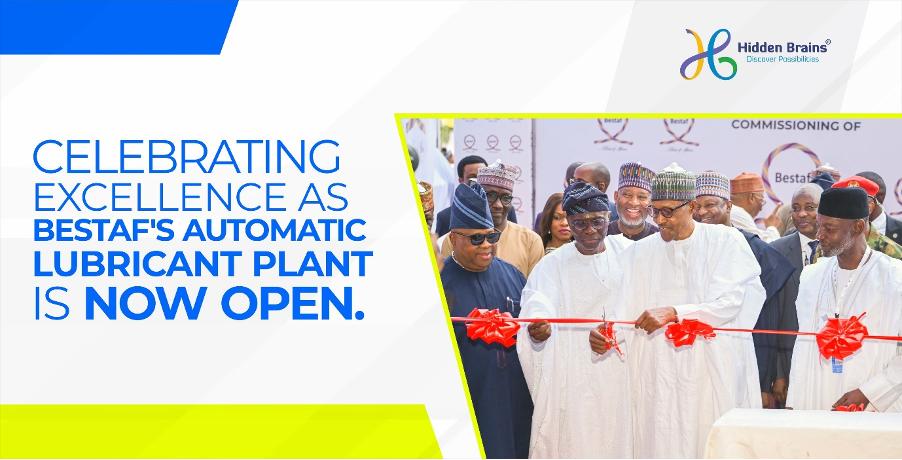 As a company dedicated to our client's success and achievements, yesterday was a reminder and reaffirmation of our goals and mission.
On Monday, 23rd January 2023, the President of the Federal Republic of Nigeria, His Excellency, President Muhammad Buhari (GCFR) inaugurated the Bestaf Lubricant Plant. Also in attendance were the Executive Governor of Lagos State, His Excellency, Babajide Sanwo-Olu, and other dignitaries.
This lubricant plant is the first of its kind in Africa as it is fully automated.
On this note, we congratulate the entire Bestaf Group of companies on this feat.
We celebrate this milestone because Hidden Brains Africa has been the exclusive IT and technology partner of the Bestaf and MRS Group of Companies for over 5 years. This is further proof that Hidden Brains has the strength and resources to transform African businesses with the aid of technology.
Bestaf Group of Companies is a conglomerate that has its hands in almost every sector of the African economy. From oil and gas to construction, Fintech, and many more, the company deploys targeted solutions to solve pressing problems for companies and their end-users. Therefore, we regard working with them in making history as another trophy on our shelf.
In the time we have been working with the conglomerate, they have adopted some of our solutions and systems in driving their efficiency. You too can optimise those solutions within your company. They include;
Solutions and Approached Used for Bestaf's Automatic Lubricant Plant
1. Downstream ERP Solution:
Our ERP solution can digitalize the all operations of any downstream big or medium size company. Be it terminal, Throughput or retail operations, be it sales portal for customers or vendor portal for your suppliers, be it retail operations, aviation operations or C&I operations, our solution covers all aspects and provide a single system to manage all processes of the organisation. Not only that, our ERP solution also covers the operations for Logistics, HR or finance or maintenance departments.
2. The Warehouse and Inventory Solution:
Our comprehensive and automated warehouse solutions help you manage distribution and storage activities from a central location. You can automate several warehouse, inventory, and other supply chain activities to reduce operational costs, human error, downtime, and delays, and gain access to real-time information on your warehouses regardless of their location. These solutions can be seamlessly integrated with other enterprise solutions in your company regardless of the ERP.
3. Intelligent Procurement Solution:
You can streamline your purchasing and reporting with our procurement solutions. They give you deeper insights and total control over your vendor-/supplier-related spend. They also help enhance efficiency and give you a systematic approach to your spend management. These solutions are entirely digitised and reduce direct and indirect costs by simplifying your procurement processes.
4. The Human Resources Management Solution (HRMS):
The HR department of your organisation is not immune to digital transformation. Like Bestaf, you can adopt our HRMS to help the unit manage HR operations intelligently. With features like shift management, payslip generation, employee self-service portal, and others, your HR team can focus on the wellbeing and satisfaction of your people.
This solution enhances productivity, gives a holistic view of your organisational strength, reduces human errors, and eliminates manual, redundant operations.
5. Finance and Accounting Solution (FinAct):
Our FinAct solution combines the reliability of desktop accounting software with the flexibility and security of the cloud. With this solution, you get a complete view of your organisation's cash flow and financial performance. Consequently, it enhances your accounting accuracy, gives you clear insights, enables you to track your financial progress, and makes it easy for your accounts to comply with government policies.
With these solutions and more, Bestaf has been able to scale its operations and increase operational efficiency across its subsidiaries.
Hidden Brains Africa is ready to tackle those challenges within your company. We will fill the gaps created by a system without the sophistication of IT solutions. Whether you are a conglomerate like Bestaf Group of Companies or a medium-sized enterprise, our solutions and services are at your behest.
Are you ready to transform your business and scale operations with technology?
Hidden Brains is the right IT partner for you.
Send us an email at [email protected] or visit www.hidddenbrains.africa to get started.
Explore Details of Bestaf's Automatic Lubricant Plant.