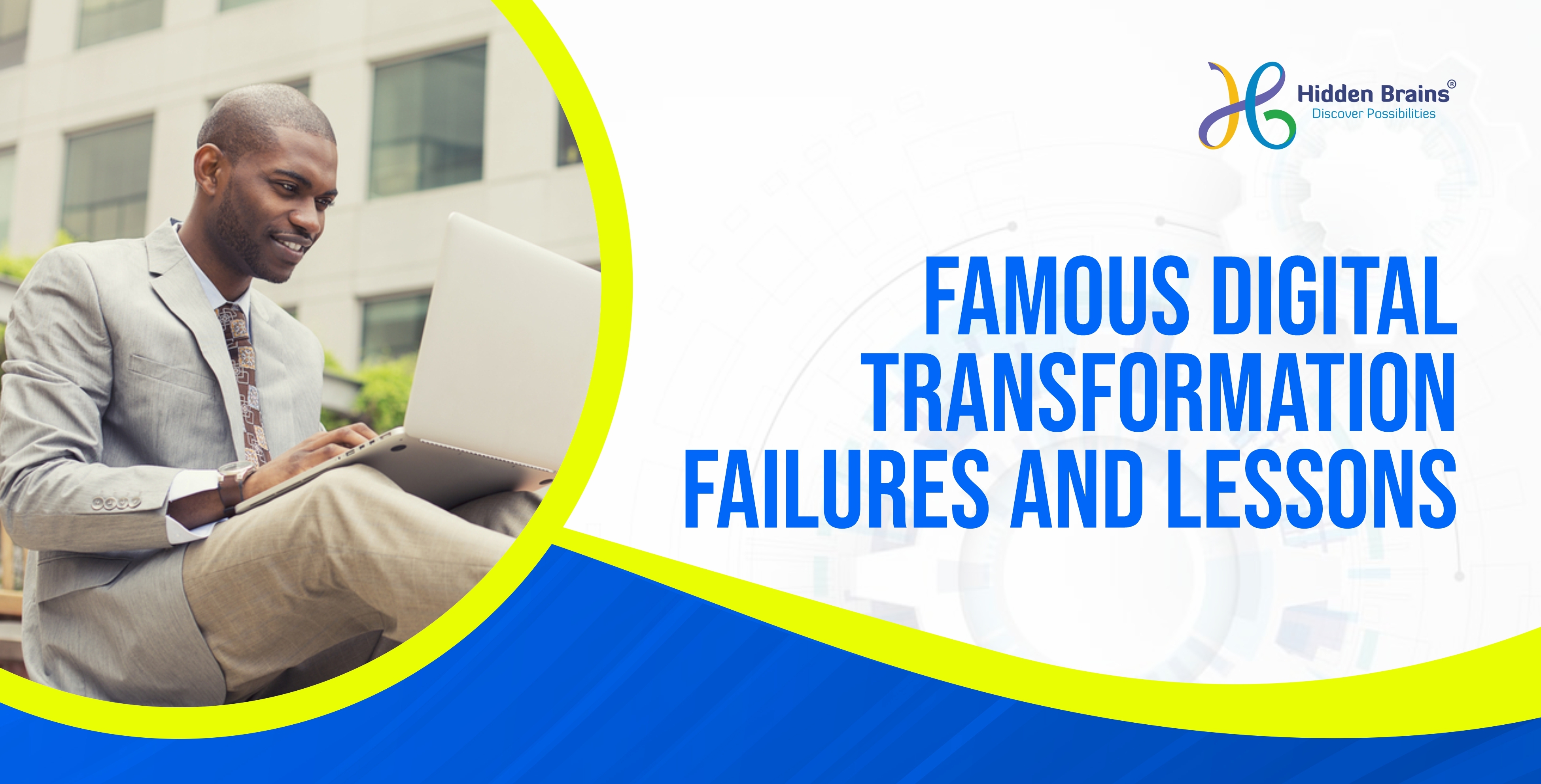 What have you heard about digital transformation? That it is the next big step for your company? That it holds the key to greater productivity and scalability? That it is the surest way to keep in tune with evolving civilisation and industrial transformation? If yes, then you heard right.
But there's a catch, the part that is not nearly spoken about enough.
Digital transformation is highly cost intensive, and just as significantly as it can multiply your success, a failure can be fatal for your business. Because of the large scale at which the intervention is usually carried out, there is little room for mistakes.
This article will examine a few famous digital transformation failures of all time.
They mainly involve world-renowned companies, meaning you will likely be able to relate to their stories. But more than just talking about their failures, we will discuss lessons that can be gleaned from them.
Hewlett-Packard (HP)
In 2004, multinational information technology company Hewlett-Packard embarked on a project to integrate their disparate Enterprise Resource Planning (ERP) systems across their North American division. In other words, they sought to merge their systems into a single, unified platform. The intervention aimed to expedite order processing and improve their supply chain management.
The company had completed projects of this nature 34 times with resounding successes in the past, but the 35th turned out to be a huge flop. Why?
As admitted by representatives of Hewlett-Packard, wrong decisions taken during the system integration project played a huge role in the failure. For instance, whereas ERP typically should involve every stakeholder in the company for successful implementation, this was not the case with HP. Each of the sectors within HP's North American division had its own central ERP system, and because there was little to no collaboration within these departments at the point of system integration, employees had a hard time acclimatising to the new work realities.
Also, transitioning from their legacy systems to the new SAP platform was not fluid, resulting in a massive loss of customer orders, prolonged wait times, and customer dissatisfaction. By the fourth quarter, the company already had a backlog of orders worth $120 million. But this was not before they had lost 5% of their revenue from their Enterprise Servers and Storage segment, amounting to about $400 million loss. They also lost $275 million in operating profit.
British Broadcast Corporation (BBC)
Like every forward-thinking company, the British Broadcast Corporation took steps to embrace digital innovation. In 2008, they took on the Digital Media Initiative (DMI), a project geared towards bringing their operations up to date on modern technology and practices. It also sought to revolutionise content distribution to its audience and data management while saving costs. It was an important channel through which the many compelling on-demand services they had promised their audience could be fulfilled.
It was an impressive ambition that, unfortunately, was doomed to fail. Why?
It would appear that they had the wrong tech team on their side. BBC selected German technology giant Siemens to help execute their project, one of whose important milestones was the overhaul of BBC's data management system. Owing to Siemens' inability to deliver the required technology and the numerous delays on the part of this company, BBC brought the project back in-house. However, BBC did not have the technical expertise required for projects of that scale.
A report from a review conducted by business consultancy firm PricewaterhouseCoopers (PwC) revealed a host of issues, including poor project management and a lack of governing body's competency in managing the project's complexity as contributing factors to the epic flop. According to PwC, the project lacked an Executive Steering Committee (ESC) to monitor it for compliance with agreed metrics such as quality, cost, and time.
Furthermore, the company's business operations did not receive as much priority as technology advancement. This meant a lack of alignment between the company culture and the digital transformation initiative.
The Chief Technology Officer, John Linwood, was initially suspended for the project's failure, and ultimately, he lost his job the following year. But the damage had been irrevocably done. In 2013, five years after the initial launch of the DMI project, the British Broadcast Corporation had to shut it down. The company had to write off acquired but unusable tech assets worth £98.3 million.
Nike
In 2001, sportswear giant Nike, seeking to streamline and better manage its delivery of goods and services, implemented the Supply Chain Management (SCM) system. SCM helps companies to achieve prompt and precise forecasts, which saves them a significant percentage in operating costs. Nike achieved the implementation through a partnership with i2 Technologies.
But how did things go south to the point of making our list in this article?
The i2 software provided featured standard templates suited for the apparel industry. Nike, however, opted for custom-made software instead. While custom-made solutions can be useful for satisfying a company's unique needs, it is important to consider the financial implications of this choice. That is not to mention the risk inherent in circumventing standard methodologies. There is the risk of failure, as opposed to when standard, tried and tested software templates are used.
As Nike adopted a custom approach, the SCM software was strained beyond its original capability, causing a less-than-optimum data transfer. Also, Nike implemented the software hastily, not bothering to test it before going live. As a result, Nike could not get accurate forecasts of customer demands and thus could not meet demands with the right products.
This indiscretion, which eventually culminated in the digital transformation failure, would cost the company about $100 million in sales and a 20% dip in stock. They also ended up having to deal with some class suits. They fell out with their tech partner, i2 Technologies who, following the failure, also experienced a 22% drop in their stock.
Bouncing back took them another five years and reinvestment of $400 million in the same project.
Lessons From These Digital Transformation Failures
ERP projects must capture all departments/stakeholders within their scope:
Hewlett-Packard is a case in point here. As the ERP project was to affect the entire division across North America, comprehensive project management and organisational change management programme would have helped the project stand a higher chance of success. Employees must be able to adapt seamlessly to technology. Also, companies make the mistake of restricting tech interventions such as this to the IT department, whereas the sales, HR, security departments, etc., need to be a part of it. Heeding this tip would have helped Nike's migration from the legacy system.
Data accuracy must be prioritised:
Data is sensitive, and inconsistency is likely to have domino-like ramifications. Transitioning from legacy systems to newer technology, therefore, requires a great deal of thoroughness. Migrated data must be accurate and relevant. The huge number of orders Hewlett-Packard lost (due to missteps) as they migrated to their SAP software is a testament to the consequences of problematic data transfer.
Software tests and pilot runs are non-negotiable:
If there is anything to learn from Nike's digital transformation failure, it is that the need for testing takes precedence. Testing helps to reveal and solve problems like bugs. System pilot runs will also ensure seamless interaction between the data, software, and processes. Don't forget that leaving your users to experience system malfunction can erode their confidence in your transformation initiative and pose more problems with implementation in future.
Take ownership of your digital projects:
Former i2 employee and senior analyst for applications-delivery strategies at Meta Group, Wilson Rothschild, was reported to have pegged a part of the problem with Nike's SCM project as an underestimation of the kind of talent that they needed in-house. While i2 had a part to play in the setback, Nike staff were already burdened with other ERP and CRM software projects. This led to a major talent gap in the SCM project requirement.
While your tech partners/vendors are obligated to commit 100% to the projects you have hired them for, you must remember that the buck will stop right at your desk should things go wrong. You must be on hand to provide technical support and quality monitoring as needed.
To conclude, digital transformation failures are better avoided than managed. Think of whatever resources you are considering cutting down on and how much more of them would be required to mitigate problems later.
Hidden Brains offers seamless integration services and top-tier Quality Testing that matches world-accepted enterprise-grade technology. Our in-house experts are on ground and ready to guide your business every step of the way.
You can get in touch with us if you need consultation or technical support for your digital transformation projects.
Looking for Digital Transformation of Your Business?