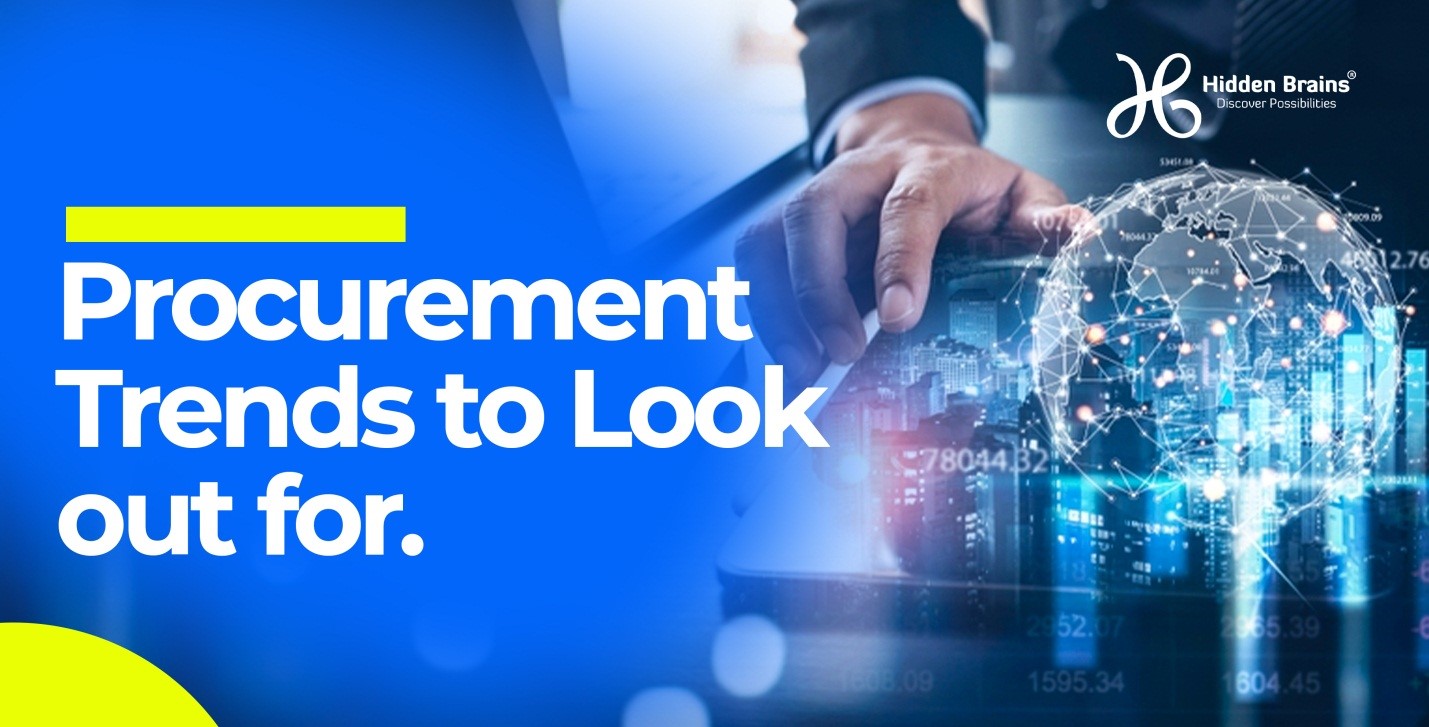 Change is constant and every industry experiences it.
The procurement industry is no exception. Different forms of change have occurred in this sector over the past few years. One of such change is how supply chains are more connected and complex than ever.
But these changes don't have to spell doom.
You can turn your procurement process into a strategic asset by assessing current trends and developing a strategy that welcomes change. The lessons learned over the last few years will influence the procurement industry for many years as the global economy continues to change and gets ready for potential supply chain disruptions.
With rising demand, sustainable procurement is becoming increasingly important. It is necessary to keep an eye on procurement trends and implement those that will strengthen the procurement unit of your business to create a robust and flexible supply chain.
What is a Trend in Procurement?
A trend is always identified by what is in vogue at the time. Additionally, the procurement trend is the general direction in which the market is moving. It evolves and is influenced by numerous, mainly external factors. The ability to recognise industry trends and prepare for the future with the aid of procurement trends is crucial to the success of any business directly or indirectly involved in procurement.
The following are trends to look out for in procurement:
Transparency and visibility, in simple terms, refer to the ability to track components or goods from the manufacturer to the end user. These are the most crucial factors in supply chain management. Greater transparency into the supply chain strengthens the chain as a whole. It will also allow your organisation to understand the overall state of your supply chain, ensuring that all stakeholders, including customers and internal parties, have easy access to data.
Supply chain transparency and visibility have improved over the years and will still improve. One of such improvements can be seen in supply chain digitisation.
Tools for Collaboration and Communication
Organizations can increase productivity while saving money by restructuring internal collaboration. They can also improve external communications to strengthen supplier relationships and lower SC risks. Customers can enjoy simple purchasing processes when they interact with procurement technology.
Businesses can advocate for a customer-focused procurement strategy that offers a seamless purchasing experience. Different forms of technology are available across sectors for improving communication and collaboration.
Greener and Sustainable Supply Chain
Climate change is real, and efforts made by supply chains to be more environmentally responsible necessitate a more sustainable approach. This also means that they can concentrate on developing an environment-friendly supply chain strategy. Greenhouse gas emissions are increasing in many countries, and they are attempting to reduce them by switching to green logistics.
Green logistics has begun to gain traction in many companies' supply chains. These developments have implications for warehousing. These warehouses can have advanced energy management systems to reduce their negative effects on the environment. These systems monitor the use of gas, electricity, heat, water, and other resources throughout the facility. Such green warehouses help to conserve energy and resources.
Increased Use of Data Analytics
As businesses grow, data and analytics will become more vital. Businesses will seek to take thoughtful actions and the best way to make wise decisions is through data. Insights from the venerable consulting firm McKinsey show that companies that adopt data and analytics outperform slow adopters by a factor of 1.6, generating greater value for their shareholders.
Decisions no longer need to be based on conventional thinking or centuries-old patterns because data and analytics can identify trends that can be used to achieve both short- and long-term goals. Businesses that prioritise data will succeed in the procurement game because they'll make informed decisions that have been proven to produce better results.
Adopting the Use of Mobility Technology
Nearly 50% of organisations plan to make significant investments in mobile technologies to improve procurement performance. The usage of mobile devices is widespread, and procurement leaders who frequently spend a lot of time away from their desks rely heavily on them. Mobile devices, such as smartphones and tablets, play a fundamental role in our lives.
Chief Procurement Officers are spending a lot on solutions to support their roles. Nearly 50% of organisations invest in cloud computing to help with procurement tasks. More than 60% of teams, though, believe they lack the expertise to carry out their procurement strategy. You can bet on solutions following suit with more mobile features as sourcing and procurement become more hybrid and self-serving. Creating mobile-friendly experiences will also boost engagement for technologies geared toward suppliers.
The key to traditional, non-strategic sourcing success is finding the best deals on goods and services. Procurement is responsible for scraping together a few percentage points of improvement, which will lead to little loyalty in trying times. Strategic sourcing takes into account the total cost of ownership and is based on business intelligence and fact-based decision-making. The ongoing supplier relationship team should include procurement team members who choose vendors. With this strategy, the low-bid process is replaced with a higher level of value that outweighs the costs. Supplier diversity is also important to find local suppliers and shorten the global supply chain.
Although it may be difficult to imagine, a cyberattack could result in ransom requests, intellectual property theft, and other risks that could result in lost sales, potential fines, and reputational harm to your business. Hackers have uncovered confidential data to sabotage the tendering procedure for significant contracts. The weakest point in the chain of defense against cyberattacks is typically company personnel, so it is strongly advised that your organisation implement regular training for staff on spotting scams like phishing emails. For an intrusion to spread like wildfire throughout an organisation, all it takes is for one person's email to be compromised. False emails that demand access or payment could ruin relationships with clients and suppliers.
Improved third-party Market intelligence and due diligence
The era of data and information is now upon us, and it has greatly influenced the availability of third-party risk insights that can assist procurement and sourcing teams in choosing whether or not to engage with suppliers based on their current risk profile. When it comes to enhanced due diligence through third-party intelligence, it's expedient to have accurate & pertinent information on hand in addition to having information on hand.
The availability of self-service is one advantage of digital transformation; it enhances the user experience for all parties and speeds up a particular business process by removing dependence on third parties.
A self-service system is a win-win for all stakeholders in the procurement industry and an emerging. It can be used for everything from onboarding and off-boarding to regular vendor interactions. One of the most important paths in our procurement process is the supplier relationship. With more access to real-time data, technology will enable suppliers to self-serve and see more of your process. To be more responsive and pertinent, suppliers will also be prepared and integrate their operations with your needs.
Cloud-based Procurement Solution
Cloud-based solutions, like digitization, are the future of procurement and supply chain management. Any company that has not automated its procurement processes stands to lose more than it gains. Traditional and local procurement methods will not suffice. To remain competitive, an organization must turn to automation, and a cloud-based solution can assist. More companies will look to automate procurement procedures as they recognise its benefits. They are aware that crucial data insights are needed for any kind of substantial, long-lasting change. Insights that can only be obtained with automation.
A cloud-based procurement solution is not only dependable and secure but also very effective and practical. Because all data are stored in the cloud, an organization's procurement team can access the required data in real-time and from any location. A cloud solution is required to help your company transition into an increasingly fast-paced future. By automating tedious tasks, procurement software frees teams up to think strategically. It is crucial because it helps procurement teams shift from responding to emergencies to developing more strategic thinking. The best part is that it provides your team with the data insights they require to make wise decisions.
Conclusion
The procurement and supply chain industry is evolving, and disruption" is the new normal. The developers of procurement solutions are under a lot of pressure to produce something straightforward, natural, and user-friendly.
Given how rapidly technology is developing, procurement is in for an exciting future. We are now able to identify creative sources of value. As a result, businesses are beginning to contrast the procurement process with the way they regularly purchase goods and services through various apps.
Hidden Brains cloud-based digital procurement software is used by small, large, private, and public companies, regional governments, and non-governmental organisations (NGOs). We support third-party integrations and can seamlessly integrate with your existing legacy ERP or accounting system.
Our software is adaptable and can be tailored to your specific requirements. Prepare to face new challenges with Hidden Brains' cloud-based digital procurement software.
Request a demo via our website or via or email at [email protected].
Looking for cloud-based digital procurement software?