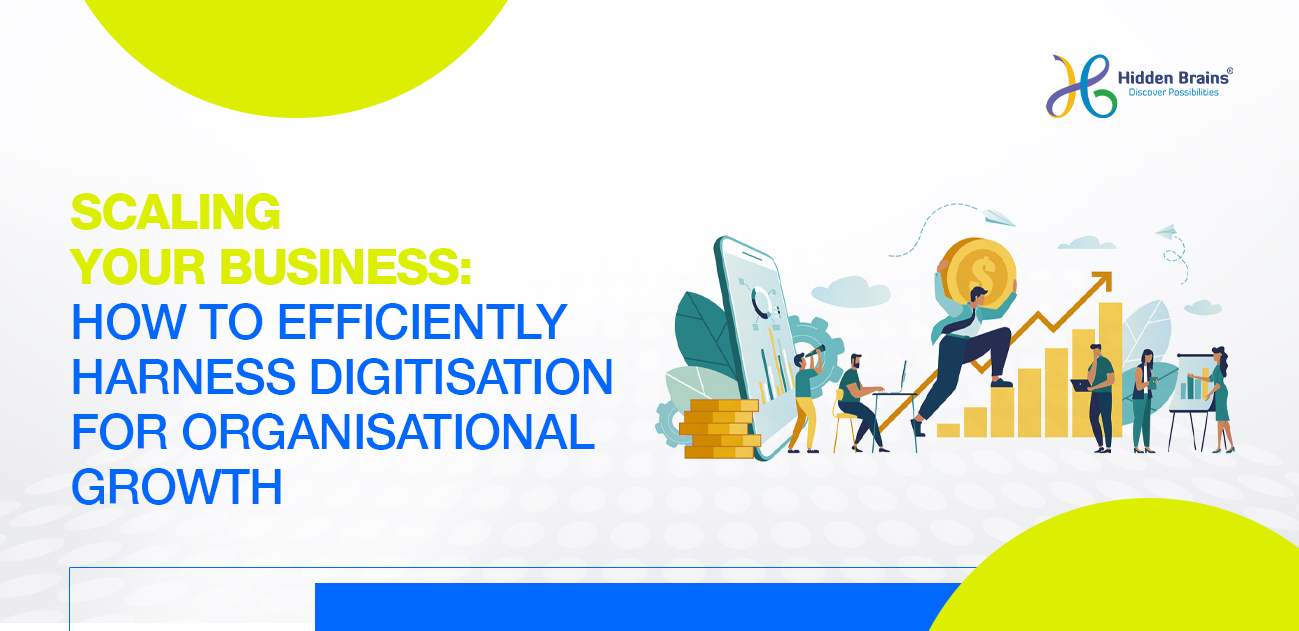 Many organisations have realised the hard way that manual processes and operations are no longer suitable in today's world of business. Digitising your business operations is the way to go if your business must survive the ebbs and flows of the industry 4.0 era. Scale your business with digitization that will help your organisation's profits and helps in improving workplace efficiency.
Smart automation, interconnectivity, and system integration are the essentials of organisational digitalisation. The incorporation of technologies and gadgets into the day-to-day workflow enables businesses to optimise their time and talents to become more efficient, profitable, and strategic.
Organisations must leverage digitisation if they want to see significant growth in their business. Enterprise solutions are a way to gain a competitive edge and advantage as a business owner. Digitisation gives your business a new outlook, exposes it to new horizons, and opens up more revenue options and opportunities.
Below are several ways you can harness digitisation for your organisation's growth:
To Streamline Your Business Processes:

There are many steps involved in a company's daily operations. It can be difficult to manage all these inputs and outputs when your business is analogue; any big enterprise knows how time-consuming these processes could be. Time is one of the greatest assets of any organisation, and any company that can cut down the time taken to carry out its business operations will accomplish more than its competitors.

Streamlining processes across your business units, different workforces, or varying locations into one business unit or solution helps centralise all tasks, eliminate complicated aspects of the business, mitigate process friction, and optimise workflows.

The use of cutting-edge solutions, harnessing cloud storage, and data analytics can improve efficiency and make your business more adaptable and collaborative. Managers can view and oversee employees through a single software, and organisational chain flows without hitches.

To Glean Market Insight:

There are many technological trends that companies can leverage for the best outcomes—conducting a survey of the market or industry where your company plays can help you glean the opportunities you need to pursue and maximise. In addition, social media and the internet can give you awareness of what is happening in terms of technological advancements and industry-specific changes.

Digitising your process helps to compete favourably in the future of work. When merging these market insights with modern technology and enterprise solutions, you can scale your business and grow your profit.

To Improve Efficiency:

When your business is still analogue, employees and management can find themselves losing hours and hours in a bid to keep up with the human-dependent system.

Digitisation saves you time and energy spent on analogue processes. Rather than spend useful work hours sorting and organising these documents, onboarding an enterprise software will digitise these processes and make your work nearly effortless.

Employees do not have to spend time writing their names on an attendance sheet if there is a digitised attendance management system like a time clock. The HR department can easily process salaries and staff complaints with an effective HRMS system. Customer relationship staff can use Smart Assist, and the company's Finance Officer can control the company's finances with Finance and Accounting software.

To Spur Innovation and Innovative Thinking:

Digitisation gives staff and management the time and freedom to think of more ways to satisfy the customer and generate profit. With the aid of technology, these innovations can also be advanced and future-forward, and new. They can even become a trend in that industry.

Take remote work, for instance. During the pandemic, many companies had to find ways to take their businesses online. As a result, companies like Zoom and Microsoft saw their users and profits skyrocket. You can take a leaf from their book. By technologically enabling your business, you will solidify your company's workflow and bring in flexibility to allow for the democratisation of tasks and assignments without worry.

To Cut Down Operational Costs:

For starters, apart from efficiency, enterprises go digital in hopes of saving money. With a good enterprise solution, you can have a panoramic view of your expenses and see what to negotiate or cut down. Enterprise software can also make procurement easier for your organisation by helping you keep track of your vendors to know which ones are no longer relevant or too expensive for your business needs.

In summary, good enterprise software should help cut down operational costs by reducing manpower because tasks that were previously done manually have been automated and now require lesser time to be completed.

To Improve Customer Relationship and Experience:

Digitisation keeps you connected to your customers at all times, whether on social media or other channels where they can easily gain access to you. For instance, retail companies can make their services available to customers regardless of location. Companies can also attend to their consumer needs from anywhere in the world.

This will make your customers feel special because they have a close relationship with you, and their complaints are always handled satisfactorily. Enterprise software can provide you with customer history that enables you to give them a responsive, custom, and targeted experience. When the customer is satisfied, the business thrives.

To Empower the Workforce:

If the efficiency of your workforce does not improve after automation, the purpose of getting enterprise software for your business has been defeated. The daily operations of your business should become more seamless when your systems are integrated and operations streamlined.

As a result, your talents should also benefit from the automation of your business. With improved efficiency, talents can take on more work and still capitalise on this freedom to add more feathers to their cap and work on their personal and professional lives.

To Foster Growth Of Employees and Business:

When the systems work, hardworking employees can easily be seen, assessed, and rewarded for their efforts. A digitalised company also enjoys growth due to the freshness and perspective that technology brings.

Staff and enterprises can expand and diversify their reach and customers when they go digital. By freeing up time and money, companies can invest in other lucrative exploits and bring in more revenue.

To Reduce Human Error:

Human error is one of the greatest banes of analogue operations. This is because humans are prone to forgetting, misplacing, and mishandling documents and information.

Enterprise software fixes this problem for you. Cloud and AI technology help to store and keep track of data and histories. You do not have to take down customer orders on sheets of paper; your warehouse inventory can be up to date, your employees' attendance can be controlled by a system, and your finances can be error-free.

Companies Can Use It to Improve Their Digital Presence:

Your enterprise should get an active online footprint if you do not have one already. This encompasses using social media, blogs, and a company website, to create awareness for your organisation.

A digital presence helps document your journey and tell your story for posterity and the workforce to come long after you have gone. It preserves your legacy and shows evidence of the company's image, values, and culture. It also helps your organisation take a position as a leader in your industry.
Having an enterprise solution that streamlines all operations and gives you useful data at your fingertips can help build a solid digital presence. By leveraging all the analytics and digital tools made available by your software, you can access tangible data that will help you create compelling, fact-backed content for your social media platforms.
The days are long behind us when digitalisation was an unknown variable. Now, nearly all enterprises understand the value of digitisation to a business.
But to have a successful transition from manual to digital operations, you need the right digital solutions partner to guide you through this process. That is where we come in. Hidden Brains has been providing cutting-edge enterprise solutions to businesses in different parts of the world for 19+ years.
We are an enterprise software and IT consulting company that reinvent business operations using new-age technologies. We provide revolutionary systems, solutions, and processes for enterprises.
Looking to go digital? Start here.