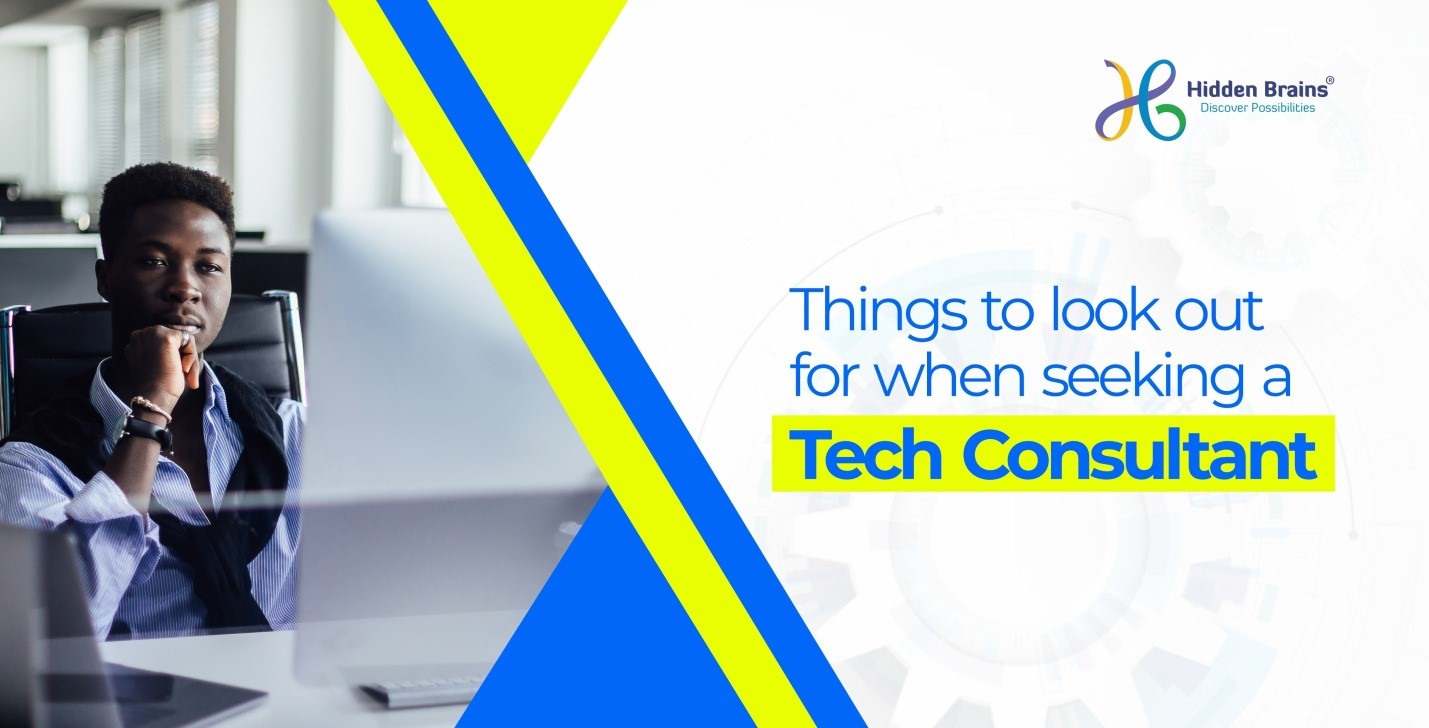 Technology plays a significant part in assisting firms in providing their finest services to clients in the ever-changing business environment of today. In light of this, quick technological development has made it essential for organisations to use the best available technologies.
Utilizing technology to enhance operations and processes is a service provided by many Information Technology consulting firms such as Hidden Brains, that help organisations adapt and stay on trend.
The ultimate objective of onboarding a consultant for profit-making businesses is to reduce operational costs and increase earnings while solving organisational problems and increasing the efficiency of running the business. IT consultants can also assist businesses in pinpointing an issue already present while offering the best technological solutions to address it. They also offer cybersecurity and compliance solutions, training to support the growth of your workforce, and other services. They generally offer a lot of advice that helps businesses achieve growth, security, and progress.
Selecting the ideal consultant can save you lots of money as well as a lot of time and effort. But it is not as easy as just locating a qualified candidate. Because having access to your systems gives someone access to the very core of your business, you want an experienced specialised consultant whose abilities you can have faith in. A mission that can prove daunting.
That is why we have decided to collate tips that can guide you here in this article. With these points, you can be assured of getting the right consultant.
THINGS TO LOOK OUT FOR IN A TECH CONSULTANT
Do a comprehensive background investigation. Make sure any IT consultant you choose has a clean record before granting them access to your company's vital systems. This will mean the difference between picking a team of highly positioned frauds or a team of highly experienced professionals.
It is also crucial that the company possesses the proper certifications that ensure they know their onions and would give only exceptional quality service. You can start by visiting the company website to learn more about the company's certifications and get insight from case studies of prior clients. You can also browse through reviews and reach out to persons who have used their service, to get a feel of how they work.
Consider the experience gained working as a consultant in your field of business. When businesses hire tech experts, they usually do so because they lack the skills, time, or motivation to lead or facilitate the process themselves. Ensuring that the consultant of your choice has prior experience with a proven track record in dealing with similar issues your organisation might be encountering. This is reflected in the kind of questions asked by the consultant and the answers. IT consultants for SMEs differ from consultants for Fortune 500 companies due to the difference in knowledge and experience exposure. Therefore, if you're thinking about hiring an IT consultant, make sure they have success working with businesses of your size and in your industry.
No matter how talented a consulting firm claims to be, there must be a thorough understanding of your industry as a prospect for you to hire. Business comprehension is oftentimes the result of experience, and this is vital. If they have encountered a problem like the one you are currently trying to solve, it will probably be simpler for them to discover a solution. It's important to keep in mind that hiring an IT consultant on a project means they will be solving both the technical and business applications and will need to navigate both those worlds to please the customer.
The manner a company presents its pitch might reveal a lot about how it conducts business. A well-organised IT consulting company would only present with cogent points and little to no redundancies. They would identify the problem and proffer solutions, breaking down the complex into simple steps on how they would solve said problem.
IT consulting includes assisting clients in reaching workable and efficient decisions that serve the objectives of the company and all associated employees. A knowledgeable tech consultant should be qualified to advise clients to transform the desires of customers into reality in all aspects that involve using IT for business. It involves choosing which systems and processes to implement, which to improve, and which to do away with. They also offer options, taking into account the time of adaptability, cost of adoption, and business type.
One of the most crucial abilities in Information Technology consulting is listening. And because every organisation is different, IT consultants must be able to actively listen to the needs of the customer. Additionally, the demands and priorities of each business vary. What is significant to one person could not be to another. Therefore, the consultants need to be able to glean precisely the proper amount of information from what the stakeholders have to say.
The greatest consultants and project managers are those who have access to the most recent training, industry best practices, and cutting-edge project management technologies. Support and training are frequently essential to their success.
Do the possible IT consulting companies provide support and training? How comprehensive is the training? How useful is the assistance? These are some of the questions you should be asking yourself when you find a prospective IT Consultant.
Flexible and Adaptable Solutions
It's essential to choose a tech consultant that is familiar with many platforms and ensures that the products they bring in will function on all of the equipment the client has.
The IT strategy and consulting services should be able to adapt to the client's demands without being too rigid to account for the unexpected. You would want an IT solution that does not require an overhaul every other time and that can only come from an IT professional with access to such.
It is a good sign to note the level of adeptness an IT Solutions Company has in addressing the crisis. In fact, this is can be a make-or-break point when choosing a Tech Consultant.
Why? Well, that is because finding out how your prospective IT service provider has handled prior crises is a good measure of how they will handle yours. They must not only have the necessary infrastructure and resources but also rigorous preparation and the capacity to address crises successfully.
As mentioned above, when figuring out how an IT company works and approaches a project, previous client references are crucial. With access to such information, you can get a glimpse into the kind of service delivery they offer. As a result, you have the opportunity to consider the big picture before committing to their services.
While customer reviews are a reliable source of information, it is important to verify their validity and authenticity because some reviews are generated by consulting firms themselves. In conclusion, before using a company's services, you should consider the reviews posted by previous customers on independent sources.
It's critical to be aware of how any company or consultant you engage charges for their services upfront. Inform the consulting firm of your budgetary needs. A good consulting firm offers a variety of services that are tailored to clients' budgets.
Please, do not be afraid to discuss money with them. A budget will not only protect your financial interests, but it will also save you time. The two primary billing structures are fixed fee and cost plus (where "plus" refers to both time and materials). As you begin working together, ask them about their billing approach and what it will entail.
Consultants are considered outsiders. So, it's crucial to ensure that they can be trusted. Whistle-blowers are the last people you want. Your IT strategy is being built or rebuilt using vital corporate information that the IT consulting firm will have access to.
Through explicit contracts, you should safeguard your intellectual property.
Common Factor
Hidden Brains is your dependable technology partner who meets all of the above criteria. With over 500+ Expert Developers working rigorously to deliver enterprise technology solutions to Fortune 500 clients, we are home to some of the brightest minds. We have received over ten industry awards for our commitment to quality and excellence.
IT consulting takes your business to greater levels ensuring effectiveness, productivity, and increased customer satisfaction while also giving you a competitive edge. We are here to provide you with the best consulting services available.
Please, do not hesitate to contact our technical experts, and we will assist you in carrying the baton along your path to success.
If you are ready to take the next step and up your business operations game, visit our website at https://www.hiddenbrains.africa/ or send an enquiry mail to [email protected].
Looking for the best Tech Consultant?