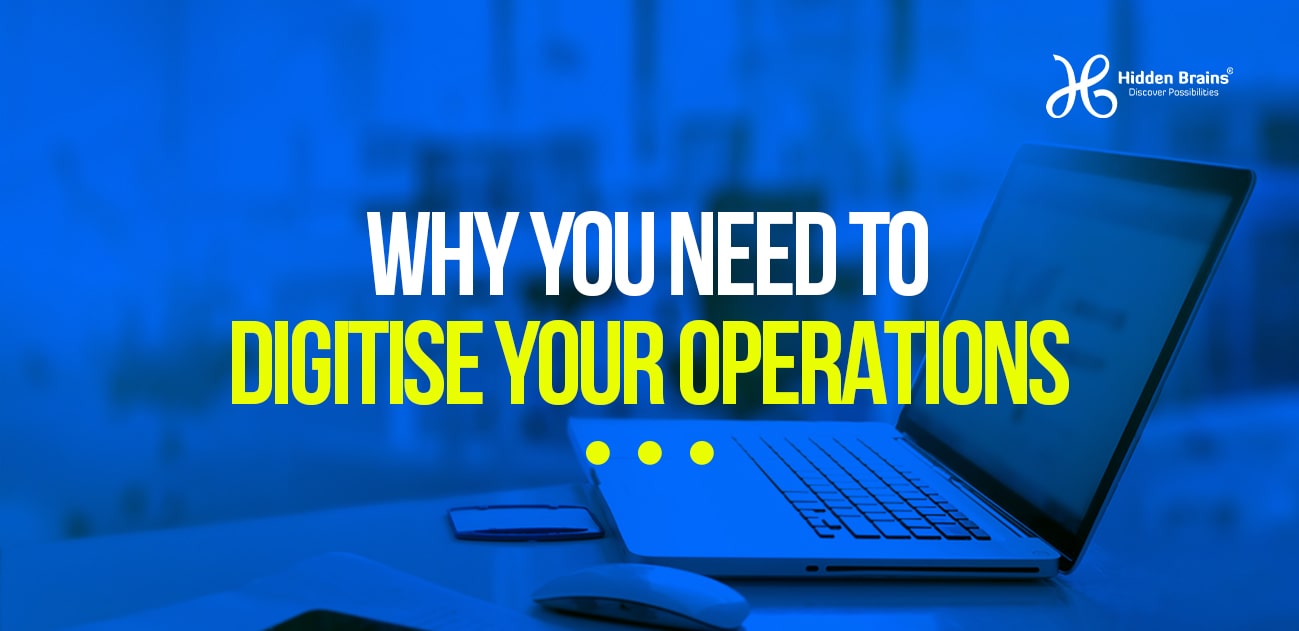 The terms 'digitalisation', 'digitisation', and 'digital transformation' are terms that you would come across more frequently in this digital age. They are not quite the same but are similar in that they explain varying levels of utilising technology and digital tools to improve business processes and outcomes.
Digitisation is the process of integrating technology into your business operations to boost customer experience, improve sales and optimise productivity. Digitising your company drives fundamental change in your company's mode of operations to bring about improved internal efficiency and impressive external expansion.
An example of the need for a digitise business was seen in 2020, during the first wave of the COVID-19 pandemic. Many companies experienced first-hand the need for a more digitally aware operation. The struggle to keep their heads above water is a tale many organisations did not even survive to tell, as the lockdown mandate that took effect in many countries of the world incapacitated their operations and put a good number of them out of business.
In Nigeria especially, many brands and organisations were overtaken by the inefficiencies of analogue business processes. Several businesses are guilty of storing all documents inside their office buildings in physical cabinets. They do not have a good website or online presence to showcase their services and talents. They are also unable to work remotely without the business suffering loss.
However, those businesses that had been midway into transitioning from strictly brick-and-mortar operations to digitally running their business, found it easier than the former group. For companies who had stayed abreast with and ahead of digital trends, tendencies, and necessities of the world of business today, the mandated isolation and work from home directive did not affect business and remote working.
As a result, that year, while several businesses were taking a beating, some were experiencing tremendous growth and multiplicity in their sales and returns.
Digitalisation also involves harnessing the power of the internet as a facet of technology. The chances that your customer will be online climbs up higher as the years go by. This reality has caused digitalisation to become a prerequisite for businesses due to the rise in customers' demands for fast and efficient product and service delivery. Making your business a digital environment and building new business models with this transformation in mind is key to staying relevant.
This goes without saying that if your business has not experienced digitalisation, you might be setting yourself up for extinction as you will miss out on opportunities that abound on the internet and the digital space as a whole.
Below are a few reasons why digitisation is very important to today's business operations:
Improved Sales:

A digitised business elicits a response from users and customers around the world. This is because customers believe in your ability to respond regardless of time and distance barriers. Having a digital channel, like an app or a website, and in extension, investing in digital logistics and shipping medium, eliminates the need for a physical store, removes geolocation limitations and enables customers to receive their goods from anywhere in the world.

Process Automation:

Digitisation has made it so that processes like data collection, time and attendance recording, communicating with clients, dispute resolution, human resource issues, audits, and quality control, can be done with the push of a button.

Better Brand Visibility:

It is better for your services to be seen and not needed than to be needed and not seen. Digitising your business and operations brings better visibility to your business, and by harnessing social media and other digital platforms, your brand can experience substantial growth in customer engagement.

To Save Time:

Relying on paper documentation and analogue processes encourages employees' inefficiency as more time is lost in a bid to find, organise, and update these documents and operations. Instead of spending hours searching for print documents to extract only a section of information, digital documents or operations allows for easy digital search and access.

Improved Compliance:

There are state, local, and federal government regulations regarding data. In recent times, defaulting on these policies concerning financial records, customer privacy, and record-keeping leads to consequences for organisations, and since there is no guarantee that paper documents will last forever—and they won't—your best bet is going digital.

A digital system can also tackle the issue of employee compliance. Digital systems can be set up to track employees' deliverables and audit their productivity levels.

To Save Costs:

The first thing digitisation does is reduce the staff size formerly needed to carry out documentation. Another perk of making your documents digital is that it lessens the cost of moving printed documents from one location to another.

Having employees is one thing, but having overworked employees makes for an unhealthy workspace. Going digital can help you downsize expenses, not only incurred by personnel but other operational costs like procurement, storage, renovation of office space, and so on.

And this is where we come in. Hidden Brains boasts of giving your company a fool-proof, easy-to-use, Enterprise Resource Planning software that will crescendo your operations and give you great value for your money.

Streamlined Operations:

Having digital operations means every employee or department can manage their activities or work through an online dashboard. This way, managers and department heads can also oversee their units with ease.

Improved Customer Experience:

Good customer experience cannot be understated in business as it can make or mar one's reputation. All involved parties will always seek out a seamless and tasteful user experience and digital transformation means you can have remote customer care agents responding to customer requests 24/7. There are also chatbots that can answer Frequently Asked Questions (FAQs) and direct the customers to the channels or services they require.

Digitisation like this inspires customers to trust in your business or brand. In addition, the speed and efficiency of a digitally transformed customer service channel curtail the risk of losing customers to poor service or slow response.

Better Security:

Unlike traditional businesses, your customers and employees' data are safer when you take your business digital. You will no longer have to worry about the vulnerabilities of working with physical data. Our modern and sophisticated e-channels and online databases are encrypted and protected to ensure your customer data remains secure from prying eyes.

Flexibility of Work Schedule:

A digitalised system can help organisations hire the best talents. With a system that allows staff to work remotely when necessary, a company can hire the best talents from anywhere in the world and not be limited to their immediate environment.

Digitalisation not only improves work flexibility, but it also eliminates commute time and inconveniences, increases staff retention due to the satisfaction from this flexibility, and work-life balance. Also, a digitalised business is environmentally idealistic, since it reduces its waste and carbon footprint.

Encourage Innovation:

At Hidden Brains, we have digital solutions for a number of industries. Our team is equipped with the necessary digital tools to develop creative strategies and solutions to customers' needs. SMEs can use digitalisation to their advantage when coming up with new products and services for their customers. There are limitless possibilities for an organisation with digitised operations.

Safety and Accessibility of Information:

Digitisation of documents is very important. Relying on physical papers to store documents and data is not only outdated and inefficient to utilise and retrieve, but also risky. This is because physical documents can be lost or damaged at any time, but documents stored in a cloud storage system have very minimal chances of going missing.
Digital documentation also makes it easy for teammates or customers to access the same documents remotely and simultaneously, giving the company an edge for collaboration and overall efficiency.

Companies must prioritise converting their print documents to electronic copies if they aim to give their company a better outlook or good public perception. This will help to foster a better relationship with their clients, boost workplace efficiency, and make workflow easier.

Prepare for Emergencies:

The popular saying, 'If you fail to plan, you are planning to fail', rings true in this instance. It's always better to prepare for emergencies than to sit on your hands and hope that things go smoothly.

Again, studying the impact of the pandemic on the business world, it is obvious that the world is still recovering from the pandemic, which, year after year, keeps on coming in different variants. While digitalised companies saw the pandemic lockdown as an opportunity to test-drive their remote working capabilities, those who were not digital-centric found themselves downsizing or closing shop.

Other things count as emergencies, such as: An employee falling sick, trying to close a deal outside of work hours, meeting customer demands on the fly, etc. A business with digitally backed-up operations can be kickstarted anywhere, anytime.
Conclusion
Digitalisation has long gone from being a buzzword and a trend to becoming a business essential. So, companies whose operations have still not been fully digitise business are still at risk of being swept away by the tide of the fast-paced business world.
For Nigerian businesses searching for a digitisation partner, look no further. Hidden Brains is an infotech company that prides itself in having over 18 years of experience in partnering with businesses to bring their digital transformation dreams to reality. We have brought this same expertise along with our disruptive ideas to help Nigerian businesses transform their operations and reach the peak of their potential.