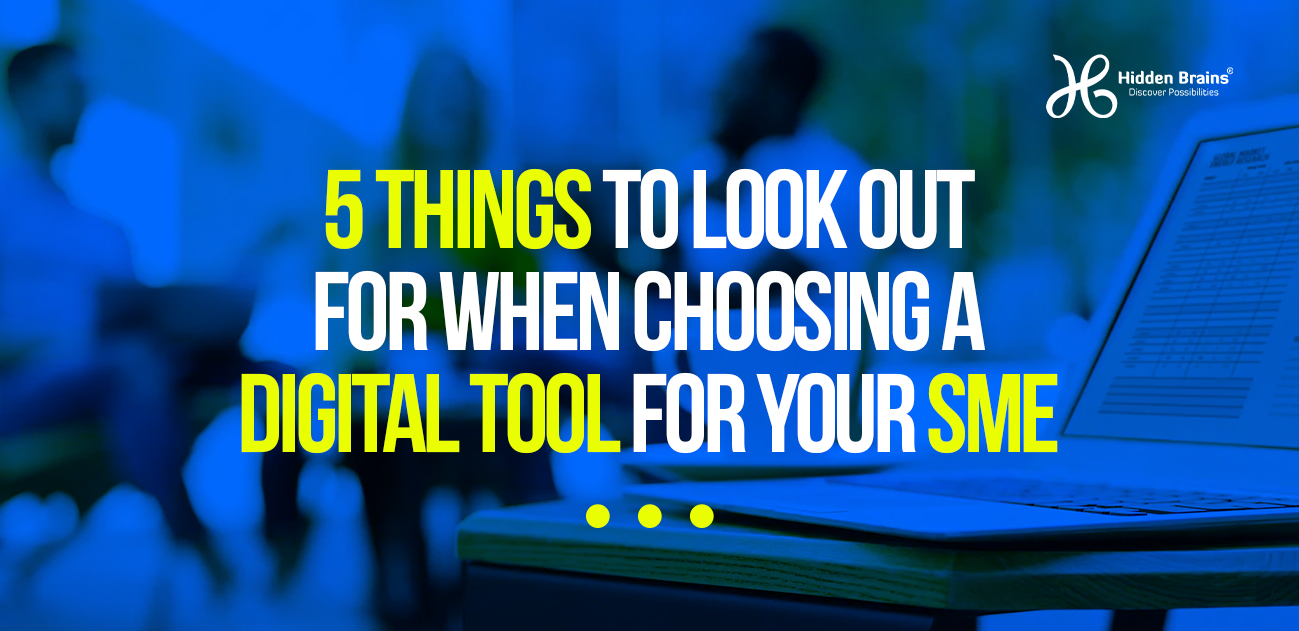 As if the process of starting a business is not hectic enough, business owners are also saddled with the responsibility of running, growing, and sustaining their business. Whether you are a new business owner or an existing one, running a functioning and profitable Small and Medium-sized Enterprise (SME) is an enormous task. It is a celebratory feat to start one in the first place, and this is accompanied by a frantic search for resources to maintain productivity, speed up operations, reduce expenditure, stay relevant and keep the business afloat, especially in economic downtimes.
The pandemic took its toll on many SMEs; it affected businesses unprepared for a lockdown and paralysed customers access to products and services. In addition, many SME owners were unprepared for remote work, the non-physical contact with buyers, and the losses incurred from these. The world is now experiencing a surge in the requests for sustainability, in this case, digital replacements; there is a paradigm shift from doing business manually to digital advancements. It is a rave dominating every industry, whether real estate, logistics, retail, oil and gas, hospitality, or finance. This advancement towards digitalisation is overhauling the former channels businesses employed to communicate and execute projects within the company (with their staff) and beyond the company (with consumers, stakeholders, and investors).
One reason we champion digitalisation is that digital tools curtail the bureaucracy and inefficiency of manual operations. These tools have been designed to bridge the gap that once existed in all forms of unautomated transactions.
But this is where it gets tricky. There appear to be many options, and one could make a mistake without cherry-picking from the options. So, do you know what digital tools are? If yes, which ones are you familiar with? How well do you know their uses and benefits to your SMEs? And most importantly, what do you look out for when selecting the tools that best suit your brand?
We have compiled this, so you miss nothing, even if you are new to this. Along the line, we'll share five major pointers towards choosing the right digital tools.
What are Digital Tools?
Digital tools refer to any online or offline resource that aids the speed and efficiency of tasks. They are sustainable means of carrying out operations. In other words, digital tools function to execute and optimise activities in a timely and efficient fashion, and they usually comprise software applications and online platforms.
They can be hardware or software available technologies leveraged by groups or individuals, utilised to support, enhance, and facilitate operations that would otherwise consume time. In addition, digital tools curtail the rigours of manual operations by incorporating text, audio, visual, and audio-visual spurs.
Digital Tools
While some digital tools are generic and can be used in any industry, certain tools are customised for a specific industry, brand, or project. The generic digital tools are readily available and are relatively at the grasp of every individual or corporate body. In contrast, the custom tools require the developers to study the industry objectives intricately before touching down on every detail of the tool.
Some custom tools Hidden Brains offers are: Our Warehouse and Inventory System (WIS), which manages warehouse and synchronises interconnected systems; Smart HRM, which manages all HR operations in stress-free and effective ways; Retail Management System (RMS), which manages individual or chains of retail stores and point of sale; and Financial and Accounting System (FinAct), which takes reliable care of your financial activities and cash flow. Our other tools like our attendance system, Smart Assist, and Smart Estate also take care of SMEs and come with various benefits to SMEs.
Benefits of Digital Tools
In a bid to make a profit from your business, render quality services, and still give room for expansion, you need to optimise your systems and revamp your operational mechanisms. While it pays to have top of the top members of staff who are visionary, passionate, and committed, the tug of war of administration could wear them out.
Upping your brand's operational digital game has incredible benefits. Digital tools are very valuable in money management. An inflow of income or surplus cash can be drained by a dysfunctional or manual system of doing things. American journalist and cartoonist, Kin Hubbard, said: 'The safest way to double your money is to fold it over and put it in your pocket', that is, to save it.
Digital tools are put in place to help you save money by decreasing the amount spent on hiring and maintaining external staff to run certain important technical tasks. Another benefit of deploying digital tools is time management. With a digital system that works, the processing timeframe for certain projects are reduced, and other stalled tasks are set in motion.
People management is another inestimable value of a digitalised system. Happy staff members bring great output. The persons who get down to the books to identify, sort, and rework operations manually are usually drained by the time they get to the main work. No one wants staff who are mentally and physically exhausted by recurring tasks or whose creativity is stunted by routine. With an upgrade to a digital system that works, they simply go straight to the business of the day.
Things to Look Out for
Not everyone is expected to be an expert or be seasoned in digital solutions, and that's something we at Hidden Brains put into consideration. You may choose from our array of multipurpose digital provisions, or you could get us to design one with the specifics of your brand in mind. Nevertheless, when selecting a digital tool, there are certain factors to consider:
Pricing: Pricing refers to the cost of purchase and running. Many digital tools come at a price that enables users to access certain features. These digital tools may come with free trials and subsequent subscriptions, which give users access at the expiration of the free trials. Some others come freely with required payments to unlock the premium features of the tool. Finally, some custom digital designs do not require subscription or premium payments but are installed at a cost.

Whatever you do, the cost of the product you're getting needs to match your budget.The cost also matters for the quality being offered. Does the cost of the digital solution match the features it comes with? Is it quality for quality, or are you being short-changed? If the design raises questions in your mind about its quality, then that's a red flag.

User Experience: The almighty user experience marks another important pointer to acquiring a digital tool. No one wants a digital tool that gives off a bad experience and headache after use. Or a digital tool that they would dread using whenever the need calls for it. Also, no one wants a digital tool that will make them prefer to revert to the manual way. All these boil down to the user experience of the tool.Digital tools should be user-friendly, relatively easy to understand and operate, glitch-free, and wholesome.

Digital tools, in their entirety, are supposed to be user-oriented. Consider the following vital questions with regards to user experience:

How rich and comprehensible are the features and functions of the tool?
Do these features match the requirements of your brand?
Do they function seamlessly?
Are there customer support options or demo videos to better complex features?
How many users or accounts can it permit for when your SME scales up?

Remember, digital tools are supposed to help you save money, time, and stress, and if it isn't doing these, then it's time to revisit it.

Modifiability: Change, or in this case, upgrade, is a good thing. Automated channels are supposed to be a step ahead generally. The expectation is cutting-edge functions and features. They are supposedly advancing at the same pace as the digital world. Designers of digital tools are aware that they fall in an ever-changing sphere, so they must make room on a product for its continual upgrade to serve users better. Whatever tool you settle for must display the ability to grow with your brand and the industry. If you patronise a digital tool with no trace of or prospects for modification, it may regress your SME.
Connectivity: We are in the age of connectivity, an age of linking systems to systems to share information and process data. A great digital tool for your SME must possess this feature – the ability to link or connect with other digital tools. Such a tool is designed to be permissive of other necessary digital tools. You shouldn't have to manually input data into a tool when you can automatically import them once given access.
Reviews: The reviews people leave of any product or service are very important. Consciously or unconsciously, we look out for reviews people leave on products on services. The same should go for digital tools. It is about what other customers and competitions are saying about the tool. Reviews help in pushing a brand forward or sidelining it because they are informative and from genuine customers. They show the service provider's reliability and the product's efficiency. Reviews also include looking out for how responsive and helpful the product designers are to customers' inquiries and inconveniences.If the testimonies old clients have of a digital tool are eyesores, it's best to look for other options.
Conclusion
The business space is gradually getting digitalised; the future of business is digital. The business world moves by those who run theirs on digital systems. Your customers pay attention to the transformation and how easy it has become to access your products and services. Digital systems help you stay relevant, and if the competition is doing it, you should not be left behind.
Remember:
Go digital.
Go digital with Hidden Brains.
Get Hidden Brains on board to begin automating your SME.
Are you looking for digital tool for your SME