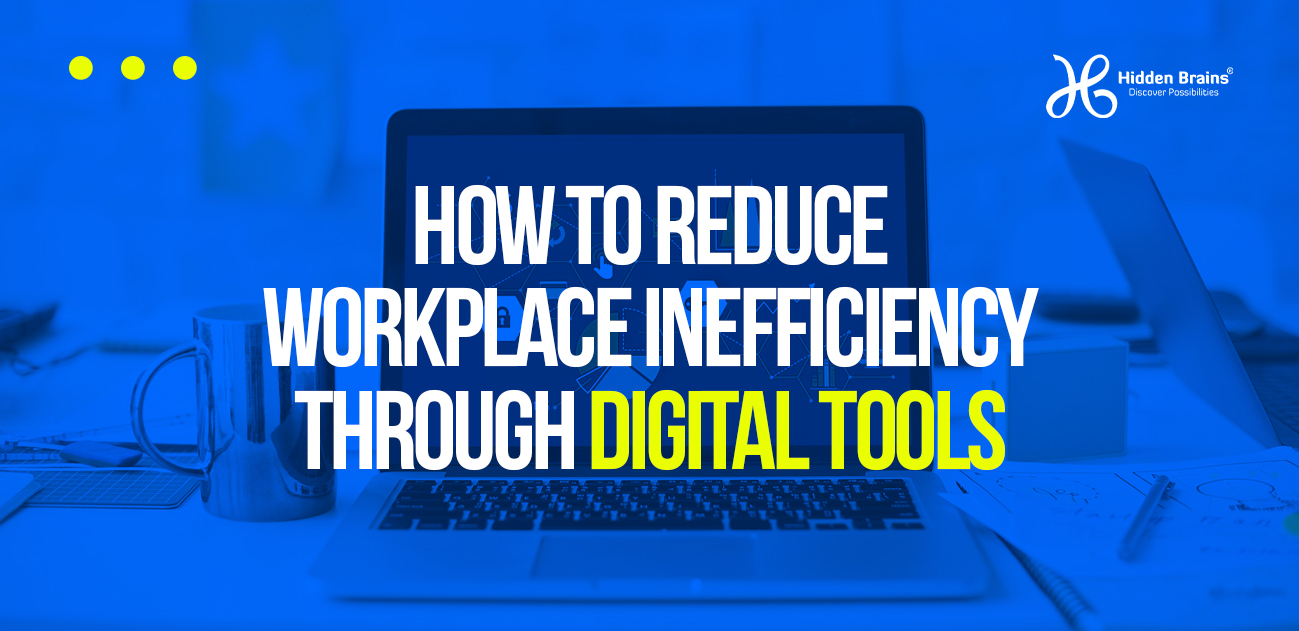 Transform Your Employee and Client Experience
What factors contribute to the success of your business? Is it your product/service, the people you hire or your employees' productivity? Whichever is the case, how do you ensure workplace inefficiency doesn't set in? Do you leverage digital tools or believe in the traditional process of business?
Hidden Brains have tools that allow us to accomplish more work in today's digital environment, making our employees and businesses more productive. But how do you begin?
First, we'll go through how employees are evolving, myths about productivity, how to increase workplace productivity, as well as digital technology tools you can leverage to boost speed, productivity, and profitability.
The workplace should not just be a physical facility employees occupy during office hours. There is a distinction between the office space and the area where work happens. You must understand that your employees perform better when in a conducive environment.
Myths About Workplace Inefficiency
Our assumptions about productivity and job performance might sometimes prevent us from reaching our objectives. Here are three myths you should stop believing if you want to increase the efficiency of your employees.
Being busy equals productivity
Our society has conditioned us to believe that we are productive only if we are continuously engaged. However, being buried behind a mountain of duties is not the way to increase efficiency. You may be busy throughout the day, yet unproductive. So don't confuse being busy with accomplishment. True productivity is attaining your set goals in real-time.
Can you work under pressure, and how many things can you juggle simultaneously?
No, multitasking doesn't make you more efficient or justify your capabilities. If you try to accomplish too much at once, you won't get much done. Remember, energy flows from where attention goes and multitasking cracks that focus. It is far more effective to devote your complete attention to one activity at a time, in order of importance.
Working from home is inefficient.
Working from home is becoming increasingly popular, and some employees are becoming more distracted and less productive as a result. In the long run, abandoning tight 9-to-5 schedules will reduce extensive commutes and, in turn, increase job efficiency. The objective of WFH is to eliminate as much stress and distractions as possible, and it gives room for the use of digital tools to increase productivity.
How to Reduce Workplace Inefficiency
Helping your employees work effectively seems like a daunting task. In fact, most Nigerians believe that employees should give 100% of their time. Forgetting that, the times and needs of your employees can vary and change.
To successfully increase efficiency and performance, you need to create actionable strategies that help make the job and duties conducive. Simply put, you need to develop new behaviours that will boost your productivity rather than detract from it. Here are a few ideas to get you started:
Set reasonable objectives
Setting objectives is essential for your business success. You may set objectives to assist you in defining your routes, which can be an efficient strategy to increase job productivity. Unfortunately, you may not have set realistic time frames for those objectives, or you may have set them too high. Compelling goals are crucial, but you must also consider how much time and resources your goal(s) will necessitate. We frequently believe that we can skip from A to Z to attain our growth, while in reality, there are several phases in between that must be taken into account. Keep your ultimate aim in mind, but don't overlook the steps you should take.
Setting realistic objectives allows you and your team to concentrate on the goal and its intended outcome. You can't focus your attention on a goal that isn't specified.
Businesses that know how to help their employees be more productive at work and achieve their objectives regularly do so by developing long-term habits of employee understanding. Create a routine that allows your employees to be productive at work. Everyone's routine is different, so is their motivativation. To relieve tension, you may need to create flexible break times. Ensure that lunchtime is used as it suits your employees. Does your employee have an early morning ritual that sets him right for the day? Understanding the mind-body link of your employees will help you comprehend their priming practice and help you unleash an amazing addition to operational efficiency.
Even as an employer, your productivity will increase if you establish a habit that helps you feel joyful, healthy, and clear-headed.
Leverage digital technology tools to reduce workplace inefficiency
Over the years, technology has enabled us to reduce workplace inefficiency and take productivity to new heights. Digital tools are the results of technology breakthroughs designed to improve our living process and enable us to undertake more activities without stress. However, you need to leverage a trusted digital partner who is constantly updating their technology so that you can express digital transformation along with the world. Constantly being up to date ensures there is no gap in the intent and the application.
In today's world, it is difficult to conceive a productive workplace without an impact from technology. In reality, most sectors and industries are upgrading their structure to be more compatible with the rapid digitalisation process. Honestly, you don't have a choice regarding the availability of digital tools at work. Hence, leading organisations are implementing new working environments that allow for digital diversity and flexibility.
Still unsure about the effect of digitalisation on your business? We have shared reasons digitalisation is important to your business and some digital tools that help you boost productivity and improve efficiency.
Impact of Digital Tools on Workplace Productivity
Digital technologies will reduce workplace inefficiency.
The main aim of digital technology is to minimise the level of labour you require to accomplish a task while maintaining productivity. Your job will be more accurate as a result of using digital technologies. When you and your employees use digital technologies to carry out your job tasks, you do not only increase productivity; you also increase the company's total income.
Furthermore, digital technologies are less prone to making random errors or mistakes. These technologies speed up the pace of work, saving a significant amount of time. If you examine the advantages of digital technologies which are widely employed in most firms, you will see a trend of significant boost.
Improve your time management skills to reduce workplace inefficiency.
Digital technologies enable you to complete your work in a short time. That, however, is just one facet of technological ingenuity. There are several tools and applications available to assist you in tracking your daily chores and completing them before the deadlines.
Other tools can help you maintain track of your schedule and complete all of your tasks on time. These tools may help you manage your calendar with conviction and enhance your productivity by reminding you of pending activities that need to be completed.
Digital Tools that Reduce Workplace Inefficiency
FinAct (Finance and Accounting System)
The Finance & Accounting system (FinAct) is one of our digital tools that enables you to take charge of your finances. It combines the dependability of your accounting software with the flexibility of the cloud to provide a full picture of your cash flow and financial performance.
Have you ever worked on a project with your colleagues only to find out that there are many values, yet the true value is unknown? It can be quite destabilising and inconvenient, especially when you spend the whole day on the project. This is a major problem many employees face, which is why your company needs a FinAct tool like cloud technologies to access and store the true accounting values to save time and reduce workplace inefficiency.
FinAct is a digital solution from Hidden Brains that helps you store financial documents and information in a cloud location without missing important details. This tool also comes with deeper business insights, tracking of financial progress, major cost/profit centre identification, and seamless integrations with 3rd party. So, if something goes wrong, you can always roll back those changes.
Customer service in business has evolved. When communicating with clients in this digital world, you have to portray your business as evolving towards intelligent operation rather than process-driven. Shifting your operations to the intelligent way increases your employees' efficiency so that they outperform on providing a better experience for your clients.
SMART Assist is an assistant that delivers real-time advice to your agents, assisting them in taking actions when engaging with consumers. It enables your business to save costs and reduce product return, technician visits, and resolution time. It also creates web-based solutions for your customers, boosting efficiency and customer satisfaction. Create a bespoke bot that can be integrated into their environment.
This tool can interpret conversations in real-time and provide you with relevant recommendations to scale through inefficiencies. The Smart Assist is the disruptive technical tool used to provide quick remote assistance for all business types, depending on your needs to reduce workplace inefficiency.
RMS (Retail Management System)
With a Retail Management System, you can make it easy for your employees to attend to customers quickly and efficiently. A retail management system uses diverse digital systems to support individual or multiple retail stores.
Customer service cannot completely go without human connection, but you can reduce the stress level for your employees. Yes, there will be clients who want to interact with humans, but it doesn't have to involve you spending hours on chatbots. Technology has improved that machines effectively handle many digital tools like RMS and CRM. This does not rule out the need to adequately meet your client needs, so strike a balance between client needs and corporate resources.
Many organisations have gotten so comfortable with digital systems that they have not upgraded technology to meet their clients' needs. For example, a company that provides its clients with a chatbot only prevents them from speaking to human operators. This is one aspect that irritates customers the most.
If you are looking to leverage digital solutions, choose a trusted partner like Hidden Brains. WE offer your customers advanced support through support ready-to-go omnichannel, Unique store solutions, Greater adoption flexibility, Web & Mobile Interface, Seamless integrations with 3rd party, Real-time reporting, Smart Alert system, and Hawk-eye – AI-based solution.
According to Darwinbox's research during the pandemic, 84% of organisations embraced one or more forms of HR Tech in their workplace as a boost for ERP Solutions. The percentage of companies that engaged in digital hiring and onboarding, as opposed to their traditional method, increased by over 50%. This led to many companies embracing remote and work from home job types.
The work dynamics have changed, and it has become critical for businesses to invest in a sophisticated and strong Human Resource Management System (HRMS) that will assist your employees and improve customer retention.
With our Smart HRMS tool, you can say goodbye to unorganised excel sheets and computation errors. Now, your HR team can manage all minor and major HR operations smartly, irrespective of your industry. The Smart HRMS offers you a holistic view of organisational strength, not forgetting accurate calculation and generation of automated payroll to reduce human error and increase employee satisfaction.
While some believe that technology is a reason for workplace inefficiency, the technology can be utilised to make most activities easier and faster with little discipline and effort. It is becoming clearer that the conventional 'create and push' strategy is not meeting the needs of the business. Modern technologies and applications can help businesses enhance productivity, operate more effectively, and accomplish attainable business goals.
In summary, there is no doubt that digital technology has profoundly influenced our lives. However, we must exercise great caution when interacting with technology. Although there are drawbacks to using these technologies, we are in an era where digital tools have become indispensable.
Want to Reduce Workplace Inefficiency Through Digital Tools?