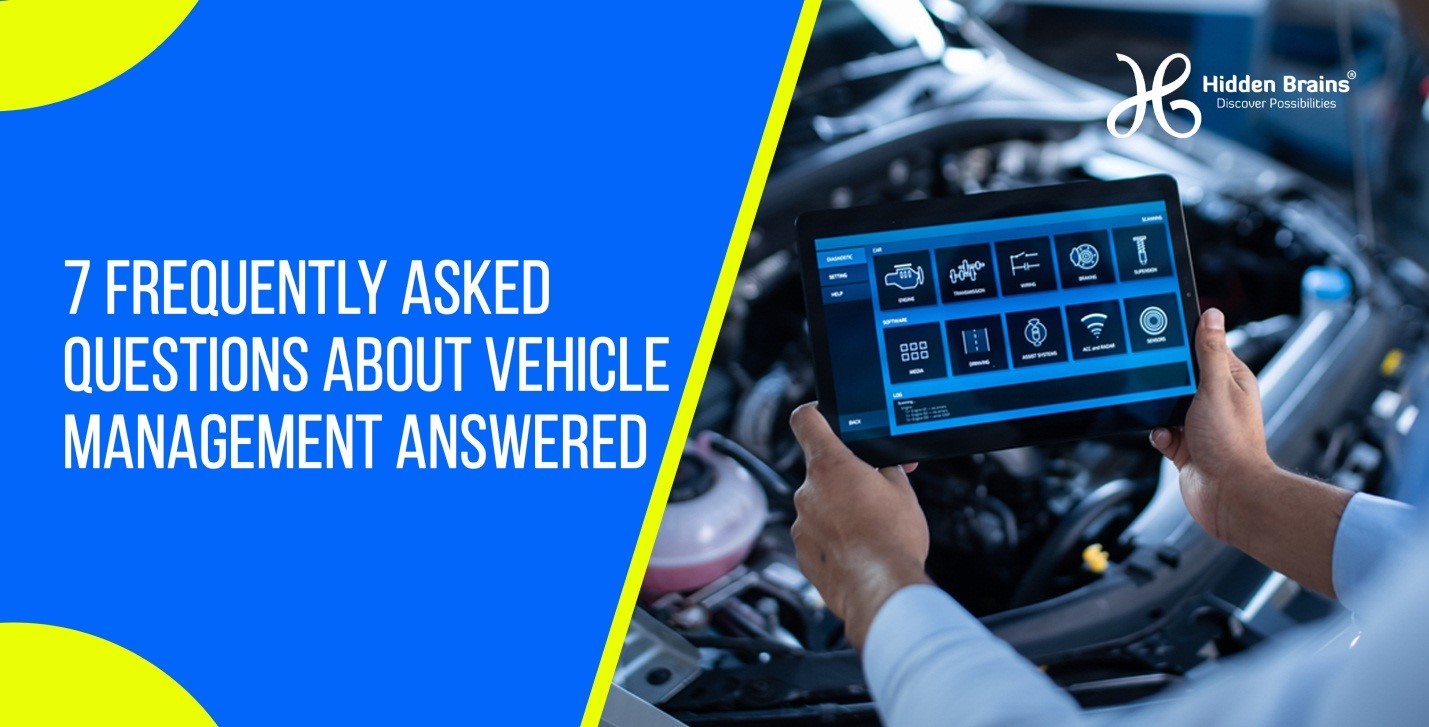 Businesses comprise many moving parts, some of which include the transportation of people or goods. While the transportation aspect may be catered to in a separate business unit called fleet management, it is the main focus of many other businesses today, such as delivery and ride-hailing companies.
This has birthed the design of vehicle management solutions, with the aim of streamlining operations, reducing risks and costs, and maximising productivity and profits. In this article, we answer a few of the questions that occur recurrently with detailed answers to guide your decision whether as a business owner, as a fleet manager, or as a driver.
What is vehicle management?
Vehicle fleet management is the process of supervising the maintenance and operations of all company vehicles to keep them productive. Fleet management today is handled by experts employed solely for that role, as the job demands strong administrative skills, an analytical mind, and a vast knowledge of the automobile market. Ultimately, quality fleet management brings about an increase in the efficiency of a business and a reduction in business risks. Operation costs stay low, drivers stay safe, and customer satisfaction is guaranteed. Businesses that operate commercial vehicles should consider investing in fleet management. It comes in handy in the following aspects:
Driver management: How drivers manage the company vehicles can be monitored more efficiently, and this accountability can help to reduce financial and health risks both for the driver and the company.
Vehicle maintenance: Managers receive regular updates on vehicle status and health, and are thus able to address it on time.
Route planning: Vehicle management makes it easy to pre-plan trips and therefore get alerts on when a driver is making a detour or diversion.
It has other benefits, which include its boost of asset utilisation, wastage reduction, boosting of company productivity, fuel cost management, and fuel consumption oversight.
What are fleet vehicles?
These are vehicles owned by private or public organisations, government agencies, or public utilities. They are primarily bought and used for facilitating company operations, such as transporting cargo or people. Unlike private vehicles, fleet vehicles are usually closely monitored, with specialised tracking software systems that facilitate communication between the driver and the company and help enforce compliance with the company's and mainstream traffic regulations. A company fleet can be made up of any kind of vehicle, including cars, SUVs, buses, trucks, trailers, coaches, rickshaws, bicycles, and even boats and aircraft.
How can I improve fleet management?
Improving the efficiency of your fleet operations involves an exhaustive list of habits and procedures. However, the most impactful of them include the following:
Route optimisation: Effective fleet managers are always out to find more ways to cover all vehicle routes using the shortest possible distance. This speed influences productivity levels and helps save fuel costs. It also reduces the amount of time drivers spend idling. Route optimisation is best implemented using digital tools, as doing so manually can be time-consuming and difficult to scale.
Proactive maintenance: There would be no fleet operations without functional vehicles. Therefore, the best way to stay functional or profitable as a department/business is to regularly schedule vehicles for inspection and maintenance. This will help optimise operational time and save the company excess spending on critical repairs in the long run.
Live vehicle tracking: The ability to know the exact location of vehicles per time is integral to proper management. For instance, fleet managers can take appropriate steps using insights from the live location report in case of emergencies or mishaps. Also, the geo-fencing feature helps to monitor the movement of drivers with the vehicles, alerting managers when drivers leave approved/pre-scheduled geographic borders.
What is a vehicle tracking system?
The vehicle tracking system is one of the tools used in vehicle management. This software tool, as the name suggests, is used to monitor the location of the fleet, after which it records or sends out the information to a central data collection system. Most VTS use GPS tracking devices to track the location of fleet vehicles and interact with the central fleet management system. Vehicle tracking systems come in four varieties, namely:
Passive GPS trackers, which are not always live but are activated in the incidents of thefts or when there's a need to check up on a driver. They record the vehicle's location.
Electronic logging device (ELD), which influences driver compliance to HOS (Hours of Service) regulations by monitoring the performance and communication of route and schedule changes. Overall, it monitors the length of time drivers spend on the road.
Mobile app tracking system, which involves setting up a software solution compatible with a cell phone. This way, the drivers can install the app and the company enjoys seamless communication with the drivers through GPS tracking.
Telematics is a vehicle tracking solution that monitors the fleet in real-time. This hardware solution, connected to the vehicle's engine control unit, provides other important insights such as braking and fuel consumption.
What are the best features to look out for in a vehicle management system?
Technological tools can be quite expensive, so it is important to ensure that the company is getting value for every expense made on the digitisation of fleet management. A few non-negotiable features to look out for are as follows:
Route planning & monitoring: The route planning and monitoring feature help to monitor how drivers execute planned routes and ultimately supports better fuel management. Also, ride-hailing companies whose core offerings entail fast arrival times and good customer experience will benefit most from this feature.
Fleet alarms: Alarm systems are invaluable in any fleet management software. Alarms keep fleet managers alert to potentially risky changes in vehicles. Common use cases for alarms are speed monitoring and monitoring of temperature, especially with regard to heat-sensitive goods or vehicle parts.
Driver behaviour analysis: Knowing how much time your drivers spend idling, their driving speed, and how they apply acceleration and braking can help fleet managers identify and correct harmful driving habits. Without this, the purpose of installing vehicle management systems, which is to optimise assets' use, will be defeated.
GPS vehicle tracking: This has been explained in the preceding question. GPS, for ride-hailing or delivery companies, can boost customer service by giving customers the ability to know when vehicles will arrive.
Fuel management: Effective fuel management helps managers know how much fuel is being expended per time and also easily discover cases of fuel theft.
Does using vehicle management software require tech expertise?
While using vehicle management software comes with the requirement of basic computer skills, strong tech or programming skills are not needed. The most useful skill in this role, particularly for those without a tech background, is the willingness to learn new things, like how to use designated fleet management tools.
What are the necessary skills for vehicle management?
Multitasking: Fleet managers may often find themselves needing to carry out various unrelated activities simultaneously within the hour, such as managing driver schedules, reporting to management, and allocating vehicles. To ensure that all moving parts continue to run seamlessly, fleet managers must be able to multitask efficiently.
Communication: A significant part of vehicle management is coordinating personnel and drivers, and therefore the ability to communicate quickly and efficiently both in verbal and written forms is important. It is also necessary for making presentations when reporting to senior management and external stakeholders.
Finance & Accounting: Because one of the major focuses of the fleet manager would be to facilitate cost reduction on all operations, they must understand the financial implications of their decisions. Background knowledge in accounting and finance will keep managers sensitive to budgeting and expenses.
Vehicle repair & maintenance: Whilst vehicle management does not necessarily entail carrying out repairs on vehicles as that is the duty of trained auto mechanics, basic knowledge of repair and maintenance routines will help managers supervise the quality of work done by the mechanics. Also, fleet managers need to know when a vehicle needs maintenance and what kind of repairs it needs.
Knowledge of driving laws and regulations: Proper management of vehicles includes minimising risks while using them, and many driving risks can be avoided by sticking to driving regulations and traffic laws. Compliance with these regulations also reduces operational risks through the avoidance of fines.
Interpersonal skills: Fleet managers usually have to deal with people across various management strata both above and below them. They also have to interface with external individuals, such as vendors and auto mechanics. It is thus important that they possess strong people skills to carry out their job effectively.
There are many software and hardware tools today that aid the effective management of company fleets. This includes customisable and scalable solutions that can help minimise risks and maximise productivity, and you can explore them today.
Looking for Vehicle Management solutions?