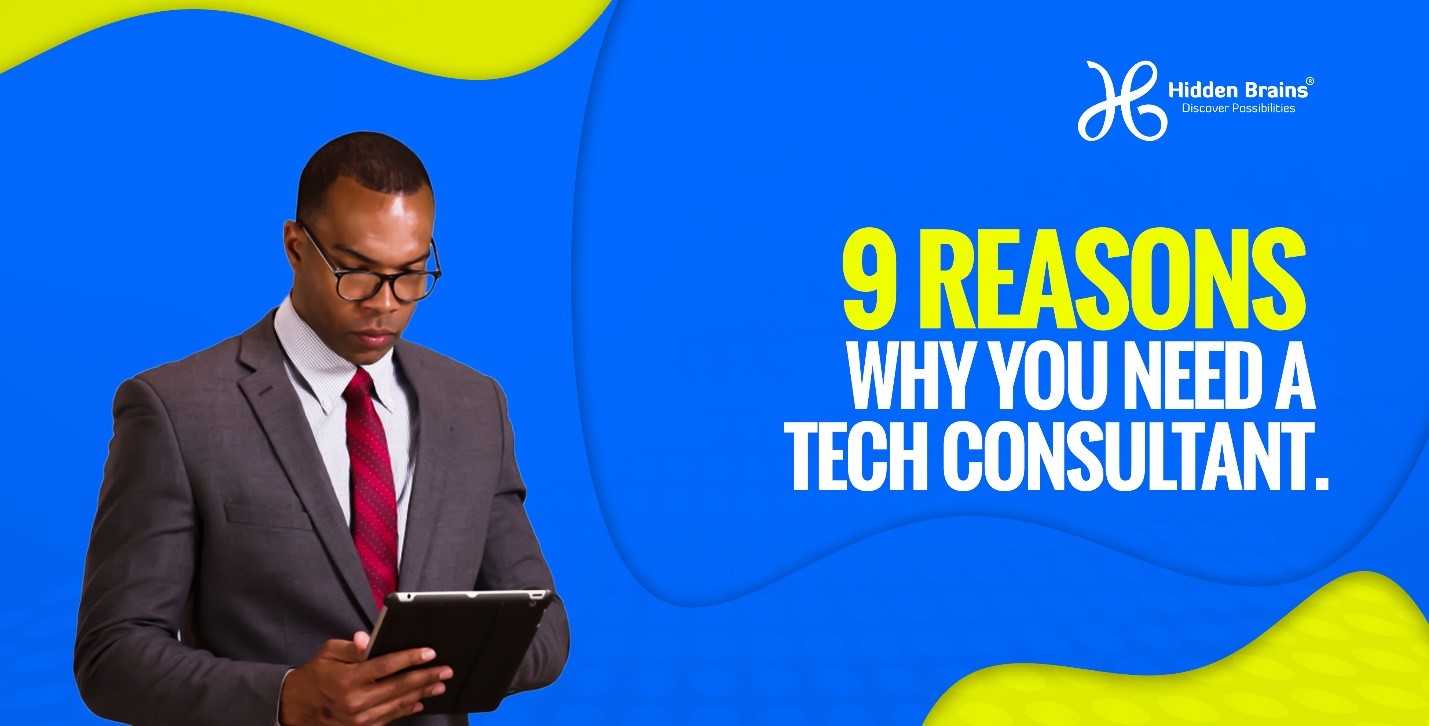 Do you need a tech consultant for your business? To answer this, we must ask a more pertinent question: do you need technology in your business? The answer is simple—yes.
When you look at today's business climate, you will notice the switch from brick-and-mortar stores to e-commerce platforms, the advancement of Artificial Intelligence and Machine Learning and the role they play in improving customer experience, and the boom of virtual conferencing platforms. One can say that tech has become a crucial part of the business.
If we agree to this, we also agree that we must optimise these tech solutions. This is where the tech consultant comes in: to maximise the potential of tech in your business operations.
This article will explore why you need a tech consultant in your business. But first, what is tech consulting?
What is Tech Consulting?
Whether you call it IT Consulting or Computing Consultancy, Tech Consulting is a field that deploys information technology to help businesses reach their business objectives. Tech consulting covers critical areas such as auditing, strategic planning, software debugging, and data retrieval.
Now, let us look at some reasons why you need a tech consultant for your business.
Why You Need a Tech Consultant
Expertise
This is the primary reason why you need a tech consultant. Your business needs to hire the best hands, and that's what consultants offer. Some business owners know a thing or two about information technology. Although it is tempting to suggest that they handle the tech issues themselves, it is not an efficient solution.
First, tech is a rapidly changing field, and it would take a consultant to keep up with that dynamism. Some solutions a business owner or a regular techie might recommend may be obsolete. Consultants are experts and will give you a competitive edge by helping you incorporate the latest technologies into your business operations. With years of experience under their belt, consultants can also predict future trends in business technologies and plan your business in readiness for the changes.
Data Security
Tech may be the best new thing for businesses, but it is also prone to data breaches. One of the issues you must address when your business goes digital is securing your site and your client's data. The data breach can come as a malware attack or hacking. A porous security network ruins the reputation of your business and may even land you in a legal dispute.
With a tech consultant on your team, you get the best advice on the safest technologies for your business. A tech consultant can also run network assessments to find loopholes in your current system. The presence of a tech consultant thus reduces the risk of a security breach and ensures that the breach—if it occurs—is promptly resolved. This builds customer trust and ultimately leads to more sales.
Cost-Effectiveness
If you are a new business, it can be scary to hire an IT consultant because their services are not cheap. On the other hand, if you own a big, full-scale business, you might be wondering why you need an IT consultant when you already have a tech team. But let us consider this perspective:
Hiring a tech consultant will cut the cost of paying the salaries of a full-time IT tech team. If a business is already automated, there is a lesser need for the operations to be constantly monitored. Asides from this, you have to pay your employees their salaries whether they have handled any new challenge or not. When you have a tech consultant, you pay only for services rendered. Consultants are also better at the job—if your business doesn't require day-to-day handling, you will see that the consultants, no matter their charge, are cost-effective solutions.
Improved Staff Satisfaction
To ensure that business is seamless, you need a tech consultant to advise you on the appropriate hardware and software to adopt. Business technologies must run smoothly, and it is the tech consultant's job to ensure that you are well-equipped for the task. Seamless work experience makes it easier for your employee to reach their maximum potential.
If you have ever had to work using faulty hardware or software riddled with bugs and constant update reminders, you will understand that it is a frustrating experience. Add the work pressure to that, and you have a workforce with an underwhelming performance. These setbacks have consequences on productivity and profit.
A tech consultant will ensure you get the best technologies to make the work easier for your employees and have them perform at the highest levels. This is good for business, and it could be the factor that gives you an edge over your competitors.
It will also allow you to retain your staff with high satisfaction levels. Staff retention gives your business stability. It is not cost-effective to recruit staff regularly because you have to train them. So, simply investing in a tech consultant helps you optimise your hardware and software, ultimately increasing worker satisfaction and retention.
Increased Productivity
How do you get more with less? This question is at the core of every business. It's not just about finance but also human resources. Some companies tend to give their staff multiple roles, overloading them with responsibilities (including those outside their speciality). This leaves the staff overworked and performing at less than optimal levels. Tech roles like Product Data Entry can be tedious and requires maximum concentration.
A tech consultant can relieve the staff of these duties and free up space to allow them handle their primary roles better. A tech consultant can also fully automate your business operations to remove the need for constant monitoring leading to increased efficiency.
Better Crisis Management
There is no one better at handling a hardware or software crisis than a tech consultant. In the unfortunate event that a server crashes or a natural disaster occurs, only a tech consultant can salvage data from the ruin. These hitches disrupt work and business, and—in the fast-paced business world—make you lose customers to your competitors.
When they occur, you need experts who quickly think on their feet and provide innovative solutions. An internal IT team will be overwhelmed; the tech consultants, on the other hand, come to the scene from an outsider's perspective and resolve the issue quickly.
Staff Training
This article has shown the gulf between a tech consultant and the average staff. Consultants are ranked as superior due to their expertise, but you can bridge this gap. Whenever you hire a tech consultant to provide IT solutions for your business, it provides an avenue for your staff to learn the latest approach to problem-solving. This will raise their skill level and allow them to manage the situation if a similar challenge arises. So that's one less call to a consultant.
Better IT Strategy
Businesses thrive when they integrate technology into their operations. That much is clear. A new business can start on a solid foot if it hires the services of tech consultants to map out strategies right from the get-go. So if you own a small business, you can consider getting the services of a tech consultant as an investment.
But this privilege is not only for new businesses. If your business is already firmly established and you are not pleased with the IT situation, you can always hire a tech consultant to help you restrategise your operations. This is one of the core functions of a tech consultant—helping a business achieve its objectives by deploying information technology. The consultant will listen to you, make notes of your targets, and design a blueprint to aid its actualisation.
Tech is ever-changing, and you need a consultant to plan your business and keep you competitive.
Identification of Opportunities
You and your employees may be too immersed in your business and might fail to identify opportunities. An outsider provides a refreshing outlook, and that's what a tech consultant offers. Sometimes, a business doesn't give its employees enough incentive to think outside the box. On the other hand, the tech consultant is paid to think and innovate, and the distance from the organisation allows him to be more objective in identifying opportunities.
Getting a tech consultant may have been a fancy option for big businesses in the past, but not anymore. It is now necessary for both small and large businesses that want to maintain a competitive edge over their rivals. The importance of tech in businesses has been even more apparent since the pandemic. There has been a massive shift in how people shop and business structures, and experts predict that these changes will not be undone in the coming years.
Tech consultants bring specialised knowledge, advanced technical skills, and insight to the table. Their contribution will help you cut operational costs, identify, and maximise tech opportunities, facilitate seamless business operations, enhance productivity, improve customer experience, and generate more sales.
Hidden Brains is a top technology consultancy company in Nigeria with functional and industry experts from different domains. Our experts help you formulate the right technology strategies that increase your existing capabilities and help you embrace new technologies to drive your business on the path to sustainable results. Our consultancy services are not limited to developing strategies. There's a whole lot we can do for you.
Connect with us via mail ([email protected]) or call +2349157400338.
Do you need a tech consultant for your business?