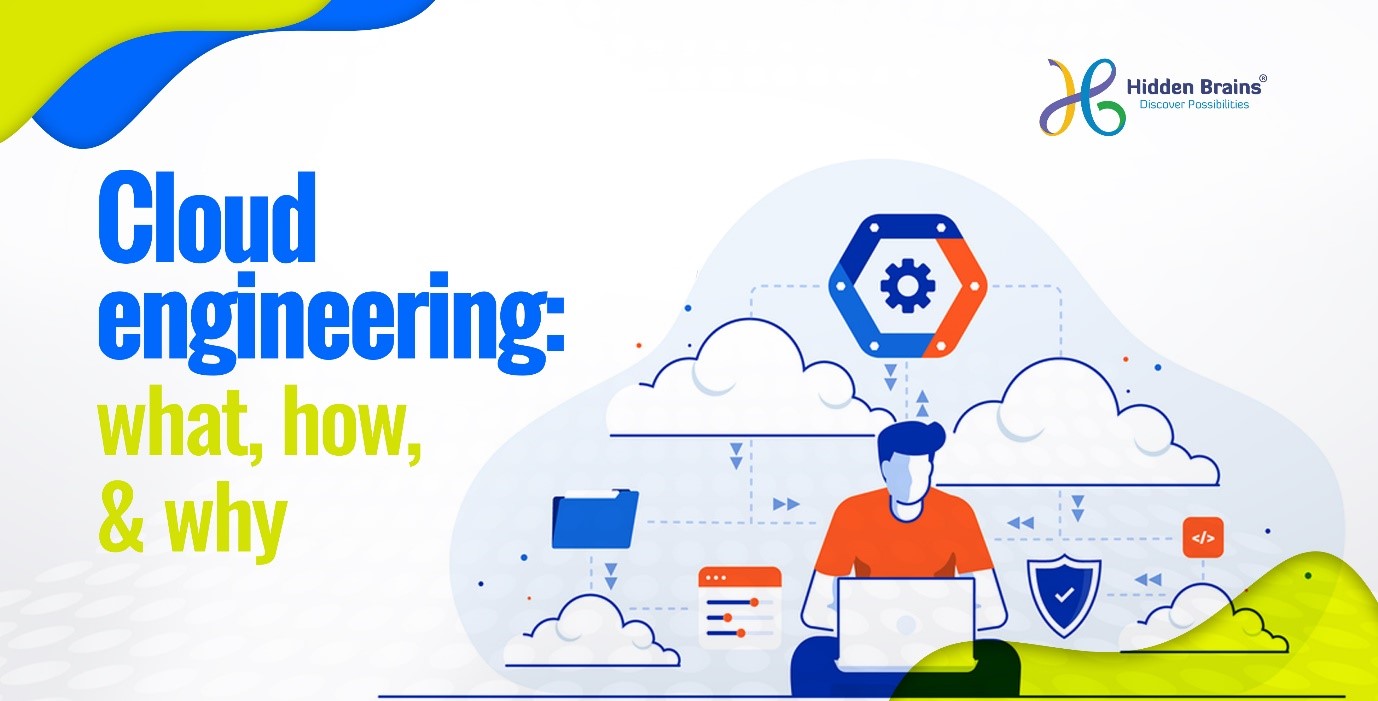 What comes to mind when you hear the word 'cloud?' A fluffy mass of water vapour or ice crystals that look beautiful and dreamy against the big, blue sky? Well, there is another one – the cloud.
The cloud, in this context, refers to a global network of remote servers, each with specific roles and functions. It is not like the physical clouds in the sky. The servers that make up the cloud are spread across the globe and are connected virtually as one. Their functions differ from storage and management of data to delivering content or services like social media and video streaming. Information that is available on the cloud is readily at your disposal, regardless of the time and location.
Cloud computing resources can be accessed through cloud services, managed by cloud service providers and cloud computing vendors. The basic cloud services are three:
Software as a service (Saas), Infrastructure as a service (IaaS) on which most SaaS providers run, and Platform as a service (PaaS) which IaaS vendors also offer.
Major IaaS vendors include Microsoft Azure, Amazon Web Services (AWS), and Google Compute Engine.
The cloud may be for everyone, but only trained and qualified people understand how it works. They are cloud engineers. This brings us to the main subject – Cloud engineering.
Read on to find out what cloud engineering is, how it works and why your business needs it.
What is Cloud Engineering?
Cloud engineering is a field of engineering that combines cloud computing with other engineering disciplines. To make this easier to understand, let's define cloud computing.
Cloud computing is the processes or methods by which an individual or a business has on-demand access to IT infrastructure through the internet. You can use computing resources or cloud services without physical installation or maintenance. There are numerous benefits for businesses beyond lower IT costs and improved agility.
Cloud engineering is a multidisciplinary field that applies parts of engineering fields like software engineering, risk engineering, systems engineering, and others. The combination of these fields helps to design, develop, operate, and maintain cloud computing solutions and systems.
Over a decade ago, one could rarely hear or discuss anything related to cloud engineering. Since its official recognition in 2009, it has become more popular not only among tech-savvy people and IT experts, but among businesses that intend to stay ahead in the digital world.
Most businesses are now dependent on IT and its services for their operations. With cloud services readily available on major platforms such as Microsoft Azure, there is an increase in the number of businesses moving to the cloud. Your business may be one of them. However, you must first understand the basics of cloud engineering and how you can make the most of it.
How Does Cloud Engineering Work?
Cloud engineering has four elements. These elements must be well understood and must reflect in a cloud engineer. They are:
Foundation
Implementation
Lifecycle
Management
The Foundation section of cloud engineering focuses on the basics – the guiding principles, categories, and concepts of cloud computing. Without this basic knowledge of the cloud and all that relates to it, cloud engineering would be non-existent. Implementation is what follows the basics. It contains the building blocks of the cloud and practical guides on how to apply these building blocks to other engineering fields as required.
The third element of cloud engineering is Lifecycle. The cloud is a vast network of servers, and cloud engineers must understand how to repeatedly develop services and deliver them on the cloud. Management which is the last part, focuses on the maintenance and management of the cloud from different angles. As mentioned above, cloud management and maintenance are done by cloud providers and computing vendors.
Cloud engineers must understand all of these elements. But, beyond them, a cloud engineer must also possess substantial business knowledge.
Cloud Engineers
Cloud engineers, also known as cloud architects, are IT professionals with general expertise in cloud engineering. They assist organisations in understanding the cloud and deploying cloud services.
Cloud engineering roles are broad. We have cloud software engineers, cloud network engineers, cloud security engineers, and cloud systems engineers. Each position focuses on specific aspects of cloud computing and is dependent on the cloud computing needs of your business. Nonetheless, cloud architects, irrespective of their specialised expertise, must have some basic understanding of cloud computing and how it interconnects with the physical world.
They must also:
Understand how technology can solve your business problems since more businesses are moving to the cloud. An expert cloud engineer must know how to integrate the cloud into your organisational goals.
Be able to think out of the box. There are emerging cloud services besides the basic ones (SaaS, IaaS, PaaS). This requires that cloud engineers be creative and know where cloud solutions or services fit.
Be certified. A certified cloud engineer should possess industry certifications as proof of their expertise.
Pay attention to detail. Cloud engineers must be detail-oriented to catch potential errors and mistakes before they occur.
Possess good communication skills. As a business owner, you may not have the same level of technical knowledge as your cloud engineer. To this end, cloud engineers should know how to use plain language in expressing their ideas to non-IT personnel in your organisation.
Extensive knowledge of programming languages. Programming languages are essential for cloud engineers. It is not enough that they know one. They must have advanced knowledge of numerous languages such as Java, Python, Ruby, CSS, HTML, and others.
Risk management and time management are also vital skills cloud engineers must possess.
Why Do You Need Cloud Computing?
Remember that a cloud engineer only applies to other engineering fields with cloud computing. This means that individuals and businesses only experience the benefits of cloud computing through cloud engineers.
The benefits of cloud technology for businesses are numerous. Still, most African businesses find it hard to understand and operate without it. With a cloud engineer, your business can leverage cloud technology and join the league of global businesses on the cloud.
Here are some benefits of cloud computing for your business.
It saves cost: As a business owner, you may imagine the cost of switching to the cloud as expensive, but in reality, you are saving cost. Yes, you may spend quite an amount of money at the initial stage of implementing a cloud-based server, but as soon as your business is on the cloud, the cost-saving effects kick in.Most cloud services are subscription-based, and you only pay for what you need. You won't have to pay for unnecessary features and services on the cloud. In place of complex and expensive updates to your IT infrastructure, you can pay for on-demand services. As a result, you save money and get higher returns.
It makes your business flexible: With your business on the cloud, you won't have to spend time and resources on IT issues like data storage. These issues can be distracting. They divide your focus between solving them and giving your customers the best experience. Cloud computing improves your business efficiency by making you focus on other vital aspects of your business.
It increases business mobility: Since the pandemic, more businesses are operating remotely. For smooth operations, there is a need for seamless communication and easy access to corporate data. With cloud services, your staff can conveniently access vital data and stay up-to-date with information and the business.An extended benefit is employee satisfaction and increased ease of collaboration between employees. Team members in your business can view and share information using secure cloud-based platforms.
Automatic Software Updates: You can save your IT team the time and frustration of updating systems manually, especially organisation-wide updates. If you have applications on the cloud, they are automatically refreshed and updated.
It prevents data loss: Computers may be more efficient in data storage. However, they are not immune to attacks and damages that can lead to the loss of vital corporate data. You can avoid this if your business is on the cloud. All uploaded data will be kept safe and can be accessed easily.
It gives your business a competitive edge: Every business desires to stay ahead of the competition. However, only those who take advantage of cloud technology can do so.
Cloud computing is essential to the survival of modern businesses, and only expert cloud engineers can help you make the most of it.
Hidden Brains is home to over 500 experts, including cloud engineers. We are Microsoft-certified, and we understand the language of business. Our solutions and services are custom-designed to solve your business problems. If you want to move your business to the cloud, we are the right team for the job. You can reach out to us on our website or send an email via [email protected].
Meet cloud computing solutions specialist that will bring your business to the next level.