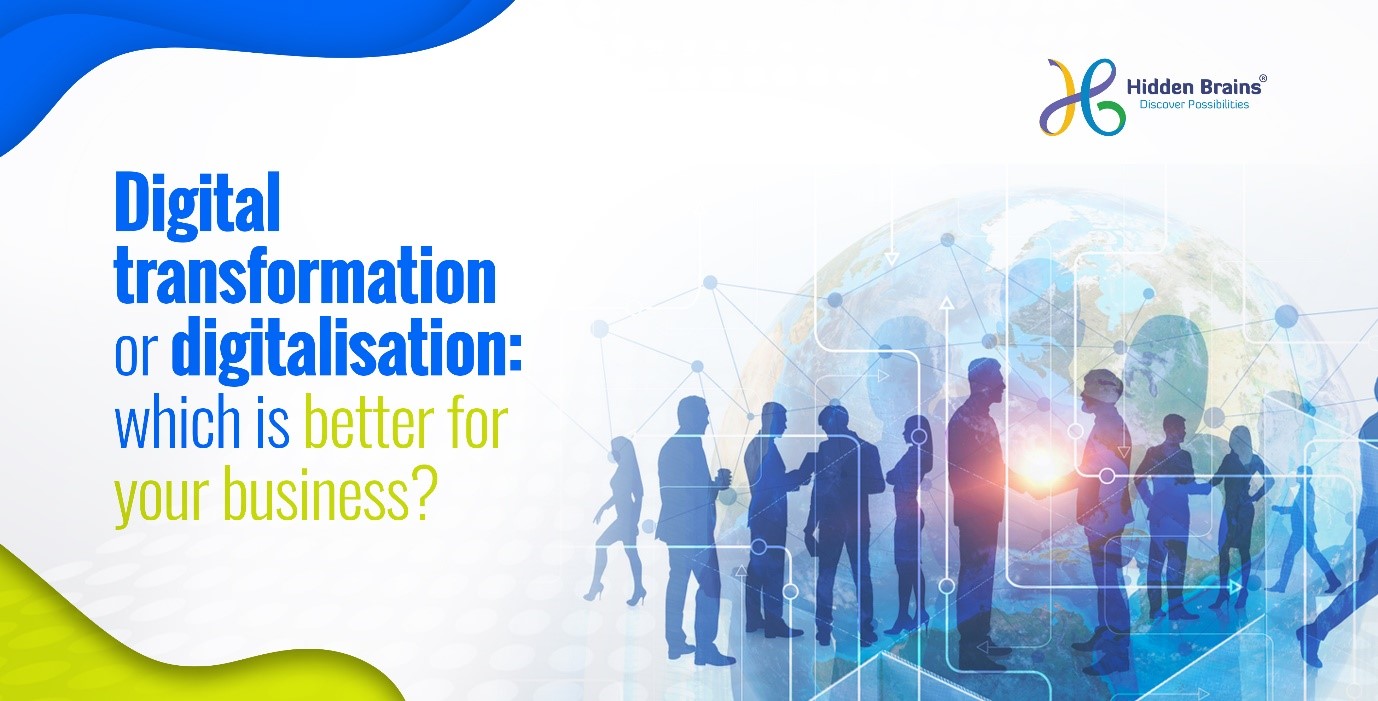 Digital transformation and digitalisation are two words most people assume to be the same. You probably think so too, but that's far from it. They are often used interchangeably, and since most people don't understand their differences, they become buzzwords.
Whilst both concepts are built on technology, they differ in several ways. Businesses must understand their differences to choose what path to take in going digital. Digital transformation and digitalisation have different offerings but similar benefits.
This article explores the differences between digital transformation and digitalisation and how to determine which is better for your business.
What Is Digital Transformation?
Digital transformation, also known as DT, is a fundamental change in the way a company gives value to its customers whilst optimising technology, transforming its processes, and eradicating waste of resources. For example, the use of automated teller machines (ATMs) and Point of Sale (POS) machines has transformed the world of finance. It has changed the way people do transactions; although quite a number of Africans still do over-the-counter transactions, the difference is clear. The transformation is even bigger and more personalised with mobile banking apps and internet banking.
Digital transformation is business re-imagined to create and reform business operations, organisational culture, and customer experiences in keeping up with the demands of a fast-changing business world.
This requires companies to consider their business operations from a digital perspective and how they can transform the business to enhance decision-making, give them a competitive edge, and improve customer experience with increased personalisation. Digital transformation differs across organisations and depends on factors such as:
Size
Type of products/services
Type of industry
Organisational culture
Administration structure
This is to say that an organisation in the Oil and gas industry will not have the same digital transformation strategy as a company in the retail industry. On strategies, digital transformation requires an action plan that will guide the organisation on how to be a forerunner in a digital economy. This action plan must contain clear, realistic, and quantifiable goals and clearly defined roles for the organisation's employees. For enterprises, the strategy should focus on three major areas:
Customer experience
Business operations
Business model
Formulating an effective strategy is the first step in digital transformation. Afterwards, it must be implemented in an adaptive and agile way. Obsolete technology should be discarded, and the right technologies should be adopted as defined in the strategy. It also requires training the employees and a cultural shift in the way they approach their tasks and take on new roles that will contribute to the success of the digital transformation.
Of course, digital transformation isn't a one-time process. The transformation must be tracked, and the changes should be regulated to manage risks and ensure compliance.
The Role of Leadership in Digital Transformation
Beyond an effective strategy, the role of leadership and senior management in the success of digital transformation cannot be overemphasised. This is particularly for enterprises operating for decades or even centuries. For startups, they can implement a digital transformation strategy from the onset. This is not the case in established businesses. They can't just play catch-up. They have to revisit their business model and assess their operations so far to identify areas of improvement.
Regardless of the business size or existence, the role of leadership is crucial in DT. Without the involvement of the senior management of an organisation, DT cannot be achieved. The change must be top-driven. Top employees in a company should leverage technology and lead the change by optimising technology to create value. They must possess in-depth knowledge and understanding of technology and how it can change the way they do business.
What Is Digitalisation?
Digitalisation is the use of technology, usually digitised information (data), to simplify how you work. With digitalisation, you don't have to transform the way you work. All it entails is the enhancement of your existing business processes and how you can make them easier, faster, and better. With easily accessible data, organisations no longer have to do things manually.
Digitalisation only focuses on business operations and not business models. For example, a retail business that manually processes orders can be said to have undergone digitalisation if it automates the order process. This way, it has only focused on simplifying the order process to make it faster but not how the entire business is done.
From all that has been discussed above, you can infer a clear difference between optimising technology to simplify processes and transforming the way business is done with technology.
Digital transformation involves improving customer experience and transforming how business is done, while digitalisation solely focuses on using technology to simplify business processes. You could say digitalisation is part of digital transformation or enables digital transformation.
Digital Transformation Or Digitalisation: Which is better for your business?
To determine whether digital transformation or digitalisation is best for your business, you must first consider these questions:
Are you willing to transform your entire approach to business and overhaul your existing business model?
What do you aim to achieve with either of them?
Can you devote the time, resources, and efforts required for the success of digital transformation?
What are your business needs?
These questions will guide you in deciding the best concept for your organisation to adopt.
Typically, an organisation that wants to transform its business approach and fundamental business operations completely should opt for digital transformation. So, if your organisation belongs in this category, you know what to go for. However, you must be willing to do all that's necessary, as described earlier, to ensure the success of the digital transformation.
Whether you go for digital transformation or digitalisation, the main point is going digital. Going digital has become a necessity for businesses in a digital economy. Businesses that struggled to stay alive during the pandemic would best understand the need to stay ahead.
There are numerous benefits of going digital. These include:
You improve customer experience by providing valuable solutions to their problems, in a faster way.
It improves decision-making from data-based insights. These insights allow your business to improve business strategies and processes for better business outcomes.
Digital transformation and digitalisation help businesses curb waste by reducing operation costs.
It encourages collaboration and boosts employee experience: Digital transformation particularly has more effect in this regard. It necessitates strong communication between all the employees in an organisation and their reskilling. This improves their efficiency and performance levels. In addition, a digital business has a streamlined workflow because business operations become automated. This also boosts employee productivity.
It increases revenue and profits: Every business operates to make profits, and going digital gives you just that. With reduced costs and improved customer and employee experience, your organisation will make profits.
It gives you a competitive edge: Digital transformation might give you a higher competitive edge, but only if you take the right steps. Regardless, digitalisation will also give you an advantage over your competitors.
It makes your business more flexible and agile: Before the COVID-19 pandemic, most Africans businesses only worked on-site. Now, there are remote and hybrid business models that allow for flexibility. Employees can work from anywhere and access corporate data at any time, on any device.
With software development and digital transformation, businesses have improved agility to speed up how they catch up with market trends and innovations whilst adopting strategies that allow them to improve continuously.
The list is endless.
Ultimately, you have to choose which of the two is better for your business. Digital transformation is a continuous process. Before you take your organisation on a journey like that, you must be prepared for it. The good thing with digitalisation is that you can always decide to embark on a digital transformation journey. After all, it's an important part of digital transformation. As long as you go about it the right way, the transition should be smooth.
Hidden Brains is a software development and IT consultancy company in Lagos that offers custom digital solutions for enterprises. We help you understand technology and how you can harness it to create value for your customers. With our consulting services, you can decide on whether to choose digitalisation or digital transformation. If you go with the latter, we will help you develop an effective strategy and stick with you all the way, even after implementation. For digitalisation, we offer wholesome consulting that can help you select the right technology depending on your business needs.
Whichever way you choose to go, we are here to make it happen.
For enquiries, you can reach us at [email protected] or +2349157400338.
Looking for custom digital solutions for enterprises?