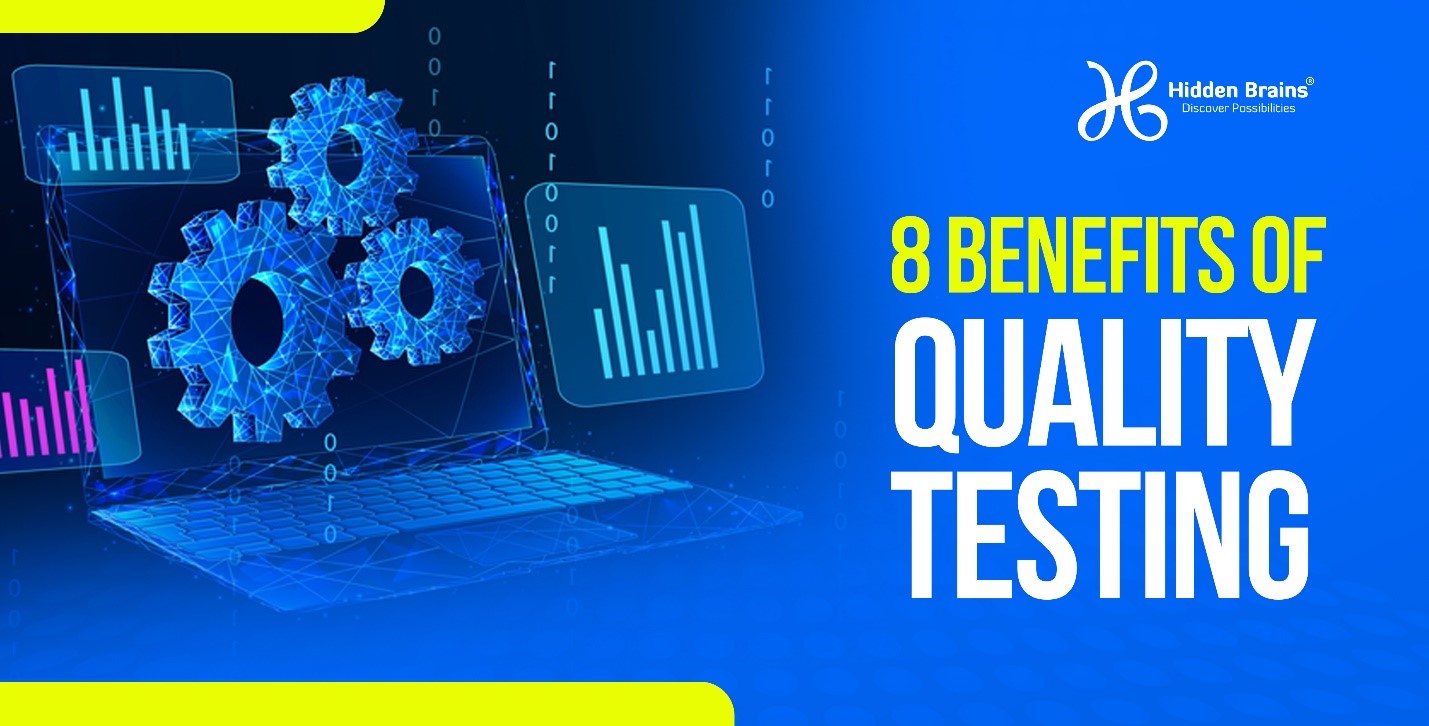 Every business goes through one form of Quality Assurance test or the other. In the tech business or industry, this Quality Assurance takes the form of Software testing or product testing.
What is the noise about ensuring that your digital product undergoes Quality Testing? Why do IT companies try to get software designers to put their products under Quality Testing? Why do digital products take so much time before getting pushed to the market? What are the benefits of quality testing?
To understand this, you need to understand what 'benefits of quality testing' is and how it plays out in the whole digital products and software life cycle.
In this article, we bring you detailed reasons to consider the Quality assurance process for any digital product or software you look to employ or are currently employing.
After reading through this article, you should understand:
What Quality Testing is
Importance of Quality Testing
The benefits of Quality Testing
Sit back and enjoy as we break down the complex world of Quality Testing enterprise technology for you!
What is Quality Testing?
Quality Testing, sometimes called software testing, is an important aspect of Quality Assurance that every organisation dealing in the digital space should employ. It is a series of analyses showing whether the digital product matches its design purpose and expected requirements.
Typically done by executing one or multiple tools, the software components are tested against a checklist and are certified defect or bug-free before product deployment/launch.
In some parts, the definition varies according to expert fields. For instance, you could find the definition of quality/software testing to have a more industry-style lingo, namely the White-box and Black-box testing. At the same time, others may define Software testing as the Verification of an Application Under Test.
Therefore the importance of Quality Testing cannot be understated. There is a high chance of bugs occurring that were previously missed during the initial stage of product development. A lack of Quality Testing, for instance, can be expensive and difficult to fix or, even worse, dangerous. Furthermore, you do not want to leave your business and its employees liable for legal action because of matters that could have easily been avoided.
Other Benefits of Quality Testing Include:
Reduction of Time To Market
When Quality Testing has been considered for any digital product's 'push-to-market' strategy, you effectively cut down the time it takes to launch the digital product.
Why?
That is because by ensuring that the product meets the expectations of its creation, there is less impediment for the product to reach optimal market saturation. There is a reduced likelihood that the product will be called back due to defects or negative reception as it meets the exact pain points of the target audience.
Elimination of Human Error
Anything that allows for the interference or interaction of humans is susceptible to error and can also cause defects in digital products or software.
There is no program, software, product, or otherwise without bugs.
This is why you may experience occasional downtime while using your favourite online service provider or regular updates for applications you have already downloaded. This occurs in a bid to fix or reduce downtime and can be easily avoided if an extensive quality test had been done.
Reduction in Iteration Cycle
No matter the skills or attentiveness of your programmer, they rarely can get the product parameters right on the first try. This is where the Iteration Cycle comes in.
Iteration Cycle is the number of times the digital product goes through launch, use, user feedback, and finally relaunch. It is the cycle it takes for a product to reach the best possible form of its initial ideation.
While companies use this important aspect as a process improvement, it is both time and resource-consuming. However, with Quality Testing from professionals like Hidden Brains, enterprises can skip this tiring cycle.
Better Usability and Enhanced Performance
Software and other digital products are considered dead on deployment if the usability rating is low. What this means is that the product's performance is poor –A devastating feedback for any programmer or business.
Not to worry, this can be completely avoided with adequate Quality Testing before product deployment.
Like Hidden Brains offers, you can access a complete dynamic assessment of application components for vulnerabilities. Doing this not only gives you a clear picture of how your product will fare in the market, it also gives you the chance to eliminate these vulnerabilities.
Another added advantage is that your team can get an up-close test of the software's source code where lag can be detected and removed to improve overall performance. Ultimately, your product's usability ratings would go up without you risking market share loss due to a poorly deployed product.
Security
Data security in the client's personal data or the data being exchanged using the digital product should never be compromised and exposed to third parties without the users' express permission. Once absent, vulnerabilities within a digital product or software must be confirmed and implemented.
Users' data is exposed through these vulnerabilities, and hacking can occur. So when a specific digital product undergoes Quality Testing, you can earn prospective clients' trust.
Ease of Update
Simply put, the older the digital product's code gets, the harder it becomes to change. By running the software product through Quality Testing, the developers gain a deeper familiarity that makes adding newer layers of code to the product's code base easier.
This is a great way not only to ensure that your product meets the required standard but can also easily grow and adapt to the changing needs of the changing times.
Increased Product Familiarity
With the need to get it right and the constant back and forth from the application's software review and testing, you can develop a renewed and unique in-depth understanding of how your product works.
Imagine not just being the carpenter or bricklayer on the job for a building's construction, but a 'beta resident' of said home. Immediately, process improvement takes precedence now; you not only see how it could be better when used, you now know how best to implement it.
In the end, your team's familiarity with the product will create deep-seated confidence in the digital product and its ability to perform its intended tasks.
Overall Customer Satisfaction
They say that the customer is king. That is why product satisfaction is something that consumer-focused digital product designers actively pursue.
Your digital product can only reach that point by tying in the users with a seamless user experience with detailed and multi-functional testing. Quality assurance is an undeniable factor that plays a big role in user loyalty and retention.
Hidden Brains process improving enterprise solutions also has the Quality Testing solution to help big, medium and low scale business growth.
CONCLUSION
You cannot have a successful digital product, software, or internet-based application without running a proper test. Every product that has seen high customer usage most definitely experienced the equivalent of Quality assurance in private.
Our advice to you, as industry experts in enterprise solutions provision is this: identify processes within your organisation and insist on a form of quality assurance. This is implemented so that you can confidently assure clients of the quality of your product. Trust us when we say conversations around complaints will reduce while the credibility of your business will slowly become visible.
Quality assurance gives you deep insight into your customers' needs, do you want the same insight?