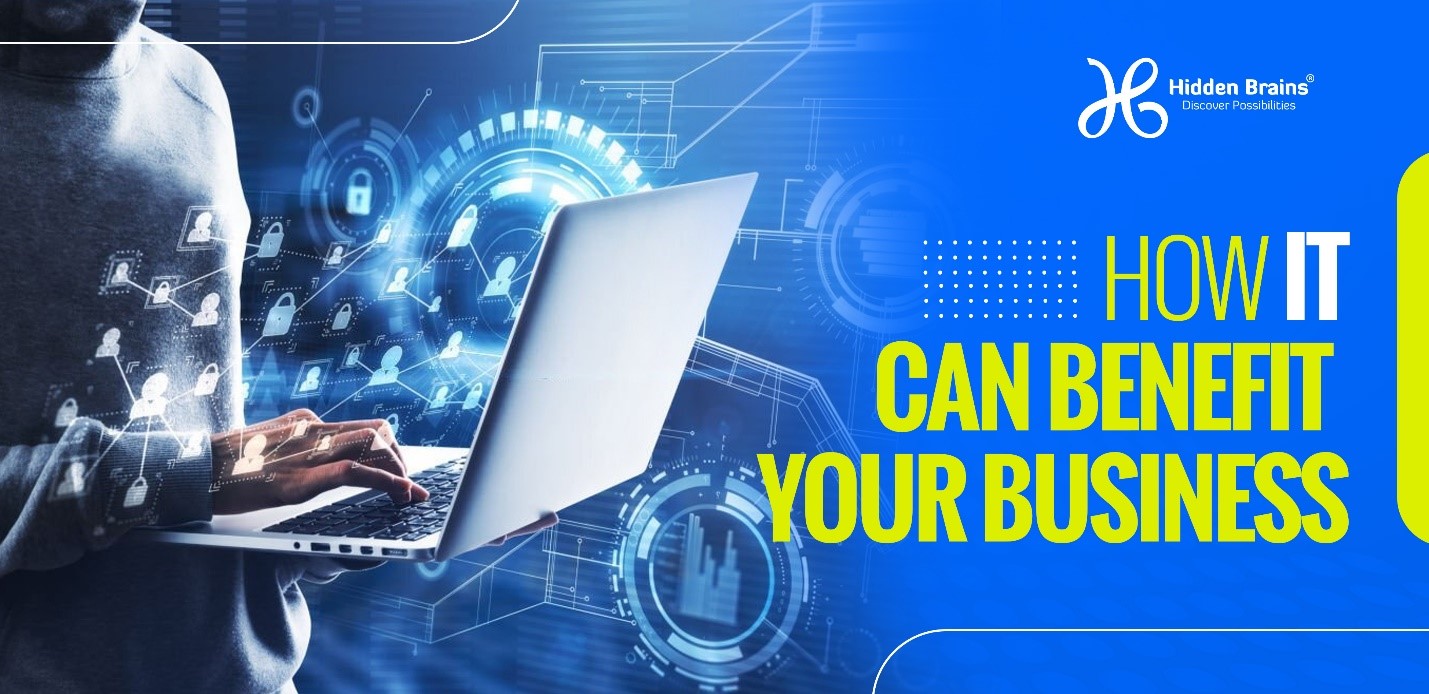 We live in a world where every aspect of our lives is digitised. The implication is that, regardless of your interest or activities, the knowledge and application of technology are sure to boost efficiency and utility. This is also applicable in business. Let's check what is the IT benefits your business will get.
Information technology, an offshoot of information and communications technology, is a common keyword in today's digitalised society. It is the application of computers to store, retrieve, process, and manipulate data.
Today, many businesses that perform below expectations often have one thing in common: the failure to master one or more of these IT processes. To perform optimally and even achieve exponential growth, it is important to keep not just adequate but also appropriate records, know how to access these records in the least possible time, process them with the most minimal amount of glitches, and use results from data or the data itself to make intelligent business decisions.
To get this aspect of the business right is to consistently meet customers' expectations and facilitate an enviable business culture, bolster the security of your business, both in terms of digital and financial assets, foster healthy relationships, and enjoy healthy competition within the business industry. The next few paragraphs show precisely how this happens; it further elucidates how information benefits business and how you can also take advantage of these benefits.
Easier and faster communication with stakeholders:
In the fast-paced world that we live in today, and with many other similar businesses armed with data and insights of your customers, it is important that businesses communicate quickly and unambiguously to their clients and employees. What communication channel, for instance, do you use to receive your employees' opinions and complaints? Do you know that when employees cannot communicate freely about the issues directly or indirectly affecting their jobs, it leads to dissatisfaction, lack of motivation, and eventually, high employee turnover?
It is equally important to communicate effectively with your customers, as this is the obvious reason for setting up a business. IT helps make this communication happen. From websites and landing pages that help your current and prospective customers find answers literally at the click of a button, to transaction portals that help customers know the exact state of their current transactions. And when adequately used, emails, hotlines, and chats features on company internet platforms help make communication swifter between the organisation and the clients, thus creating a better experience. Good communication also gives a strong public image and a reputation for transparency.
Improved inventory management:
For many businesses, such as manufacturing, wholesale selling, retailing, and raw materials supplying, the bane of their operations is being uninformed about the state of their stock. Equally frustrating is the inability to access and pull out stock as quickly as is needed.
However, with the right technology, goods can be systematically organised in storage facilities, with their locations and quantities represented on a computer. Also, data can be speedily retrieved to compare order sizes with the inventory revealed on the computer. Furthermore, businesses can leverage automated inventory software, thereby allowing retailers to enjoy timely replenishment of depleted stock. This is possible through an automatic alert system that informs suppliers of the retailer's needs.
Between the supplier and retailer, an organised inventory system facilitated through information technology helps reduce inventory expenses while satisfying the customer's demands.
Error-free, optimised financial record-keeping:
Regardless of the kind of business enterprise you run, you must have an efficient accounting unit to keep tabs on your finances. You must ensure that you can meet your financial responsibilities to your customers—staff and local—and federal authorities. The only way that one keeps from dropping the ball on any of these obligations is to keep proper financial records. This responsibility demands a great deal of proficiency in numeracy and keen attention to detail, and relying on human ability is fraught with risk. This risk includes the error of commission or omission. Whether or not these errors are intentional, they can dent the image and credibility of a company.
Thankfully, many advanced software programs are available now, and they help keep financial recording and processing quick and seamless. Some of these programs are smart enough to synchronise your POS terminals with your accounting and bookkeeping programs, thus eliminating the need for manual processes. Taking advantage of information technology helps reduce costs in the long run.
Research:
One of the activities that you cannot alienate from any business is research. Whether you are about to launch a new business or your business is up and running, and you are looking to launch a new product, you need to research, find facts, and make informed decisions. But research is systematic, and it is not enough to go after information. It is equally important to know where to look. Also, there is the need for proper interpretation and analysis beyond merely gathering data.
Investing in internet infrastructure and resources helps you research new opportunities and keeps you ahead of your competition.
Greater exposure:
There's virtually no excuse for the failure of a business on the brand exposure front. Internet platforms like websites and social media pages have made it easy to engage and influence the public. For instance, Tesla's boss, Elon Musk, is known to run no adverts for his company. He has leveraged the power of his social media account to engage his current and prospective customers. And even where paid advertising is concerned, IT has provided many other alternatives to advertising on traditional media like newspapers, radio, and television. With media like email marketing, social media and web ads, and authority content creation on various internet platforms, brands can gain greater visibility and become less alienated from their customers.
Sophisticated security:
Although this is hardly ever explicitly stated, business relationships are formed on the premise that the customers' resources are safe with the vendor. The more a business fosters a sense of safety in its customers, the more trust and patronage that business enjoys, ceteris paribus.
When it comes to security, one can never be too careful. A tiny piece of information or data in the wrong hands can spell the end of a thriving enterprise, CoinCheck, a Japanese exchange platform being a case in point. In one of the biggest heists in the last 100 years, the company lost cryptocurrency worth $530 million and consequently was forced to file for bankruptcy. Crypto Head has also reported that more than $3 billion have been lost from 126 crypto wallets, owing to a bridge in internet security.
With suitable technology, however, most of these issues can be forestalled. You can keep financial data, confidential business correspondences, organisational policies, and proprietary resources that give your business its uniqueness and competitive edge safe from theft and vandalism. Timely installation of security infrastructure can save your systems from malware and ransomware and help you keep your focus on productive activities rather than on damage control.
Increased channels for revenue generation:
Once, a customer had to show up at a company location or store to meet their needs met. However, with the internet, businesses are generating their revenue from online channels. For instance, many physical stores now also have e-commerce sites to retail their products. Aside from this being a means of expanding without having to expend as many resources as needed to set up business in another location, it also helps sales teams generate leads from a wider customer base as long as they can develop a winning SEO and PPC strategy.
Improved customer experience:
The ways that IT can improve the quality of experience your clients enjoy are limitless. For instance, Chatbots powered by artificial intelligence help to speed up engagement and conflict resolution with your customers. Myriads of other automated tools also help your clients interact more easily with your business, such as when they want to book an appointment.
Operational efficiency:
Think of any aspect of your business operations; there's someone somewhere currently developing a program to make it even more efficient. If it took five minutes to get it done, IT and the impressive improvements are out to ensure that the process is cut to 10 minutes, and if it took 5 minutes, the program is out to skip the process altogether.
Of what use is it spending time and effort to converge for a physical meeting when communication can be done through the internet? Of what use are dusty archives filled with endless sheets of paper when data can be obtained and stored on the cloud? With information technology, you can save precious resources for your business, like physical space and time.
Endless possibilities abound for businesses that embrace a culture of change and transformation, such as a transition from manual processes to automated IT solutions.
Hidden Brains helps enterprises embrace IT and its numerous solutions to scale their businesses. We are your go-to for digital transformation.
Are looking to scale up your business? Embracing IT solutions will set you on the path to success.