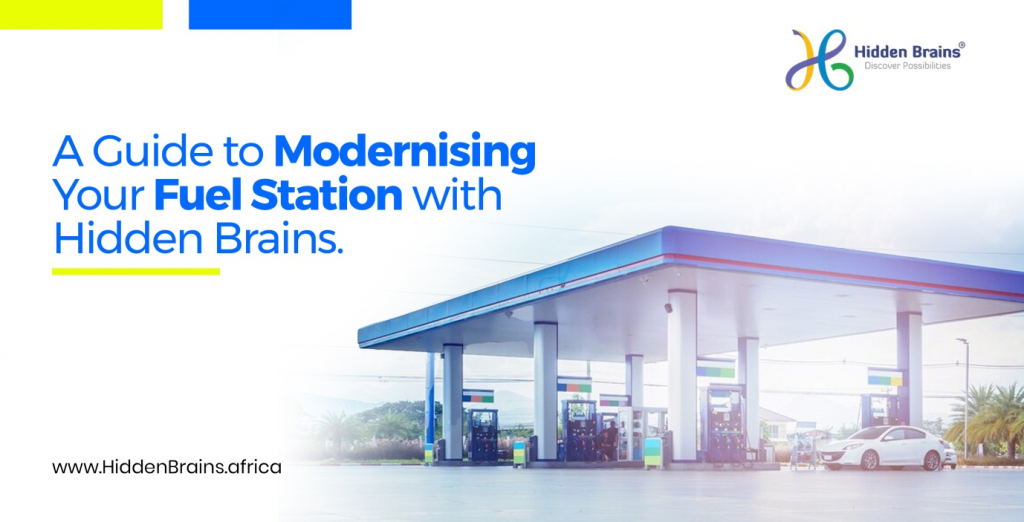 Fuel station owners and managers have experienced several hard times attracting customers due to how competitive the fuel station business is. Nevertheless, fuel stations serve the same purpose, which is to ensure that the by-product of crude oil is made available for the use of society in varieties of functions.
Now, this factor of serving the same purpose has stood as a reason that makes it hard for fuel station businesses that lack a strategy to stand out from the crowd. Competing on price isn't a wise strategy or technique to follow because it's challenging to maintain, and your business could run at a loss.
However, we have curated a guide for your business to stand out from the crowd and attract more potential customers by modernising your fuel station.
These are what we'll cover.
Contents
An Overview of Fuel Stations
Challenges with Operating a Fuel Station
Why Modernise Your Fuel Station?
Guide to Modernising Your Fuel Station
The Most Important Step to Take
An Overview of Fuel Stations
Fuel stations, from their existence, were just to provide services for cars, such as fuel, air for tyres and engine checks, which is its traditional method. But today, fuel stations have evolved from car service to providing a wide range of services to their customers.
It no longer operates in its traditional method but has now transformed to providing other values to meet the needs of its customers like cafes, leisure and shopping.
Traditional fuel stations are prone to accidents due to leaks and spills from tank edges and fire outbreaks from dispensers. However, when modernising your fuel stations, it incorporates advanced safety features, such as improved storage tanks, automated shutoff systems, and emergency response tools that will protect your customers and employees.
Aside from these benefits, modernised fuel stations come with digital, user-friendly interfaces such as a touchscreen in fuel dispensers. This transformation has made the refuelling process easier and quicker.
Let's look at some challenges that fuel station operators face.
Challenges with Operating a Fuel Station
Poor Safety Measures
One of the challenges fuel stations experience is fire outbreaks, and this is due to the highly flammable materials in the fuel station. Any minor mishandling can lead to accidents and fire outbursts.
Even for equipment that malfunctions, its risk is very high. An example could be fire extinguishers. Fire extinguishers need regular inspection so that when the need arises, the extinguishers will be active and functioning well.
Another instance is that there are no signs or warning posters for customers to turn off their engines while refuelling and avoid taking calls while parked at the fuel station. All these are what modernising your fuel station would help you do. It will ensure that you provide all safety rules against accidents.
Inefficient Inventory Management
The traditional fuel station record is mainly on notebooks and big registers. The stock-taking is done on paper, and this method gives room for human error and mistakes. Human errors are mistakes in calculation, omitting while taking records and misplacement of the record book.
All these are the challenges fuel stations face while using traditional methods, but when you modernise your fuel station, inventory records become easy. It is transformed from paper to digital techniques that ensure your data are accurate and stay updated.
You don't have to search further to modernise your fuel station. Hidden Brains is here to ease you of any form of challenges you are experiencing in your business and upgrade your business operation to the next level.
Inadequate Maintenance and Repair Procedures
This is another challenge fuel stations face. Fuel dispensers, storage tanks and other equipment lack maintenance, and due to these issues, there are significant losses and unplanned budgets for repairs.
Lack of proper maintenance has caused some fuel stations to shut down because there was no profit to keep the business running and pay employees. Their expense budgets exceed their profit margin, and the business ends up not satisfying the demands of its customers, and they gradually shut down.
Modernising your fuel station ensures you schedule maintenance and regularly check on your equipment and tools. Maintenance schedules will enable you to act fast, make corrections, prevent accidents and avoid unplanned expenses.
Why Modernise Your Fuel Station?
When your fuel stations are modernised with advanced technology, it will reduce the wastage of fuels, correct the inaccuracies in measurement, and your storage system will be sufficient to contain many of your products compared to the traditional fuel dispensers that cause fuel wastage, inadequate storage, and measurement errors.
Modernising your fuel stations ensures quality and reliable fuel dispensers to increase productivity and satisfy your customers.
Modernising your fuel station enables you to reduce carbon emissions, which is one of the global drives to reduce causes of climate destruction on Earth. The evolution of modernising fuel stations will help shift energy production away from sources that release greenhouse gases.
To support and accommodate this transition, your fuel station will support electric vehicle charging, biofuel dispensers and hydrogen refuelling.
Modernisation has also transformed the collection and records of data to become accessible, efficient and more accurate. It provides real-time data on inventory, equipment status and sales range.
This new method of data collection has proven to enhance the productivity of fuel stations and made it easy for managers to make accurate and informed decisions on sales, inventory and management operations at large.
With the use of advanced technology in fuel stations, maintenance management has increased. It has helped prevent costly equipment from breaking down and reduced unplanned repair of other gadgets and tools.
The technology ensures proper monitoring of each piece of equipment in the fuel stations and allows scheduling maintenance status to minimise repair expenses.
Guide to Modernising Your Fuel Stations
Below are ways you can modernise your business: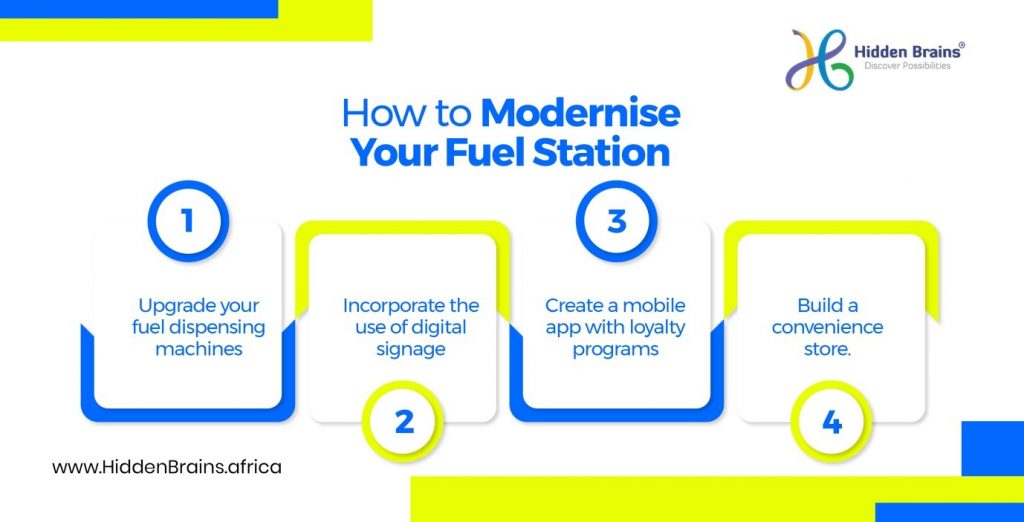 Upgrade your fuel dispensing machines
Modernising your fuel stations starts with upgrading your fuel dispensing equipment for easy and accurate refuelling for your customers.
It is better than the sales rep trying to control it from the handle of the filling machine, and sometimes mistakes could occur, which is either under shortage or overfilling of fuels to customers.
But with modern fuel dispensers, these errors wouldn't happen. It comes digitalised with easy-to-use touch screens for operations, and it is always user-friendly. The fuel is monitored and controlled by the amount of fuel the customer aims to purchase right from the dispenser screen.
Incorporate the use of digital signage
Digital signage is a gadget that uses digital screens for content display, such as images, videos and animations. It helps you reach more customers by captivating their minds with engaging and catchy images and words displayed on the screen.
It also becomes your business advertising channel, enabling you to display products and their prices with attractive discounts.
Another advantage of having digital signage is that it saves you money in the long run. You wouldn't have to print posters or flyers to pass information; it will be on the digital signage. Digital signage will position your business for more potential and high-class customers.
It will help you keep your customers engaged and updated at all times with its real-time information.
Create a mobile app with loyalty programs
Modernising your fuel station also involves creativity and strategies to ensure your customers remain loyal to your business. Therefore, creating a mobile app will give your customers easy access to information and updates. The app will enable your customers to locate the nearest fueling station and get them to pay for their fuel ahead of time.
By so doing, it gives your customer a sense of relief to hop into the fuel station, get their fuel and drive out within seconds. This new technique will increase your customer base and help you retain your potential customers, as they can also get services via the app.
While your customers are using your fuel station mobile app, you can give access to loyalty rewards such as some items, gadgets or discounts to products. It will help increase your brand visibility and bring more referrals to your business. It is another way to encourage word-of-mouth marketing, the fastest and best form of marketing.
Build a convenience store
A convenience store is a retail outlet that has different items and is open for extended hours daily. When modernising your fuel station, it is best to build a store, a retail shop or a convenience store where travellers and drivers can get items they forgot to buy as they travel.
Your fuel station can also have a restaurant and a coffee shop if there is enough space. These amenities will be able to meet the needs of your customers and give them access to cooked meals, snacks, water, drinks and a lot more.
This is a sure-fire way to modernise and attract customers to your business, increase your visibility and business performance, and boost your revenue.
The Most Important Step to Take
We've seen four ways through which you can modernise your fuel station. The wonderful thing is that you can get your fuel business modernised with all these strategies and more with Hidden Brains' smart solution.
Our innovative Smart Fuel Station Solution digitally transforms the conventional ways of managing your fuel operations and replaces the paper-based modes with one dashboard.
With our solution, you can connect several dispersed chains of fuel stations geographically, making it easy to know the real-time status of each fuel station. Our fuel solution offers seamless management to access reporting options such as sales, shift management, fuel sales, non-fuel sales and many more.
Visit our website https://www.hiddenbrains.africa/smart-fuel-station-solution.html for more information on how to get your business modernized with our Smart Fuel Station Solution.