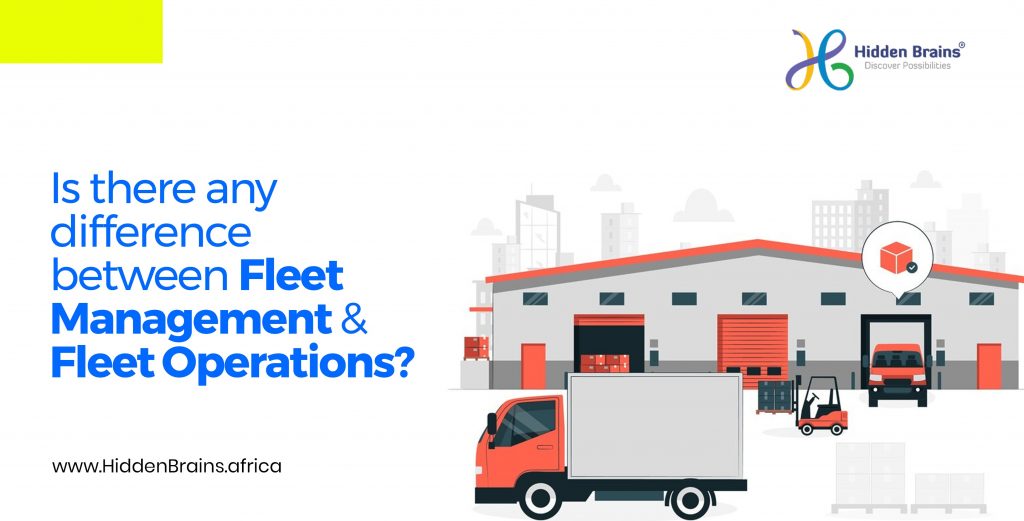 Quick Summary: When we say fleet operations, we mean transporting your items to your customers through trucks, cars, planes or ships. Fleet management, on the other hand, is the use of technology to monitor your fleet performance and enhance your business operations. We provide more context in this blog.
In today's business world, technology has streamlined operations and positions. It has upscaled the productivity of businesses, enhancing manual activities with easy software devices and gadgets for proper and accurate records. Businesses no longer have to operate manually because technology can achieve multiple functions. This change can be seen in the enhanced logistics of fleet operations.
The technological revolutions in business operations have changed how organisations with logistics departments handle their vehicles, transforming the style and method of operations to a more effective and accurate procedure.
Technology has eradicated the manual ways of taking records and simplified them with effective software. Fleet management is now enhanced to be faster, easier and more practical for businesses to deliver quality customer service and build stronger relationships. Still, this concept is often confused with fleet operations.
In this blog, we'll help you understand the difference between fleet management and operations and show how they work hand-in-hand.
Fleet Management and Operations
The term "fleet management" is a vast concept covering various services, from vehicle acquisition and maintenance to vehicle leasing and financing, fleet monitoring, supply chain management, regulatory compliances, accident management, and logistics, which is another term for "fleet operations." Fleet operations is concerned solely with managing logistics and ensuring that vehicles are continuously in good working conditions.
What should you know about these two terms?
An Overview of Fleet Operations
Fleet operation is the process of transporting items using vehicles and the management of the vehicles. It requires a fleet operation manager who ensures vehicles are safe and in good condition. The fleet manager will check for maintenance and repairs, get mechanical attention when needed and ensure they are ready for daily tasks.
The fleet operations process starts and ends after the fleet leaves the vicinity. They don't monitor their journey nor generate any reports. The report they give depends on the fleet and what products are inside the vehicles, but accurate real-time reports are generated with fleet management. This is why many challenges abound in fleet operations.
What are they?
The Challenges of Fleet Operations
The major drawback of fleet operations is that it only ensures vehicles function well for their activities with no flat tire or physical damage issues and that the customer items are properly kept.
Given this drawback, here are the challenges of fleet operations.
Increases fuel consumption
With fleet operations, there are no statistics on the amount of fuel consumed daily, and this can be very expensive for businesses with more trucks. It is hard to manage or track, especially when the drivers plan the route structure.
The budget for fuel with fleet operations constantly fluctuates, which also adds to the cost of delivery on the consumer's part and leaves the organisation without a proper plan for its expense budget. This is a significant challenge for fleet operation systems, but it is resolved with fleet management in place.
Lacks proper maintenance
Another challenge fleet operation faces is that the vehicle is not adequately repaired and maintained. It could lead to a sudden breakdown, or a part could stop functioning, taunting the flow of the business operation.
This has always made businesses lose customer loyalty or retain previous customers, which reduces sales and profit making. Therefore, maintenance and repairs are essential for business growth and operations, and fleet management ensures your business fleets are well maintained.
No regulatory permit
Across the cause of business operations, drivers who take routes have strict regulatory rules and often have to present the regulatory permit receipt but can't. It then becomes a challenge for the drivers to continue without presenting it, and this will cause a delay for customers to receive their items at the agreed time.
With fleet management software, this issue is easily resolved as your managers can detect through the software your exact location, and access is granted quickly.
No route planning
As part of fleet operations, drivers are allowed to decide the route for their trips, and sometimes they seem not to be the best. The longer the route chosen, the more fuel is used, which means more budget on fuel expense.
Every business is looking for ways to minimise the cost of fuel, and leaving drivers to decide the routes for their daily operations will not help them achieve that goal. This is another advantage of partnering with a fleet management company as they provide real-time data that ensure fuel costs are minimised and the best route is taken.
These overbearing challenges of fleet operations are what fleet management aims to eliminate. Let's now look at what fleet management is all about.
What is Fleet Management?
Fleet management is the crucial operation taken to keep fleets operating efficiently, ensuring the cost of transportation is minimised. It's the action taken to keep fleet operations within a budget. Every business across the industry relies on vehicles to transport their product daily, and this is where fleet management becomes vital.
Fleet management maximises how organisations and businesses use vehicles to lessen costs associated with transport. It can be applied to automobiles (e.g. trucks, heavy machines, cars, or vans), maritime crafts (e.g. boats, barges, or submarines), or aviation (e.g. helicopters or planes).
To keep fleets in check, fleet managers use long-distance data transport systems and digital dashboards to process real-time data from the fleet. This data is collected and analysed for effective decision-making related to fleet activities.
Where do these data come from? A fleet management software.
Let's talk about that next.
Features of Fleet Management Software
Fleet management software (FMS) enables fleet managers to accomplish various tasks in managing operations relating to a company's fleet of vehicles.
The software manages any or all aspects related to the fleet of vehicles, including maintaining a routine. This helps organisations strategise and implement transformational change to minimise costs and achieve productivity.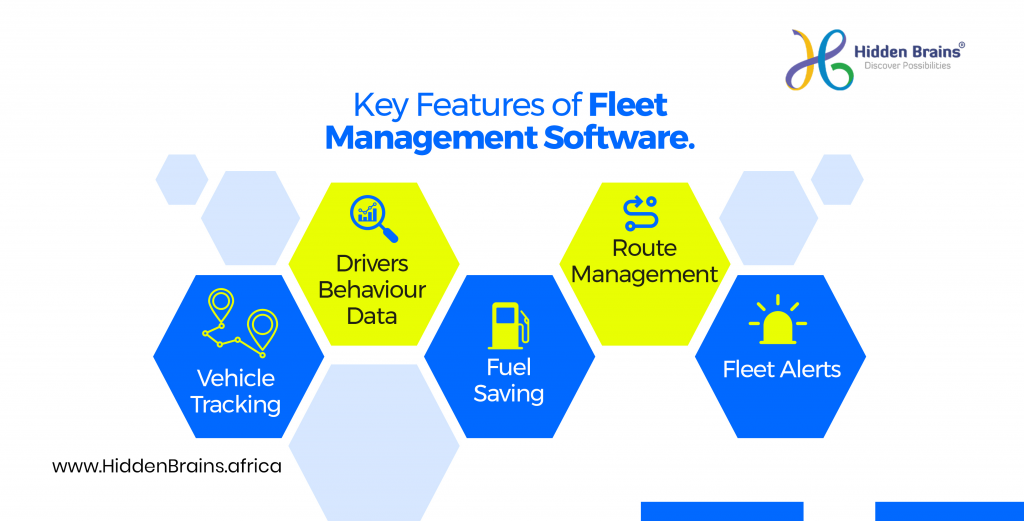 Here are some of the critical features of fleet management software.
Vehicle Tracking
The fleet management system uses GPs to track and monitor each vehicle's performance. The tracking software also detects the location of the vehicles and generates them as data for the decision-making process.
At Hidden Brains, we offer vehicle-tracking solutions to businesses and organisations that want to track their vehicles to enhance business operations. Our smart vehicle tracking system automates several processes and provides actionable insights to logistics companies.
Drivers Behaviour Data
The fleet management software monitors drivers' behaviour and generates data. It often contains the metrics of the drivers like average speed, the hours spent in a geographical area, the number of times re-routed, and the specific location of the vehicle per time.
It is to ensure that the driver's operations are highly productive, and we prioritised this insight to enable organisations to make more improvements to their business operations.
Fuel Saving
Using an FMS helps save the fuel budget of businesses that implement fleet management in their business operations. With this feature, you can measure the accurate amount of fuel drivers use daily in their operations.
It is also additional data to the driver's behaviour feature, and it is vital for businesses as it will enable them to use the resources for other projects.
Route Management
Route planning and management is another beneficial feature of fleet management software. It saves time and fuel and increases customer satisfaction. It helps the drivers increase productivity by providing them with short routes to follow.
It will also help the vehicle avoid bad roads with potholes that could cause damage to some parts of the vehicle. At Hidden Brains, we ensure that your plans and the best routes for easy and quick delivery are scheduled.
Fleet Alerts
This feature enables you to receive notifications on the activities and performance of the driver. It includes an alert of the driver's clock-out time, the number of times the driver buys fuel, emergencies and the delivery time. It is to ensure that the activities of the drivers are well-monitored.
Having understood fleet operations and management, what they have in common and how they vary, what next step should you take?
Adopting Hidden Brains' Vehicle Tracking System for Your Fleet Management
When you purchase new vehicles or trucks for your business operations, it comes with a lot of costs to manage, such as storage, registration, gas price, insurance, title and maintenance. You can imagine how tasking it will be to take full responsibility for all the components of your vehicles and trucks.
Not to worry.
Hidden Brains' Smart Vehicle Tracking Solutions will allow you to view all these expenses in one application and relieve the stress of managing each component cost separately. This solution provides a dashboard report that analyses your fleet operation and includes comprehensive information for all vehicles, drivers, trips, alerts, and schedules.
You can also use the trip scheduling feature using parameters like route, distance to travel, availability of vehicles and drivers, and prior experience of the driver. Our solution uses all these parameters to help you generate the best possible trip schedule.
Furthermore, with our Smart Vehicle Tracking Solution, you can track data online and avoid data loss if vehicles move where the network is weak or unavailable. It is a feature that will serve your business in the location where your drivers are.
Visit our solutions page for more information.
Conclusion
Fleet management is vital for every business in today's world that depends on vehicles, maritime craft or aviation to implement their business operations. It gives access to real-time information on the activities of your fleets and minimises how your organisation uses vehicles to reduce costs associated with transport.
Hidden Brains Smart Vehicle Tracking Solution helps you to have access to all your fleet information in a digital dashboard for effective decision-making, decreases the cost of maintenance and boosts your business productivity.
Get our solution today and enjoy less stress in managing your fleet operations. Visit our website https://www.hiddenbrains.africa/smart-vehicle-tracking-solutions.html for the next step you can take.