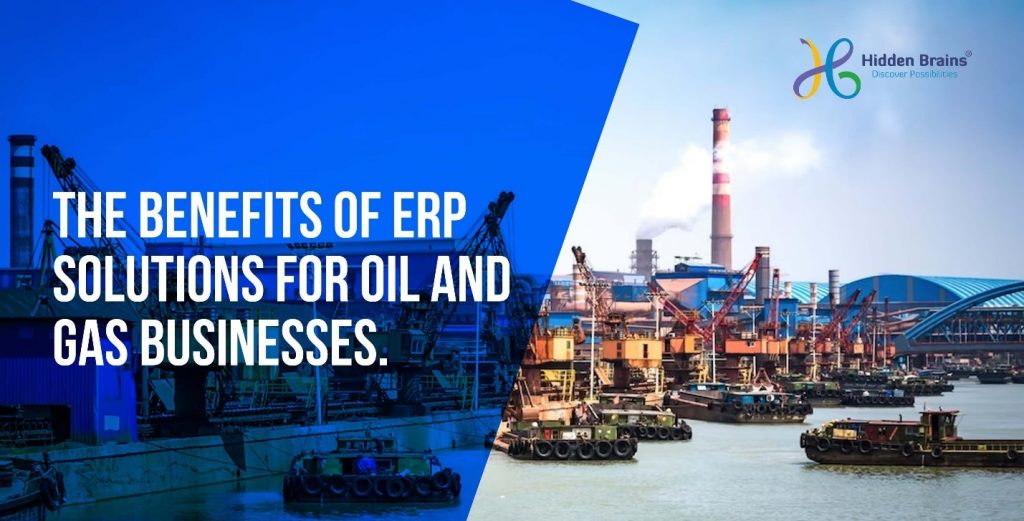 In the oil and gas sector, managing and integrating business operations for optimum productivity is complex. Considering the numerous challenges such as geopolitical tension, the volatile market, and regulatory policies, companies are at the risk of becoming obsolete if they cannot evolve beyond the traditional means of operation.
This is why most business owners are in dire need of technological solutions that can increase workforce productivity and minimize costs. One of such innovative solutions is an Enterprise Resource Planning (ERP) solution.
In this article, we discuss what an ERP solution is as well as how your Oil and Gas business can benefit from adopting it.
But first……
What is Enterprise Resource Planning?
Enterprise Resource Planning (ERP) is a software that integrates and manages business operations such as financial accounting, warehouse inventory, human resources management, procurement planning, and a lot more. An ERP solution connects all corporate data to a centralised database for easy access to information and seamless work processes.
Running a business requires a collective effort from various departments. For each department to function effectively, communication flow must be seamless to achieve faster results and increase business performance.
In a situation where employees cannot access data to work with or there is a disruption in information dissemination, it becomes difficult to provide excellent services. An ERP solution makes it easier for employees to use the same user interface so that information can be shared without delays.
In addition, an ERP is important for every unit of an organisation. For instance, in the financial unit, ERP can be used to effectively manage financial records and eliminate palpable human errors. Balancing a company's account manually can be daunting and time-consuming. What the ERP solution does is to track your profits, daily income and expenditures, and compile a comprehensive list of your financial transactions. You can easily access any financial records from various departments and gain traction on your financial progress.
Still unsure about how an Enterprise Resource Planning solution can benefit your business?
Here are ways our ERP solutions can benefit your Oil and Gas business.
Benefits of ERP solutions to oil and gas businesses:
It minimises cost:
The ERP solutions manage business operations from production to distribution, sales, marketing, and cost analysis. It helps business owners make informed decisions through the unified database available. Businesses can keep up-to-date records that are error-free thereby reducing cost and maximising profit. ERP solutions give a holistic view of the financial proceeds of daily transactions helping business owners quickly rectify loopholes to manage risk.
Also, it helps oil and gas companies to manage purchasing orders, logistics, and payroll by providing a balanced system where accurate information is kept for future reference.
Excellent customer service:
Customer satisfaction is the backbone of any business. Enterprise Resource planning incorporates Customer Relationship Management (CRM) in its system. With CRM software, businesses can keep track of customers' data like names, email addresses, and phone numbers which can be used to personalise messages. It also helps the customer service team to respond faster to customers thereby building customer loyalty and establishing trust.
On the other hand, CRM software aids the sales and marketing team to gather feedback from customers and clients. The company can make adjustments and enhance productivity with feedback which will in turn lead to customer satisfaction.
Inventory Management:
Our ERP solutions involve an automated warehouse and inventory system. The main aim of an inventory management software is to oversee the supply chain and ensure timely distribution of petroleum goods. Businesses in the oil and gas sector need proper tracking of fuel and other related products from different locations and the allocation of materials. Inventory management establishes communication flow by notifying businesses about progress reports and updates on the supply chain to minimise expenses and streamline procurement.
Transparent financial records:
Finance is critical to every organisation, especially the oil and gas industry that deals with complex data. Financial management gives company leaders and investors insights into daily transactions, expenditures and procurement costs. Manual processing of financial records is time-consuming and unreliable. An accounting system uses a cloud-based system to process financial records and minimise human error.
At Hidden Brains, our financial and accounting (FinAct) system helps to integrate financial operations in your company. It controls all financial records and makes them accessible in a single system.
Some of the key features of our FinAct solution include:
Cash flow
Payment and receipts
Advanced bank reconciliation
Expense recording
Audit log
Payable and receivable
The FinAct system allows company leaders to make better decisions by regulating budgets for production, distribution, regulation, and procurement costs.
Manage human resources:
Human resources management is pivotal to businesses. With an ERP solution, your human resources manager has all the necessary tools to effectively track employee performance and attendance. The time and attendance tracking software is an ERP tool that provides accurate data on employees' arrival and departure. Through geofencing, you can track the location of your employees and increase accountability within your organisation.
Also, the system allows you to store data required for onboarding new talents. Thus, you can easily access the data containing the skills required for each job post in the recruitment exercise. In addition, through the data available for each employee's performance, you can effectively identify problems in performance and develop training programmes.
This way, employees are better trained to handle business operations resulting in workforce productivity. As a human resource manager, ERP solutions centralise data so you don't need to go through the rigorous process of compiling employees' profiles, payroll, or appraisal documents.
Efficient procurement system
Another benefit of ERP to businesses is to track products from shipment to payment of services; it provides a convenient way of purchasing and making payments reducing the time and cost during the procurement process. Equally, ERP helps to monitor suppliers' performance by providing insights into their activities. With a supplier scorecard, companies can track on-time delivery and key performance to identify issues as early as they arise and be proactive.
Risk Management
At some point, every business must face risks. A company might be taken unaware by environmental changes or regulatory policies that can adversely affect business growth. To reduce risks, businesses need an ERP solution that can share insights into possible problems on projects so that managers can develop a contingency plan to avail the situation.
How to choose the Best ERP Solutions?
Having known the benefits of ERP for your business, how do you get to choose the best solution that suits your needs?
Choosing the right ERP solution depends on your company's goals, your market size, and the demand for your product(s).
Here, are six criteria to look out for when choosing an ERP solution:
Evaluate the processes of your business operations
How well does communication flow in your company? Do you have a centralised database where employees can gather information? These questions need to be answered before choosing an ERP solution. You have to analyse your company's strengths and weaknesses to identify areas of improvement.
Check the cost of acquisition
Before purchasing any ERP solutions, you need to know the acquisition cost, implementation cost, maintenance fee, and charges to make an upgrade.
However, considering a reliable enterprise and resource planning software will help manage business operations and increase profit. This is what we offer at Hidden Brains – seamless work processes and higher productivity through innovative technological solutions.
Consider the flexibility of the ERP solutions
The oil and gas industry is evolving with new trends. As such, your business should also scale up to meet new technology trends. When choosing an ERP solution, it should be able to grow your business to meet different market trends, handle volumes of data, and improve user experience. The ERP solution you choose should meet your company's needs at every level.
Choose a reliable vendor
Business owners have various software solutions to choose from but it is vital to choose a reliable vendor with proven work experience like Hidden Brains. We have two decades of experience transforming businesses through automating business operations with advanced technology solutions.
Integration System
One basic function an enterprise resource planning software should perform is integrating all business operations by creating a single database. As a business owner, you should select the best ERP solutions to avoid excess workload and maximise profit.
Mobile Access
In the oil and gas industry, most jobs demand employees to work outside the company. Employers need constant communication by employers to properly track work progress. An ERP solution should, thus, offer mobile services so companies can effectively handle operations from different locations.
Conclusion
The oil and gas sector is evolving with new technology tools to enhance quality product output. Businesses that want to scale up need to acquire enterprise resource planning software to stay updated with global trends.
At Hidden Brains, our solutions are reliable and suited to meet your needs. We have various ERP solutions that can assist you in managing your business assets, improving operational services, and maximizing profit.
Check our solutions page for more details or send us an email via [email protected] to get started.