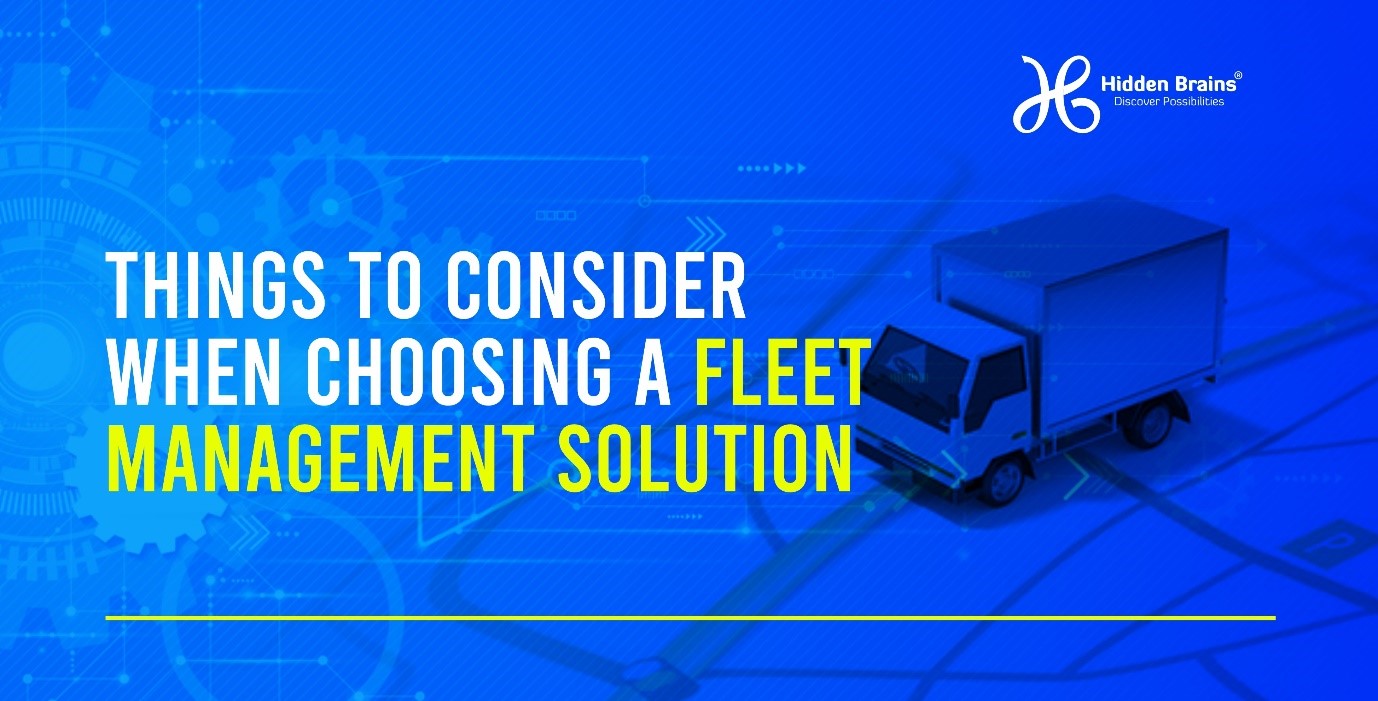 The logistics operations of a business are crucial to the growth and reputation of that business. Whether it's delivering orders to customers or transporting supplies, there is a need for organisations to have a comprehensive fleet management system. Usually, a fleet manager is tasked with ensuring that vehicles are properly handled and maintained and the drivers are not slacking off. But this is physically impossible, which is why companies adopt vehicle tracking systems or, for enterprise-level operations, a fleet management solution.
What is a Vehicle Tracking Solution?
A vehicle tracking solution is a software solution designed for companies to monitor the location of their vehicles from trucks to trailers, and other vehicles. This software solution functions using GPS, so companies can have real-time information on their vehicles.
A vehicle tracking solution is often mistaken to be the same as a fleet management solution. While a fleet management solution will include a vehicle tracker, a basic vehicle tracking solution isn't as encompassing as a fleet management solution.
Fleet management solutions, on the other hand, offer extra features and support for maintaining your vehicles, monitoring drivers' performance, fuel consumption, route optimisation, etc. So, this is the first question every fleet manager or business owner should ask before making the choice.
Does the company need a basic vehicle tracking solution or a fleet management solution?
This isn't to undermine the abilities of a simple vehicle tracking solution, but the needs of the organisation come first. A basic vehicle tracking solution offers benefits such as;
Remote access to real-time information about your fleet's movement. If your driver makes unauthorised trips, you will be alerted.
Increased productivity. An aftereffect of the first benefit, your drivers will put their best feet forward, and stick to driving rules and trip schedules.
Improved customer services as you will be able to give your customers/clients an accurate delivery timeline and updates on your drivers' location.
Reduction in operational costs as some vehicle tracking solutions come with a "Fuel consumption" feature. This feature allows companies to monitor how fuel is consumed, which allows you to control fuel expenses.
Ensured safety and security of your vehicles and drivers. With a GPS tracking solution, your driver's safety is guaranteed. In the event of a stolen or missing vehicle, the solution will provide the location of your vehicle.
An up-to-date data history of trips, drivers' schedules, and other important details.
A fleet management solution combines these benefits with extra value in form of;
A route optimisation feature to help you choose the best routes for trips and avoid heavy traffic and closed-off roads, further reducing cost and increasing efficiency.
Vehicle diagnostic features to help you monitor your vehicle's health. This way, you can prevent accidents and ensure the safety of your drivers.
Analytical features that provide insights on how to improve operations, serve customers better, and optimise resources.
Monitoring drivers' behaviour like route deviation, rash driving, etc.
Now that you know what a fleet management solution offers, what are the things to consider when you want to get one?
Things to Consider when Choosing a Fleet Management Solution
Passive or Active Tracking System: There are two major types of tracking systems – the passive system and the active system.
The former involves the use of a receiver unit that stores the GPS data. This data would be downloaded onto a local server, but only after the vehicles have completed their trips for the day and have returned to base. The transmitted data will be downloaded using Wi-Fi. The system collects data every 30 seconds and requires huge storage space, leaving room for data loss and downtime.
This is not the most effective way to manage your fleet.
The active tracking system, also known as a real-time tracking system, uses a satellite modem within the GPS- system in real-time. Unlike the passive system, it continuously updates data into the server depending on the pre-set frequency. This is the preferred option as you can monitor your vehicles in real-time, and your server can get data without any interruption.
Hardware Options: Whether you are going for a basic vehicle tracking solution or a fleet management solution, there should be hardware options for situations, where the network is unavailable, to avoid data loss. It will serve as backup storage for the software solution. It should also be of the best quality. It is recommended to get a hardware solution that is resistant to heat and impact and is waterproof.
Available features: Why go for a solution with limited features when you can have a fleet management solution that covers all the facets of your logistics operation? Check and compare the features different solutions offer and choose the one that best suits your operational needs. For example, if you are in the logistics or transportation industry, you need a solution that has a route optimisation feature to save time and give your customers the best experience.
You also check to see if the solution is compatible with plug-ins and supports third-party integration. Offline data tracking is another feature to look out for. In cases when the network is weak or unavailable, the hardware can store the data and send it to the server when the network comes back on.
Does it have security features like geo-fencing to prevent your vehicles from going out of the delineated area?
The features of the solution must satisfy your business needs to ensure you get the best value.
Integration: You want to consider if the solution can integrate with your existing systems for organisation-wide collaboration and efficiency. This will allow your organisation to streamline operations across all units. The solution should also enable remote access so you can monitor your vehicles on your mobile device from anywhere.
Experience: Does the company providing the solution have experience? Is it a proven leader in the industry or a start-up still learning the ropes? The solution provider must have adequate experience and a good reputation.
But beyond those, you should also check how willing the company is in guiding you through the process of selecting and implementing the solution. Do they offer post-installation support? Selecting a fleet management solution can be overwhelming and it is best to choose a company that will walk you through it. Do they offer demos? Will they answer any questions you have or are they dodgy?
If the solution doesn't satisfy your business needs, or you don't like the customer experience, you can always try another company.
Training and Support: If a fleet manager can't properly operate the solution, the solution is as good as naught. This is why the solution provider must have experts that are approachable and available to offer support when there's a challenge to get you up and running as soon as possible. These experts can also train your staff on all they need to know about the solution and how to operate it.
Quality Reporting: Your fleet management solution should offer authentic reporting to allow you to make the best business decisions. You should be able to get reports based on your desired frequency and in your desired format. The reports should include every necessary detail from excessive idling to over-speeding, driving/traffic rule violations, and others.
Ease of installation and maintenance: Fleet management is a hard enough task, so you need a solution that eases your job and won't further complicate your task. It should be easy to install and maintain.
These are the things to consider before choosing a fleet management solution. However, you should know that the choice of software solution is also dependent on your vehicle type. There are different software solutions for different types of vehicles. A good solution provider will, of course, guide you in making the right decision.
Hidden Brains Offers the Best Fleet Management Solution
Hidden Brains Africa has close to two decades of experience in helping enterprises grow by maximising and integrating technology in their businesses. With a wide range of industry-specific solutions that have catered to over 2000 clients, our fleet management solution is the best in the market.
Designed with GPS technology, it provides real-time location of vehicles along with reports on vehicle location, vehicle diagnostics, driving behaviour, trip schedules, and many more.
Other features of this edge-cutting solution include;
Real-time tracking
Smart alerts (including safety alerts for over-speeding, harsh braking, crash detection, jamming detection, etc.)
Offline data tracking
Geo-fencing
Route optimisation
Trip scheduling
Vehicle trips' history
Driver behaviour monitoring
Seamless integration with maintenance, asset, inventory, and finance system.
Compatibility with the latest web and mobile platforms.
It is suitable for businesses operating in industries like;
Logistics
Oil and Gas
Fast-moving Consumer Goods (FMCG)
Public Transport
Car Leasing and Rentals, and others.
With our solution, you enjoy the best value by increasing productivity and efficiency, saving costs, reducing downtime and accident risks, optimising resources, and many more.
You can book a free demo or send an enquiry to [email protected] to get started.
Contact us today!
Are you looking for the best Fleet Management Solution?