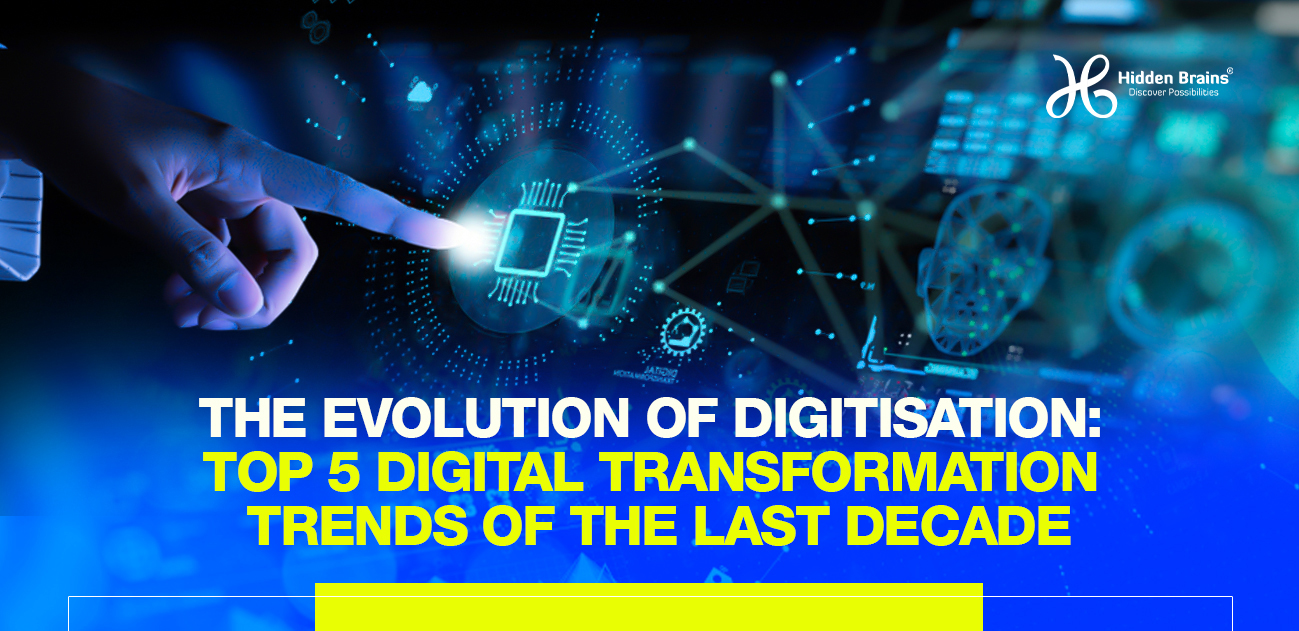 The digital revolution began decades ago with the invention of digital computers, and it continues to wax stronger with different emerging, disruptive technologies. The last decade (from 2011-to 2020) witnessed the highest degree of digital transformation and integration. It changed our relationship with technology on every scale, both individually and in businesses. In addition, the world became more hyper-connected with the COVID-19 pandemic, which forced us to embrace digitalisation.
From Software-as-a-Service (SaaS) to DevOps, Blockchain, Robotic automation and many more, businesses have embraced technology and digitalisation trends that emerged in the last decade in varying degrees. Some digitalisation trends this decade are built on these technologies, and some are crucial for the survival of businesses in the digital age.
In this article, you will find 5 of the biggest trends in digital transformation over the last decade. You will also find how Hidden Brains has been creating quick and robust digital solutions for businesses with these trends.
5 Top Trends Of Digital Transformation
Cloud computing:

Cloud computing has always been a game-changer since it gained recognition at the start of the last decade. Making its way as a major component in enterprise technology, we saw the top names in tech like Microsoft and Amazon adopt cloud computing. They launched their cloud services and set the path for others to walk. Five years later, cloud computing had gained more ground, and companies that thrived off of it were the ones that could continuously deliver.At the end of the decade, the pioneers continued to dominate the cloud computing market. Amazon Web Service (AWS) remained at the forefront as the most used cloud service, with Microsoft Azure and Google Cloud following closely behind.

Cloud computing is perhaps the biggest trend in digitalisation, and it continues to remain crucial in enterprise technology to date. The revolution may have begun in the last decade, but we believe that there's more to come. With cloud computing, you can streamline important business processes, increase productivity, and deliver sustainable value to your customers/clients.

Hidden Brains is a leading enterprise software and IT solutions company that helps businesses worldwide with digital transformation. To embrace digital transformation, businesses need to integrate specific solutions like cloud computing, and we are in the business of making that happen. We can help your business increase efficiency and operate faster in the digital evolution with our versatile integration offerings. These offerings include cloud engineering that allows your organisation to switch from traditional software technologies to cloud-native services.

If you want to constantly deliver the best customer experience, cloud computing is the way to go, and Hidden Brains is here to help you achieve that.
Big Data:

At the beginning of the last decade, the total volume of data created worldwide was 2 zettabytes (2 million terabytes). This figure reached 2 zettabytes (642 million terabytes) by the end of the decade in 2020. This figure was far higher than predicted, as the increase was due to the sudden pandemic in 2020. The pandemic led to increased demand for data because remote jobs and learning became the best alternative. The figures are projected to triple in the first half of this decade.

The growth of Big Data is a result of technological advancement and the consequent effect of the ever-increasing need for data. However, the amount of data is not the only thing that grew in the last decade. The storage capacity of newly created data also grew. In 2020, the storage capacity installed reached 6.7 zettabytes (67 million terabytes) and is expected to grow at an annual rate of about 19% in the first half of this decade. This means that individuals and businesses alike now have more information at their disposal.

How can this help your business?
Big Data allows you to collect real-time data on elements of your business like products, resources, and customers. When you have access to such valuable data, you can analyse it to improve the customer experience. Furthermore, Big Data is constantly updated, enabling you to respond faster and more accurately to your customer/client demands. With Big Data, you can also integrate digital changes into your business operations faster than your competitors. This gives you a competitive edge over them.

Hidden Brains helps you analyse data to gain actionable insights that enhance business intelligence in your company. Customer experience is the core of digitisation, and with us, you can give your customers the best experience.
The Internet of Things:

The Internet of Things (IoT) was a novel idea in the early years of the last decade. IoT was all about smartphones and smart supply chains for most people then. Fast forward to 2020, the idea grew to become much more than that. Now, thanks to IoT, we have drones, autonomous vehicles, smart homes, and many more. With more innovations in Artificial Intelligence, IoT technology continues to grow.

With IoT, you can build apps that will optimise the customer experience. Businesses can utilise IoT for some things such as asset tracking, facility monitoring, vehicle tracking (if you are in the logistics business), security/alarms, etc. However, several enterprises in Nigeria are unaware of the benefits of IoT. They struggle to differentiate between the Internet and IoT and are hesitant to adopt it.

The internet and IoT may be similar but are not quite the same. The former creates new business opportunities and a means of connection between entities. On the other hand, IoT allows multiple devices to connect, exchange data, and provide insights from the subsequent analysis. This way, businesses can develop new products and services. With IoT, your business becomes data-driven, and it can continue to evolve from the constant feedback it gets from the data exchanged in the IoT.

To fully maximise the benefits of IoT for your business, you need to understand the things you don't know about it and the areas in which IoT can help your business. This is where Hidden Brains comes in. Our consultation service helps you understand what IoT is and how it can work for your business. We can help you develop an effective, winning strategy that eases the integration of IoT with your existing business strategy.
DevOps:

Automation is the essence of digital transformation, and certain tools make automation possible. The DevOps toolchain contains automation tools that can help your organisation unify the workflow of your operation and development teams. Before tools like that were created, there was a disconnect between organisations' development teams and IT support teams. This disconnect created problems as applications scaled because there was no continuous integration and unification of workflow. The last decade saw DevOps become more recognised and organisations across different industries adopting it. With the DevOps toolchain, organisations have been able to solve the problem of a disconnected workflow.

If your organisation is such that it has frequent releases (software), you may require talents that have expertise in DevOps. The DevOps team identifies problems that may affect customer experience and mitigate them before they can do so. DevOps practices help automate and optimise business processes, but it also requires an organisation-wide change in how teams work and collaborate. The DevOps market is still emerging, and there is much to learn and acquire in mastering the operations and complexities of the automation toolchain. This is why all teams involved must exchange information on their processes and concerns to create a healthy DevOps culture. This is essential for the successful adoption of DevOps practices.

How can Hidden Brains help you stay on top of this emerging trend?
At Hidden Brains, we guide your organisation to include trending technologies like DevOps in your business operations. In addition, we offer integration and consultation services that help your business overcome challenges and create opportunities to boost agility and enhance its existing business model. As a result, your organisation can meet the demands of disruptive digital solutions and improve customer/user experience.
Cybersecurity:

With digital transformation becoming more prominent, cybersecurity became a top priority for enterprises in the last decade and continues to do so. Cyber risks are one of the cons of digital transformation, but an effective digitalisation strategy considers and creates solutions to minimise risks. Cybersecurity is a must for enterprises that want to stay ahead in digital transformation. Unsecure systems can cause unimaginable losses for organisations.

There will always be a need for cybersecurity with new digitalisation trends emerging. Cybersecurity is a must-have for your organisation. With Hidden Brains' Quality assurance services, your enterprise systems, software, web apps, and data will be secure. We also ensure that they function at an optimal rate. We optimise security by identifying app vulnerabilities to minimise errors and benchmark your software code for increased quality assurance.

The wave of digital transformation is getting stronger, and we are already witnessing new trends in this decade. However, beyond keeping up with the trends, you must develop an effective digitalisation strategy that will help you adopt the right tools, technology, and personnel. This way, you can efficiently manage resources in your company's digitisation journey.

With a partner like Hidden Brains guiding you through the digital revolution, you can rest assured that your business will ride the wave of digitalisation and stay at the top. We also offer business consulting services for enterprise digital transformation. In addition, we help you understand what existing, and emerging technologies can do for you.
Hidden Brains is your one-stop shop for digital transformation. Join the digital revolution with us.
Looking for quick and robust digital solutions for businesses with latest trends?