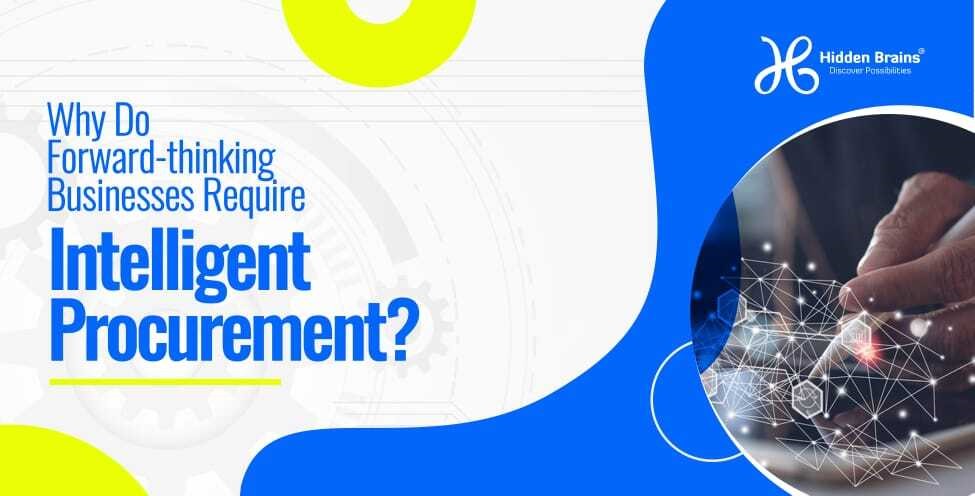 Most modern organisations have complex and dynamic supply chains due to ongoing changes in suppliers and industries, the availability of materials and commodities, and market trends. However, with intelligent procurement, the complexities are lesser.
Businesses can use procurement to become leaner, more efficient, and risk-free. Procurement can help companies protect their organisations and boost their bottom lines.
Fortunately, technology aids businesses in reducing risks, making strategic choices, improving transparency, and setting up sustainable, intelligent procurement procedures. Businesses that use intelligent procurement enjoy the use of data analytics to improve, streamline, and sustain their procurement processes while automating inefficient procurement tasks, thereby providing oversight across the entire organisation.
It's not just about cutting costs; it's also about being futuristic. To better appreciate intelligent procurement, a trip to the past lets us see how far procurement has come.
History of Procurement Through the Years
Ancient civilisations, including the Egyptians in 3,000 BC, left the first signs of procurement. The construction of the pyramids was aided by materials management, even though there was no specific procurement function. The Egyptians used scribes to manage the supply for these enormous undertakings. On papyrus rolls, scribes performed clerical work by noting the number of supplies and labourers required. These scribes were among the first known in history to be in the procurement profession, tracking orders from receipt to fulfilment.
Charles Babbage's 1832 book, On the Economy of Machinery and Manufactures, contains one of the earliest mentions of the procurement function. He emphasises the requirement for a "materials man" in the mining industry who chooses, purchases, and keeps track of the goods and services needed. In essence, Babbage recommended appointing a single procurement officer.
With the introduction of various procurement concepts in the late 1800s, the importance of procurement started to increase gradually. The early 1900s saw the publication of procurement principles, and the post-Second World War shortages of materials and goods further increased procurement's relevance. However, not everyone saw procurement as an important and strategic task, and by the 1950s and 1960s, procurement was still widely seen as a cost-cutting function.
This perspective on procurement shifted in the 1970s when the oil crisis of the decade caused widespread economic and industrial challenges. Businesses struggled to obtain raw materials, meet customer demands, and manage rising input costs. Due to these difficulties, procurement emerged as a separate function with the primary goal of securing materials through tactical approaches. The 1970s are regarded as a watershed moment in procurement history, with the function gaining widespread recognition and interest during this decade. Before this time, procurement was thought to play a non-strategic role in businesses, which resulted in a broader scale and improved supplier relationships.
By the late 1990s, procurement's role had begun to shift toward strategic sourcing. Procurement officials viewed suppliers as partners, and long-term contracts were encouraged. This marked the beginning of the modern era of procurement.
Today's procurement functions use suppliers' external resources to boost their organisations' competitive advantage. As a result, the procurement function's increased contribution to an organisation's competitive advantage denotes the increased importance of the function.
Technology has had a significant impact on changing the face of procurement. There is no turning back from the changes these solutions have provided, from giving new ways to manage supplier data and enabling organisations to learn all kinds of information about their vendors.
While digital technology has been one of the most significant changes to the procurement practice since its inception, digital development and transformation are here to stay for the foreseeable future.
Procurement is evolving as a result of new technologies. Intelligent procurement solutions, such as Hidden Brains' are revolutionising strategic sourcing. The shift to strategic sourcing and vendor management software saves organisations time, allowing them to focus on organisational initiatives and supplier relationships.
So, why does your organisation need intelligent procurement?
There are several advantages that procurement intelligence can provide for organisations that choose a complete digital transformation. From transaction automation to real-time insights and optimisation of resources, here are some ways that intelligent procurement helps businesses:
The user experience and simplicity of implementing these solutions have accelerated in organisational settings. By reducing the bidding cycle, enhancing supplier collaboration, raising contract compliance rates, and containing costs, these conventional methods for automating upstream and downstream processes have a very positive effect on transaction efficiency.
Improved Supplier Insight
Procurement software can show businesses where and from whom to buy by gathering supplier market intelligence. Intelligent procurement tools enable businesses to compare supplier performance and pricing, allowing them to work with tried-and-true vendors who consistently deliver the best value.
Foster Innovation and Expansion
Businesses frequently use data analysis to find patterns, spot flaws in their processes and get a holistic view of their operations. With the help of intelligent procurement, you can gain new knowledge about your company, suppliers, and industry to create novel ideas for promoting innovation and growth.
Analysis of Purchasing Procedures
Intelligent procurement platforms allow for better quality control of the purchasing processes and better risk management for audit or internal control departments. It allows for the analysis and understanding of the causes of the differences in processes, specifically the analysis of order regularisation, price changes, and reasons for late payments.
Intelligent procurement helps with one of the most important profit drivers, spend analytics. Additionally, it enables procurement teams to quickly cost-compare new vendors, add a threshold to project, employee, or department spending, display spending trends, and prevent overpayments with contract analysis.
Category Management enables the development of one-click procurement strategies such as variant and volume consolidation, vendor rationalisation, multi-year contracts, etc., by providing end-to-end visibility of corporate spending. With the help of procurement software, category intelligence can be built over time.
Category managers set up categories and divide company spending into groups based on similar or related products or services, which are then organised by value, supplier, type, or volume. These category plans are looked at by procurement intelligence, which leads to a larger scale and better relationships with suppliers.
Intelligent procurement allows organisations to manage various vendors. It involves the systematic management of vendor relationships that encompasses the entire vendor life cycle and allows for value to be optimised through innovation, risk reduction, and partnership programmes. The simplest way to lower risk is to list the tasks that vendors must complete before working with you.
Commercial considerations and environmental and social governance (ESG) components, such as supply chain sustainability, can be incorporated into your sourcing strategy and requirements.
Firms and businesses can make more strategic sourcing decisions thanks to intelligent procurement. In order to address supply shortages, procurement enables you to consider internal and external factors, such as budget, budgetary, and purchase needs.
Automation tools assist in reducing the risks associated with poor procurement decisions. This not only allows your company to work with talented vendors, but it also reduces the margin for human error. Implementing automation in the procurement process is expedient because human input is always required. To reduce human error in items such as contracts, automate as many processes as possible to save time and improve supplier relationships.
Thanks to procurement tools, you can better evaluate the market price and negotiate it. It prevents you and your company from making an uninformed commitment. You have the opportunity to conduct research.
Conclusion
Procurement, formerly thought to be a transactional function performed by clerical workers, has evolved into a transformative one. A strong, effective, and economically efficient organisation must have a strong procurement department. Businesses that approach procurement carefully and strategically will succeed more often, both now and in the future.
The modern procurement professional is a hybrid of a data analyst and a relationship builder. We have big data to thank for its ability to strategically decide how a company spends the largest portion of its budget.
Would you rather be stuck in the Stone Age or join the forward-looking organisations using intelligent procurement solutions?
Not sure where to start? We are here to help.
Our intelligent procurement solution aims to streamline purchasing and reporting to gain better insight into and complete control over spend. From planning and deployment to operations and beyond, our value-added solutions ensure success. We are the future! Click here to book a free demo.
Looking for Intelligent Procurement for your business?