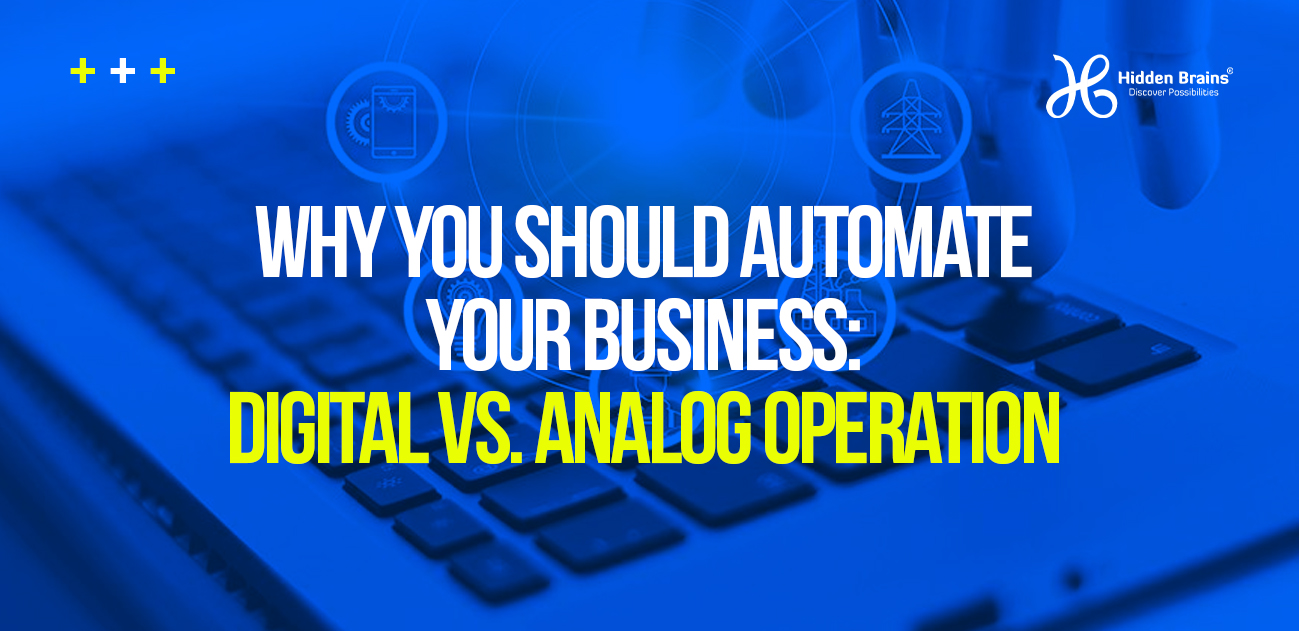 Not too long ago, many business processes happened physically or in an analogue manner. But since the wave of the fourth industrial revolution, digitisation of your business is highly recommended to gain a competitive edge in the business world. In this battle of Digital Vs Analogue Operations, know how digitalisation will help businesses to maintain a competitive edge.
Below, we will show you some typical organisational processes and then compare them with digital solutions we have created to mitigate the inefficiencies of analogue operations:
HR PROCESSES (HRMS)

At the heart of every business is people; personnel, and the performance of these employees determines the wellbeing and growth of an organisation. This is why an impeccable human resources department/management is a must in every organisation.

A human resources department manages an organisation's personnel to achieve their best performance and productivity, and these people must fit the company's values and culture to make this impact. The HR manager/department's responsibility is to provide all the training, administration, advice, and other tools the team requires to create a conducive and productive work environment.

In the past, the HR department could be referred to solely as a person or group of individuals that make all these processes happen. However, in the era of digitalisation, HR departments have technological software that enables these HR processes to run smoothly with minimal chances for human errors.

There are some major aspects or elements of Human Resource Management, which include, recruitment, performance management, employee exit, benefits/loans, leave processing, employee relations, etc.

A typical/analogue HR department carries out the aforementioned processes with the aid of Microsoft Offices software like Excel and Word, physical documents and files, and many other tools that are highly prone to human and computation errors and are not as efficient in the long run.

A digitised HR process runs the same processes but is automated. As an example, our Hidden Brains' custom HRMS solution has the following features: Automated Payslip Generation, Leave Processing, Data Regularisation, Loan and Advance, Approval Flow (marker/checker), MIS Reporting, Employee Self Service Portal, Seamless Integration with 3rd Party Systems, Employee Entry and Exit Process, Interview and Assessment, Roaster and Shift Management, Organisation Structure. These various processes are streamlined and unified to enable ease of access and viewing.

With all these processes easily accessible and available in one solution, there is no need to keep running HRM processes in an analogue way. The benefits of a digital HRM system are many; you can forecast easily, reduce human error for computation and calculations, pay your employees on time, guarantee employee satisfaction, and increase productivity and profit.

FINANCE AND ACCOUNTING

Finance is one of the key departments in any organisation. When a company is unable to keep track of its assets, liabilities, equities, revenue, and expenses or the company has books that do not add up, then there is a high chance that trouble is lurking in the future for that company.

Using Excel and QuickBooks can be acceptable on a small scale, even though carrying out these processes manually leaves you prone to human and computation errors. However, you can increase accuracy and productivity when you automate these processes by getting a robust solution like our FinAct solution.

FinAct gives you full control of your organisation's finances because it merges the reliability of desktop accounting software with the flexibility of the cloud, to give you a more holistic view. With features like cash flow, payables and receivables, payments and receipts, advanced bank reconciliation, audit log, allocation and setoff, expense recording, and approval flow of your finances.

With the FinAct enterprise solution, you gain better business insights, can be compliant with government regulations, and track the overall financial progress of your business.

RETAIL SYSTEM

When you hear retail, you can take it to mean simply buying in relatively small quantities and selling directly to the consumers. But this is just the on the surface, and for a one-man business, this definition suffices.

However, a retail system does not just involve one man in the real sense. Even without employees, there is the customer aspect of retail, which is the most crucial part of any retail business.

So in the retail business, customer interfacing and satisfaction are of utmost importance. A retailer has to make sure all channels to and from the customer are open and unclogged. Handling all these (orders, inventory, purchasing, point of sale, customer rewards, employee rewards, etc.) with desktop software can only be efficient when your company isn't experiencing growth.

Since exponential growth is one of the goals of every enterprise, there should be provision for that. This means onboarding an enterprise software that can automate these processes and save you time is the next step you must take.

Our Retail Management Solution (RMS) will do the trick. RMS handles Customer Relationship Management (CRM), Point of Sale, and Inventory for both individual or chain of retail stores. With our RMS, you can interface with your customer via web or mobile, integrate easily with 3rd party software, view your inventory seamlessly, and get real-time reports.

ESTATE MANAGEMENT

Being the owner of a large estate means you are responsible for the privacy and security of the residents. Therefore, you must keep track of the traffic in and out of the estate and cannot rely solely on security personnel and desktop software to keep these records without losing anything due to human computation errors.

Hidden Brains' Estate Management solutions have solved these problems for you. By using our digital estate management system, you can automatically manage visitors, housemaids, facility, delivery staff, personnel and visitor access, child security, SOS Panic Alarms, and other complaints.

Another huge benefit of the estate management solution is that you can track, audit, and access all this data in real-time, ultimately enhancing the security and privacy of your residents.

WAREHOUSE AND INVENTORY PROCESS

Every warehouse had the following key processes: receiving, put-away, picking, packing, dispatching, and sometimes, returns. Even though every warehouse has the same processes on the exterior, there are certain intricacies and uniqueness that each warehouse business possesses.

Receiving: This is probably the most important warehouse process. Goods entering the warehouse must be ascertained to be correct, timely, in good condition, and right quantity. At this point, goods become the responsibility of the warehouse until shipping or dispatch. And an automated receiving process allows you to keep and transfer records of received goods and schedules of arrivals and personnel.
Put-away: From the receiving dock, goods need to be 'put away' in the right and safest place. Instead of manually assessing every space in the warehouse, a digitised system like our Warehouse and Inventory System (WIS) enables easy space allocation, optimisation and stock control.
Picking: This involves selecting products to fulfil an order or request. This process requires the most expertise and labour and should be optimised for speed and efficiency. A digitised warehouse operation means that these processes and layouts are streamlined to allow employees to locate, pick, and scan all goods.
Packing: Already picked orders are consolidated and prepped to be shipped to the customers at this phase. A digitised system takes cognisance of parameters like weight, size, fragility, and every necessary data that makes them easy to send to the consumers. This system will also help you make better decisions to reduce wastage, leakage, and damages.
Dispatching/ Shipping: This is usually the last stage in the warehousing process. Here is where the goods' voyage to the customer begins. Successful shipping starts from proper sorting and loading and ends in the timely delivery of the correct goods to the right customer. The success of this stage is highly determined by how airtight the other stages have been.

Many warehouses have started to go digital, as these processes have proven to be cumbersome when carried out manually. If you are still operating manually, our Warehouse & Inventory Management Solutions is right for you.

There are many features, like multi-company, location & currency, multiple product owner, batch, barcode & tagging, easy integration with 3rd party systems, smart alerts, and omnichannel fulfilment. WIS saves you time, money, and manpower and is the perfect solution for your warehouse & inventory business.

If you are still hesitant because you do not know if this solution serves your business, call +2348141261421 for a free business consultation with our experts.

ASSISTANCE

Assisting your clients/customers over the phone is one way to go if you are in the service industry. But what if your clients are in a different time zone? What do you do about call tariffs and roaming charges?

For a business positioned to target both local and international customers, finding a way to assist your clients from any part of the world should be at the top of your priorities. And it is at the top of ours, too; that's why we created the Smart Assist enterprise solution.

Smart Assist is a cost-saving, robust solution that enables you to provide AR based remote assistance solutions to your customers. You can record, schedule, and make conference calls, make video calls, take photos, stream easily, and enable geolocation services.

With our Smart Assist web-based solution, you can skip the hassle of installation and still increase efficiency, save cost, and satisfy your customers!

ATTENDANCE MANAGEMENT

Taking attendance of your employees is a way to hold employees accountable by ensuring they are clocking in and out at the hours they are being paid to work. However, when attendance is conducted manually, there is room for human error and abuse of the system.

In this era of digitisation, an automated attendance management system drastically reduces the work of the HR department. This is where our attendance management solution comes in; it boosts transparency within the organisation and gives you accurate reports that make the appraisal process easier.

This solution accommodates facial recognition, automated timesheets, different break types, including trips and holidays, and shift management, with both online and offline access. You can even manage your team remotely if you have to work from home.

PROCUREMENT PROCESS

Unlike in the past, procurement has become an integral part of operations. It is a strategic, long-term, organisational requirement, and as a result, businesses have had to create a sustainable, efficient, and structured way of carrying out this process.

How? You ask. Well, let's explain.

Procurement involves interfacing with vendors, either first-time or repetitive, to acquire a service or product relevant for organisational operation. These products and services should ultimately help the organisation reach its goals while saving costs as well.

Identify the requirements: This involves recognising the need for a product or service.
Purchase requisition: Within the company, a purchase requisition will be generated and approved.
Sourcing: Sourcing means finding a good vendor, whether new or pre-existing, to supply your needs.
Negotiate: Negotiating is the stage where quotes are sent back and forth until a bargain is struck.
Purchase order: When negotiations have been concluded, then a purchase order will be raised right afterwards.
Payment: When all the goods and documents tally and are ascertained to be in the right condition, payment takes place.
Record keeping: Both company and vendor must ensure their records are there, so there are no disputes in the future.

Making these processes digital gives your business a competitive edge, and any organisation that wants to survive in this future of work has to automate their business today to stay relevant and increase profit.

Our intelligent procurement solutions help you gain insight on your spending, accounting for all these aspects/stages of procurement, and even more, depending on your organisational needs. Our value-added solutions simplify this process for you and ensure success from planning and deployment to operations and beyond.
Hidden Brains enterprise solutions are necessary for a business owner or executive. We provide robust solutions that manage and automate these operational processes from start to finish. And with the aid of the latest technologies, our systems synchronise with other interconnected third-party software systems seamlessly.
You can send us an email at [email protected] or call us at +2348141261421 for a free business consultation.
Get the robust solutions to manage and automate operational processes