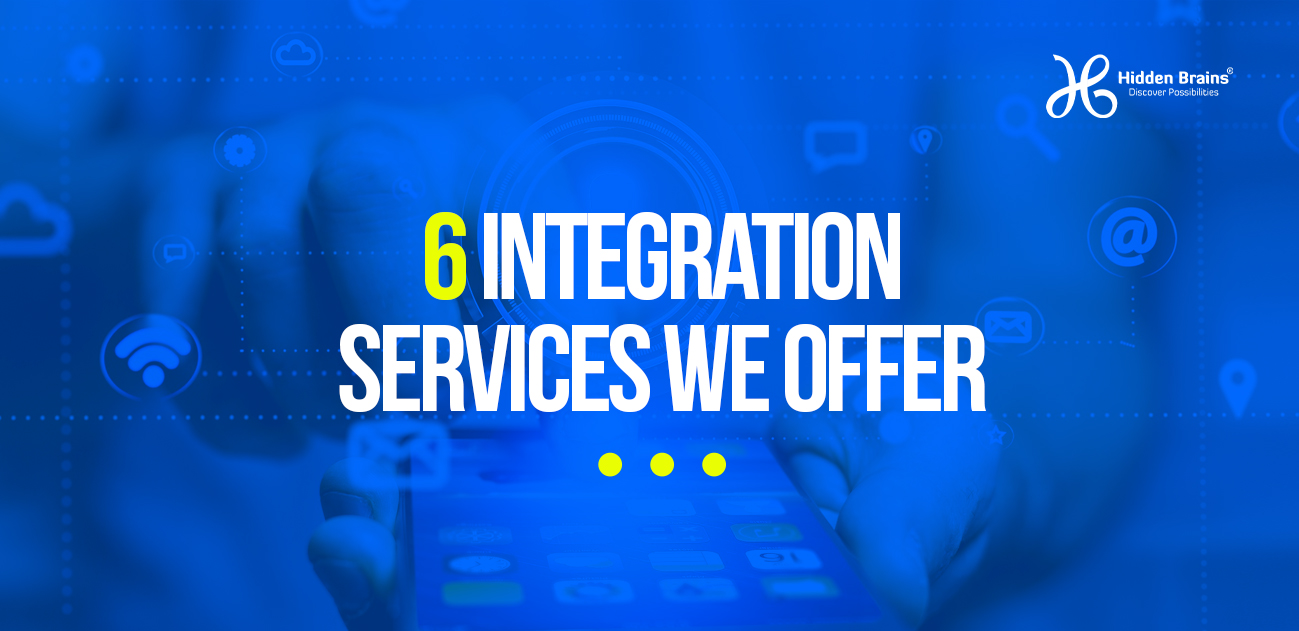 Business owners and managers are always seeking novel ways to maximise sales, reduce operational costs, manage time, and deliver excellence. With the growing call for digitalisation globally (even in industries once perceived as strictly traditional), every nonprofit and profit-making venture has made some move towards information technology (IT). These IT transformations make industries build, acquire, or plug into systems (such as cloud, on-premise, SaaS, and mobile applications and services), to keep their operations running. Because of the numerous systems involved, it becomes necessary for systems to be able to talk to each other, hence, the need for system integration.
How much do you know about systems integration? Also, are you aware of the integration services we offer? In subsequent paragraphs, we will discuss what system integration is, the evolution of system integration, methods of integration, the integration services we offer at Hidden Brains, and our personalised 6-step approach to making your integration journey worth it.
What Is System Integration?
Picture the anatomy of the human body as a single large system. Now think of all the other subsystems in that one single large human system: the musculoskeletal system, the excretory system, the respiratory system, the reproductive system, the circulatory system, the nervous system, the endocrine system, integumentary, and the digestive system. We now have systems all nicely integrated as a functional whole. All these systems, though independent, work together and send signals to one another for a common goal – to keep the larger system (the entire body) alive and well.
This is what integration is about. System integration can generally refer to the process of integrating (usually dissimilar) subsystems into a larger system as a whole. In Information Technology (IT) or digital solutions, it refers to physically or functionally bringing diverse computing or IT systems and software applications to function as a coordinated whole. System integration entails aligning existing, sometimes different systems with the intent to provide better product quality, reduce operational costs, improve response time, and minimise long processes.
Therefore, integration aims to put the scattered subsystems of an organisation all together like a puzzle. With this, there's the ease of reach of information or data. System integrators and system integration engineers play an increasingly significant role in the contemporary digital world. More and more systems are intended to connect, both for existing systems and for systems still under construction.
The Evolution of System Integration
It is not weird or new to have solutions spring up only after the problem arises, although this may not always be the case. The digital space has had its fair share of evolving to suit changing times and needs, and integration has not been left out. The evolution of system integration began from a need and has followed a path of options. Before the advent of the first set of integration, during a time when circulated computing was being sought after, there was a need for systems interconnectivity, that is, for systems to communicate with one another.
The Electronic Data Interchange (EDI) became one of the first reported system integration technologies designed in the 1970s. The purpose was to facilitate businesses in transmitting important papers smoothly. At the time, the EDI supplied a collection of software tools that assisted in completing transactions, given that no universally accepted standard could be executed in any language. The EDI was also known to only transfer documents in an extremely particular and precise format.
Other well-known integration technologies are Remote Procedure Calls (RPC) of the 1980s, Common Object Request Broker Architecture (CORBA) of the 1990s, Simple Object Access Protocol (SOAP), and Representational State Transfer (REST).
System Integration in the Present
The need for systems integration has never been more felt than recently, especially with the disjointedness of the IT architecture in every industry from hospitality, banking and finance, retail, oil and gas, logistics, telecommunications, real estate, and healthcare. In addition, system integration has become even more complex with the arrival of cloud computing. Data from a study conducted by Grand View Research, a Californian market research and consulting company, revealed that the global system integration market will experience a phenomenal boom by 2025.
Nevertheless, every system integration project requires critical foresight to avoid integration pitfalls and prevent them from becoming problematic in the short, medium, and long run. One important way to achieve such an effective system integration project is to develop integration strategies that consider all covert and overt characteristics of the project, including data, security, messaging, and networks.
Setting up integration requires infrastructure competency. It is important to add that operative integration incorporates analytical processes and work/information flow. With systems analysts or integrators, each integration process is unique, and each experience should be seen as new.
Integration has also become a hot topic in business. Business-to-Business (B2B) integration provides businesses with a long-term competitive edge. It involves integrating, automating, and optimising business operations outside of a company's firewall. The benefits of system integration to any business cannot be overstated, and it is even more worthwhile if the process is not done haphazardly. B2B integration has been proven to give enhanced automation, excellent customer satisfaction, real-time visibility, and inventory optimisation. Hence, not consulting and recruiting experts for your integration services may cause you frustration with poorly done integration. Business owners are granted a futuristic approach to doing business with integration from Hidden Brains.
Methods of Integration
Integration comes in different methods.
Vertical integration
Just as the name indicates, each layering in a vertically integrated framework works upwards and is known for creating functional units called silos. Vertical integration is a method where systems are linked or integrated based on their functions and each subsystem benefits from another. It provides business benefits such as harmonised communication amongst vendors, cost-effectiveness, operations control, and competitive edge.
Horizontal integration
Horizontal integration can also be called Enterprise Service Bus (ESB). In this method of integration, a single layer is used as a common interface between all the heterogeneous or disparate components. Because of the multiplicity of systems and the need to continually connect to newer subsystems, the ESB functions usefully to be cost-effective and avoid problematic integration. Its benefits include scalability, intelligent routing, access security, organised systemisation.
Point-to-Point (P2P) integration
Point-to-point integration is also known as star integration because, when this method interconnects each system to the other subsystems, the series of connections resemble star polyhedron – it is just what its name says. It can be explained as the integration of connecting systems point to point. X to Y, and Y to Z. The point-to-point integration best functions on small scale infrastructure and does not support scalability. While P2P may seem like a no-go zone, it has shown a few benefits. It is not rigid in deployment, it is less complex and easy (with the clause that there are very few subsystems), and it features a rapid application feature implementation.
System Integration at Hidden Brains
System integration is critical for both business-to-business communication and internal corporate collaboration. Thanks to the expansion of cloud, SaaS, mobile, and the expanding popularity of APIs, a complete corporate integration solution will give you the power to establish a connected business and enhance efficiency through robust data connectivity and system interoperability across numerous endpoints. At Hidden Brains, we design an ecosystem in which numerous systems are connected and communicate with one another. Our data integration services and solutions help you get the most out of your data, which leads to enhanced operational efficiency and customer service.
We make different integration provisions to suit different needs; our enterprise system integration services include:
SAP Integration: SAP means Systems, Applications, and Products. It is a business technology platform that enables you to link, accelerate, and empower your business. Our SAP integration services are modelled to give you end-to-end visibility and deep business insights for all your crucial business areas.
We provide integrated solutions to connect both on-premises and cloud systems. Our integration plan in this regard is complete and thorough across all your systems. On-premises system option is assured of restricted control over internal management of sensitive data, and speed, reliability, and scalability for cloud system option.
Custom ERP & CRM: We design custom Enterprise Resource Planning (ERP) and Customer Relationship Management (CRM) to seamlessly connect your critical business data from different platforms to ensure business processes run, and customers are satisfied.
Salesforce Integration: This is designed to merge the data and functionality of Salesforce with diverse applications for a single unified experience. You can have the best of both worlds!
Microsoft Dynamics Integration: Helping organisations across locations and countries to standardise processes and provide visibility with Microsoft Dynamics integration. MS Dynamics Integration increases business efficiency and streamlines processes.
Extract-Transform-Load (ETL): We provide ETL data integration services to gather data from different sources, in multiple formats, and seamlessly move it to one or more data stores. In other words, the data is converted from its raw state into the format required by the enterprise warehouse before being loaded. The ETL process involves five steps: extract, clean, convert, load, and analyse. As the name indicates, the most crucial process steps are extract, transform, and load. ETL is relevant for your business because it performs certain functions: it resolves data format conflict and synchronises data from various external systems.
How We Do it at Hidden Brains
Why not leave all the complexities to us and relax? We will take you through our 6-step integration plan that guarantees your organisation's effortless, excellent, and quick integration.
Determining Requirements
This marks the beginning of us coming on board. At this point, we discuss the entire business, IT operations, and business processes in detail to understand the integration needs. This is an important stage because we understand that every business and IT needs are unique.
Conducting Analysis
The next stage is where we analyse the requirements from the previous stage and check the feasibility of the intended solution, considering that it fits as a solution to the business problem.
Create Infrastructure
At this stage, we draw up a detailed blueprint and layout the design of how the various systems will be integrated. We also aggregate the data.
Prepare Integration Plan
This is a sensitive stage, and we commit a high level of seriousness to it. At this stage, we prepare the integration plan while considering how the system currently works, the goals, and what will be achieved.
Implementation
At this stage, we implement the solution and integrations as per the infrastructure and integration plan.
Maintenance
Scheduled diagnostics on the system will follow implementation to ensure that no new errors have been made and the functions actually enhance the performance.
Integrating your system is a welcome idea to position your brand for the future of business. While it may seem like a complex step, Hidden Brains is always available for consultations and to handle the entire process. We remain your one-stop system integration provider.
Remember:
Integrate your systems.
Integrate your systems with Hidden Brains!
Looking for system integration services to solve business challenges?