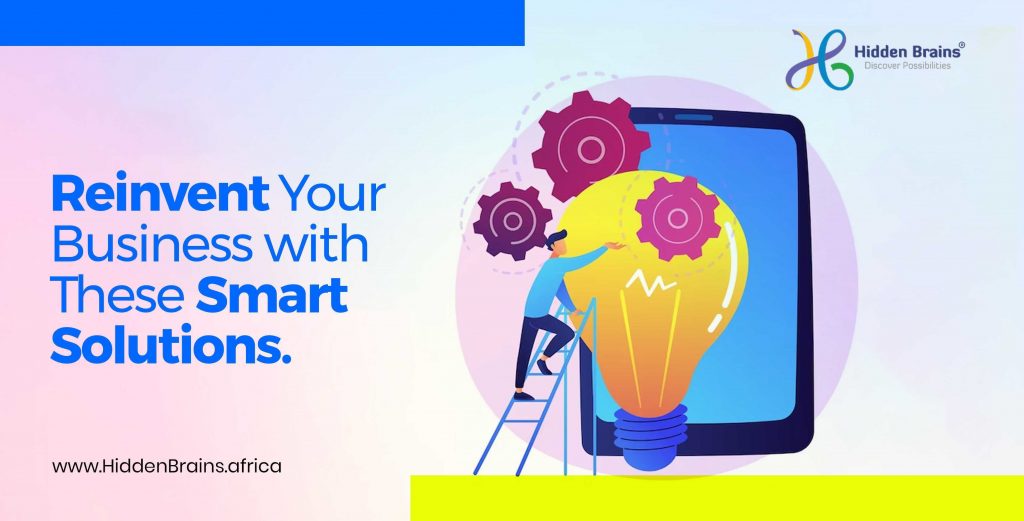 Change is one of the constant things in life. In the business landscape, growth is the only response to change. Businesses that aim at productivity could consider re-strategizing their operations; as the famous saying goes, 'Doing the same thing repeatedly and expecting a different result is an insanity'.To achieve the growth that is capable of taking your business to a remarkable level, you must be open to technological innovations and keep aiming for success. Although some people may have a biased opinion about the invention of technology like artificial intelligence, they can't ignore the immeasurable benefits that it has brought to humanity.
Whether your business is just starting, or it has gained some level of visibility, you cannot remain competitive by sticking to your old ways of doing things. The world is going digital. This is the time to embrace technology with open arms and raise your performance to meet excellence.
In this blog post, we'll explore what today's business landscape looks like because of technology, the best technology company to contact for your twenty-first-century innovative technology tools, and digital solutions that can help re-invent your business operations.
The Importance of Technology in Today's Business
Have you ever imagined how challenging doing business would have been if you needed to reach potential investors by post mail? Or how tedious it would be if you had to track your customer's buying behaviour and market data manually?
The importance of technology in today's world cannot be denied. The role of technology in the modern business landscape has come to stay and will continue to expand due to innovations. If you're reading this article, it means that you are a beneficiary of one of the blessings of technology. You are seeking information on how to re-invent your business and here you have all the information in a click. All thanks to technology and its impact.
Below are a few ways through which technology has impacted businesses.
Technology Makes Communication Easier
Technology simplifies communication whether through social connection or passing information within an organization. Let us consider two businessmen; Mr. A has to cross many rivers and deserts to hold a business meeting but Mr. B engages his business partners through tech communication tools. Which of these men is likely to experience more efficiency in communication while saving quality time? The answer is obvious. This is just to tell you the extent to which technology has aided communication in the business world. Today, business owners can connect with potential clients and connect with other business owners with a snap of their fingers. With artificial intelligence software like Slack and Discord, communication is enhanced within your organization. For individuals in project management, software applications like Task Management and Zoho Projects can help simplify projects in that deadlines are met and results are well communicated via emails or any other social media platform.
Technology helps you to stay relevant in your Industry
Regardless of the industry your business is in, there's technology available that you can utilize to skyrocket your business efficiency and streamline your operations. In order not to get overtaken by others in the field, businesses can stay ahead by adopting new technologies and trends in their sector. In the retail sector, for instance, certain technology like a Retail Management System (RMS) has to be considered to eliminate or mitigate human errors in the cause of production. This system is designed to take care of all your business-to-business (B2B) and retail chain operations such that as the cost of production improves, you can save more money and time.
You can better manage your Employees with Technology
It is said that humans are the most difficult entities to manage. That could be true if you still allow your human resource managers to go through the hassle of onboarding new employees manually and tracking their performance. Adopting a tech tool like Human Resource Management Software (HRMS) can help your HR to manage your employees better, track their performance in real-time, take charge of the payroll system automatically, and automate routine tasks within your organization.
There are lots of benefits that businesses stand to gain when they embrace technology. And if you're lost as to what next step to take towards your digital revolution, look out for a tech company to help you get started.
Did we just say look out? No! We're right here.
Why do you need a trusted IT company like Hidden Brains?
Hidden Brains is a solution-based software company with business-centric technology innovations tailored for African brands. We are a committed and trusted IT company with a reputable track record when it comes to raising the performance of African small and large-scale businesses to meet excellence. As a matter of fact, 'Excellence' is one of our lingua franca.
Having been in the industry for two decades and studied the challenges peculiar to most businesses, we have developed solutions to address these needs and help businesses scale faster. We have a team of more than seven hundred experts who work around the clock to ensure that our services remain top-notch and of high quality.
How does Hidden Brains help you re-invent your operational excellence?
At Hidden Brains, we have over ten intelligent solutions that not only give your business a better experience but make you sustain a leading role over your competitors. While some are tailored towards businesses in specific industries like oil and gas, we have others that are applicable to all businesses irrespective of the sectors they're in.
Here are 5 of our solutions that can re-invent your operational excellence.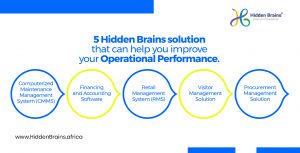 Computerised Maintenance Management System (CMMS)
Are you tired of repairing your physical equipment like your vehicles, plant machinery or any other management asset? This solution is what you've been waiting for.
With Hidden Brains' CMMS, you no longer need to have increasing blood pressure because of asset breakdown and a slow work process. Our CMMS solution allows you to control all maintenance operations from one single system, improve productivity, schedule and track work orders, and eliminate downtimes.
Financing and Accounting Software
It's money that matters here. We know that hiring more hands to take care of your financial records could incur more charges on your management costs.
To this effect, we have designed a smart solution that allows you to monitor what comes in and goes out of your accounts, simplify all your cash flow and transactions, and enhance overall financial performance.
With this solution, heads do not need to roll because somebody has tempered with your money without your notice. ALL your transactions are right before you; as clear as glass, while you also discover loopholes that need to be filled to achieve your fiscal goals.
Retail Management System (RMS)
The purpose of production is forfeited if the products do not get to the consumers, but with Hidden Brains' RMS solution, you can effectively operate several chains of retail stores without getting exhausted or overwhelmed.
We know the challenges that are associated with purchasing inventories, scavenging for customers, scheduling tasks for members of staff and managing your finances, and as such, we have designed an intelligent solution that ensures that your customers are satisfied and do not find it difficult to get access to your products.
Visitor Management Solution
Africans are known for their grande style when it comes to welcoming visitors. As a digital-oriented enterprise, we understand this fact; hence we created a smart solution that is tailored towards this purpose.
Our visitor management solutions help you give special treatment to your visitors. For example, some organisations are used to the traditional way of asking their visitors to write down their information.
But with our smart solution, your visitors' information is captured with either a simple face scam or a thumbprint. Also, you get to choose the areas within your organisation that are off-limit to visitors as well as some staff. With this, you can maintain the security and safety of all personnel within your organisation.
Procurement Management
Hidden Brains' procurement management solution sees to all your business operations, like acquiring the materials that are needed for production and effective running; streamlines your day-to-day workflow and minimises manual errors that might be associated with your procurement activities.
Enough about racking your brain on the right items to be purchased for smooth production. Our e-procurement solution helps you to plan your production process with a centralised system, reduce the cost of production and supplies, and optimize your savings leading to better and more efficient management.
To Conclude
Technology can never be taken away from the growth factors imperative for business growth. Now is the time that business professionals need to seize every opportunity to re-invent their business operations, revive their customers-based portfolio, create more products and employment, continually evolve and survive in a world where competition is a part of market demands.
Do you want to rapidly evolve with the speed that innovative technology has brought to today's business?  Talk to our friendly customer service team. We are just a click away from helping you re-invent your business operations before it is too late.
Remember, we have more solutions that you can leverage for your business. Visit our solutions page to explore: https://www.hiddenbrains.africa/solutions.html