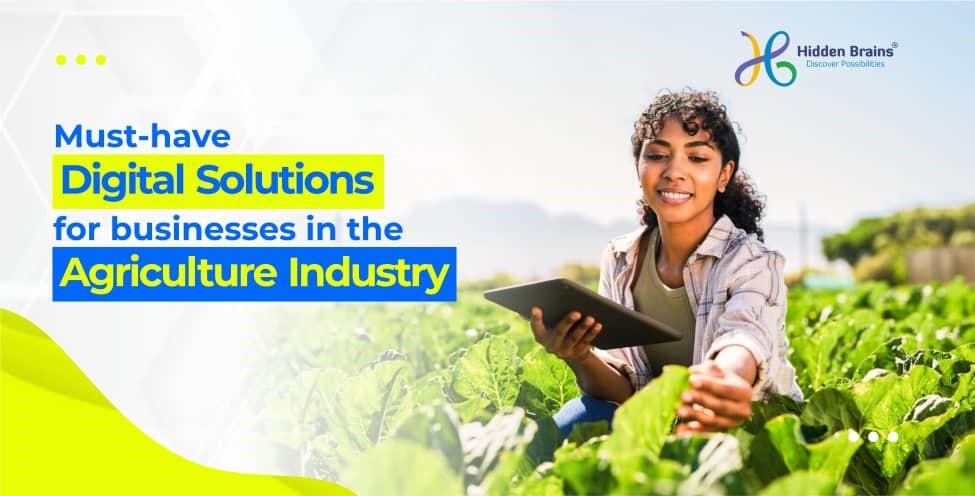 Digital technology has different perspectives from each industry, just as it has been used differently by various industries to proffer solutions. While for one sector, it could mean reducing operational costs and improving safety in the industry, for another, it is the ability to track products and evaluate the environment's safety.
Irrespective of what it could mean to different industries, what role does digital technology play in the business of agriculture? What solutions does it provide to aid the productivity of farmers?
Before technology, farmers depended on horses and oxen to strengthen crude wooden ploughs. They sowed using hoes with their bare hands. Then, inventions began to spring forth, and the need for machinery in the agricultural industry began to rise.
Digital technologies can enhance production and value for farmers and also provide the industry with the necessary tools to boost productivity and triple revenue.
Investing in digital technologies for businesses in the industry can transform agriculture into a world of new opportunities and sustain the culture of farming.
Benefits of Technology for Agro-Businesses
Today, digital technologies work differently from a few centuries ago due to new inventions. With these inventions, it is on record that the agriculture sector has become more productive and fast-paced in its operations. Therefore, as a business in the industry, you stand a chance to gain some benefits by maximising the potentials of technology.
These benefits include:
Increase in productivity: Several digital tools are available for businesses in the agro-industry that help increase their productivity and operational efficiency. By eliminating the need for manual, repetitive processes, agro-businesses can double their productivity rate through automation.
It enables farming precision and smart farm management: Farmers can enhance the quality and quantity of their output with technology. Precision farming, as the name implies, facilitates more efficient results and reduces environmental impact at the same time. Therefore, production is done using gadgets and machinery that help capture certain data that improve farming. These devices include:
Drones
GPS soil sampling
Telematics
Remote sensors
Robotics
Technology saves time: Technology provides leverage for workers across different fields to save time, and agriculture is no exception. With technology, agro-businesses can operate at a faster rate. For instance, if a farmer could harvest a field in one week using the traditional machinery provided in time past, then you can do the same work in a day with the help of technology. The same applies to other aspects of agriculture.
It reduces operational costs: Agricultural projects are usually capital-intensive, but with technology and modern solutions, agro-businesses can save costs. Projects requiring huge manpower and a lot of time can be completed faster with less manpower whilst optimising resources. Businesses can also avoid losses that were thought inevitable with traditional agricultural operations.
Improved transportation: Agro-businesses can easily transport products from one location to another. With the latest technology, they can also save time on delivery and fuel costs, reduce risks of accidents and choose the safest and fastest routes.
Wider reach and visibility: Technology allows businesses in the agriculture industry to reach new markets without having to leave their location. All thanks to e-commerce and social media, agro-businesses can collaborate with new clients and customers, as well as other businesses.
Must-Have Digital Solutions in the Agriculture Industry
Technology offers endless benefits for agro-businesses. However, only the right solutions can yield the right results.
The Warehouse Management System
This solution is a must-have for agro-businesses. Why? Because storage and distribution are essential in the agro-industry. There's always a need to store agro-products before supplying them to the clients or the market. Gone are the days when warehouses operate manually; a digital world requires digital solutions. A warehouse and inventory management solution helps you manage your distribution processes while eliminating human errors by a considerable percentage. This way, you can control your supply chain seamlessly and even remotely.
This means you can have warehouses in Lagos, Kano, Benue, and Kogi while your business is domiciled in Abuja. In addition, this solution allows easy access to the warehouse data through your device and real-time reporting on operations.
It is not only a ground-breaking solution but also a cost-effective one. You get to save costs while optimising resources, including the warehouse space, thereby reducing wastage and losses. Multiple orders can also be packaged and delivered hassle-free with this solution. Furthermore, with the real-time reporting feature, you can track your inventories and their movement for better management.
The Retail Management Solution
Not all agro-businesses are producers; some serve as retailers – direct links to the consumers. A retail management system is a platform that supports a company's retail operations.
The features of the retail management system include the following:
Operations streamline: With the software solutions, your workflows will be centralised and automated.
Order management: From the point of order to the point of delivery.
CRM software: You can collect and store customer data and make strategic decisions from the insights that the retail management solution will provide.
Store inventory: Like the warehouse management solution, the retail management solution (RMS) tracks store inventory.
Point of sale
Customer rewards management
Payment and credit management, and much more.
An all-in-one solution like this will change the game for agro-businesses in the retail sub-sector. Choosing the right retail management systems ensures that consumers are satisfied. It improves their customer experience, which is the primary goal of businesses across industries. Retail management solutions also give agro-retailers the visibility needed on digital platforms.
This solution is even more effective because it eliminates the cumbersome paperwork. In addition, everything is saved on the cloud – payment details, inventory, customer data, and other vital information.
The Vehicle Tracking Solution
Transportation is an essential aspect of agriculture. Farm produce, livestock, and even machinery need to be moved to points of sales (wholesale or retail) and, finally, points of consumption. Since, with the current state of things in the country, it is easy for the fleet or vehicle responsible for transportation to get lost, robbed, stuck in traffic for days, or develop faults, there is a need for a digital solution that caters to transportation in the industry.
These transportation issues stall delivery and increase the chances of the goods perishing or dying before they are delivered. However, with a digital solution like our VTS, agro-businesses no longer have to worry about these issues.
This innovative technology shows you the location of your fleet in real time, and that's not all it can do. You can also get insight into your vehicle's health and drivers' behaviour and even reduce fuel consumption. The solution also has smart alert features that notify you immediately your vehicles are out of range or in danger.
It gets better. With the route optimisation feature, your drivers can avoid traffic-heavy routes and bad roads. This feature guides your fleet to the right and fastest routes to save time and fuel. A solution such as this is a must-have for businesses in the agro industry for fast delivery and improved operations.
Conclusion
The agriculture industry has always been a flexible and agile industry that rides the wave of technology to improve operations with a sector-wide approach. These above-listed solutions are crucial for the expansion of agro-businesses.
But you can't do this alone. You need a team of experts to bring these solutions right to you, making you smile to the bank and satisfy your clients and, ultimately, the final consumers.
Hidden Brains has just the team of experts and an array of digital solutions that will improve operational efficiency for the agriculture industry.
When you partner with us, your growth in the industry is guaranteed, and you can go on to be at the forefront. Visit our website or send an email to [email protected] to get started.
Searching for The Best Digital Solutions for Businesses in the Agriculture Industry?