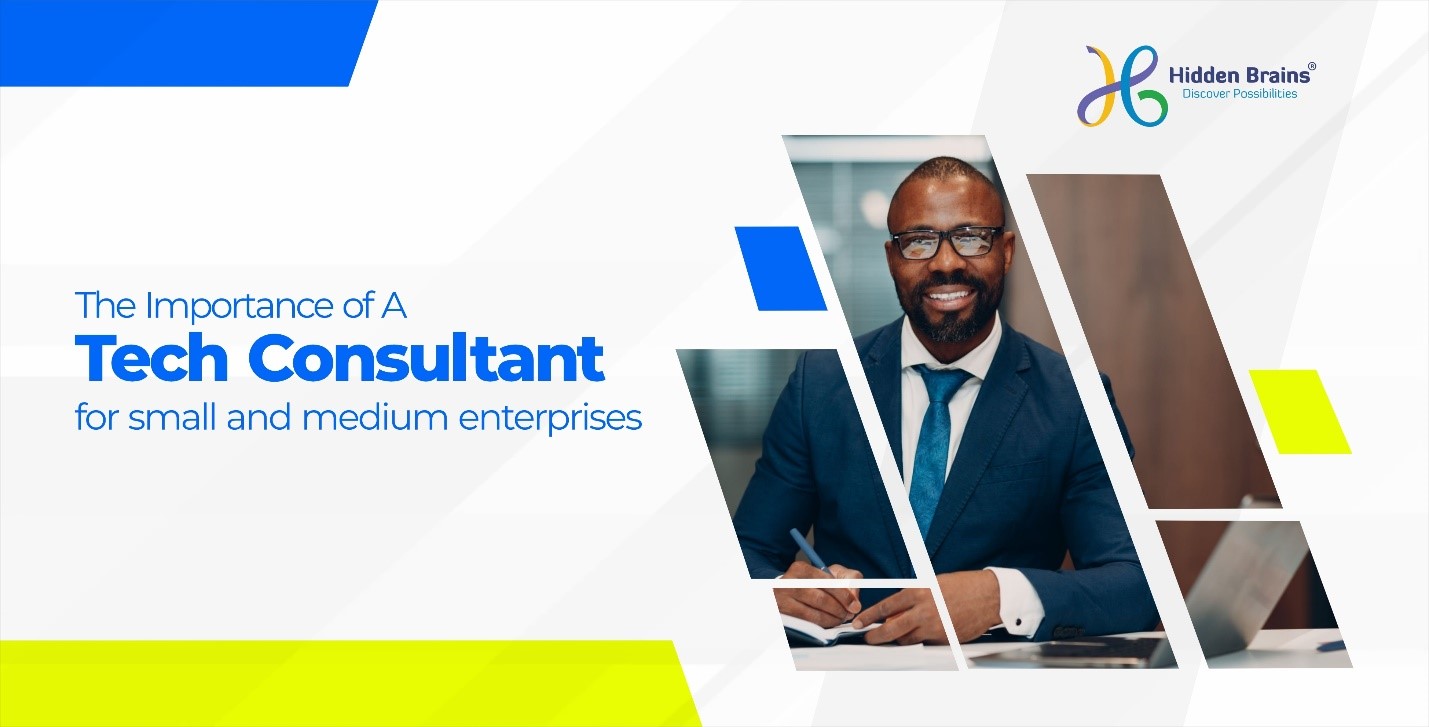 Small and Medium Enterprises play a major role in most economies, especially in under-developed and developing countries. They are responsible for the majority of businesses worldwide and are important contributors to employment creation and global economic and financial development. They represent about 90% of businesses and more than 50% of employment worldwide. Formal SMEs contribute up to 40% of national income (GDP) in emerging economies, and these numbers are significantly higher when including informal SMEs.
In an age where almost all aspects of human life are increasingly relying on technology for smooth and maximised productivity, small and medium-sized enterprises are actively using technology to maximise their outputs.
However, SMEs must understand what aspect of technology works for them and how to go about it. Hence, the need for a tech consultant.
Who Is a Tech Consultant?
A tech consultant, also known as an IT support engineer, provides organisations and firms with information technology support to operate more efficiently. A tech consultant has advanced knowledge of hardware and software solutions as well as network maintenance.
A tech consultant implements hardware and software solutions and enhances IT systems. They analyse the existing hardware, software, and network capabilities and work closely with the management and other relevant departments of a firm. They also consult with systems and users to gather information about needs and requirements to improve the system's efficiency and thus provide innovative solutions to users' requests.
A tech consultant may be employed as an in-house consultant or a freelance contractor.
What Does a Tech Consultant Do?
A tech consultant has an unending list of duties to perform. Some of these are:
A tech consultant performs analysis on software, hardware, and network capabilities.
A tech consultant improves system efficiency by seeking information from end-users and providing innovative solutions to any problem that may arise.
A tech consultant analyses and improves the performance of web-based portals.
A tech consultant resolves logged errors. They also ensure system performance metrics.
A tech consultant ensures that computer hardware remains compatible with software updates.
A tech consultant implements the latest technological advancements and solutions.
A tech consultant performs diagnostic tests and troubleshooting.
A tech consultant trains end-users on hardware functionality and software programs.
Why SMEs Need Technology and How Tech Consultants Help
It's a fast-growing technology-driven society that we live in. Small and medium-sized enterprises need tech-driven solutions to increase growth opportunities, providing access to the tools, resources, and community they need to grow online. In addition, tech-driven solutions ensure that business owners meet personal business goals and foster healthy global competition between others for future opportunities.
SMEs are considered the 'backbone of the economy' due to their significant role in alleviating poverty, creating employment opportunities, and facilitating local and international trade.
By providing affordable and efficient tech-driven solutions, small and medium-sized enterprises in emerging markets can boost their ability to achieve business objectives and improve contributions to economic growth.
Due to the contributions of SMEs to the economy, they must be sustained and given all they need to thrive. Technology provides a suitable medium for small businesses and enterprises to grow because of the following reasons:
Communication: Technology provides a faster, easier, and more efficient means of communication that covers a broader range. This includes communication within a firm, a team, clients, potential customers or investors, or the general public. Technology has been able to bridge the problem of distance as audio and video conferencing technologies, like Zoom and Skype, make scheduling and holding meetings across geographical borders convenient. Apps like Asana and Slack help simplify communication and track projects, details, and deadlines within a team, firm, or organisation. Email, social media, newsletters, and other platforms are also essential for communication and visibility.
Security: With an increase in cybercrime and data breaches, all businesses need to handle security with utmost importance. Today, most businesses store records, assets, and other vital information in the cloud or on endpoints. This has made it easy and necessary for businesses to adopt strict measures to ensure that their data, as well as that of their customers, are protected.
Efficiency: Technology increases the efficiency of products, services, and systems. It helps to track processes, maintain data flow, and manage client contacts and employee records. The increase in efficiency brought about by technology helps in the reduction of costs and also enables businesses to grow.
Employee Assistance: The use of technologies by employees in performing their tasks helps them deliver the best results and also reduces errors.
Optimisation of Resources: Technology helps businesses achieve much in less time without reducing the quality of goods or services. With the ability of technology to perform repetitive tasks that were earlier performed by people, costs are reduced and time is conserved.
Small and medium-sized enterprises need to have an in-depth knowledge of technical tools so that they can optimally leverage them. Management information systems help companies track their data, sales, productivity, and expenses. Only someone with vast knowledge of technology can put a business in the right technological part. This is why SMEs need to have tech consultants on board.
Tech consultants can handle information systems that will help businesses streamline administrative operations, reduce operation costs, innovate, improve customer service, and create healthy competition for businesses in the economy.
Benefits of Hiring a Tech Consultant for SMEs
The importance of tech consultants to small and medium-sized enterprises cannot be overemphasised. Here are some benefits SMEs stand to benefit from hiring a consultant:
Focus on Core Business Functions
No matter the field of business or industry, employees perform best when focusing on their key assignments. Teachers, lawyers, doctors, office managers, and all other employees are most productive when working on what they do best.
There is a lot of frustration and distraction trying to figure out which form of technology to adopt. However, by hiring a tech consultant who guides the business to the best choice, employees can focus on their core jobs and increase their output.
Specialist Experience and Expertise
Another benefit of hiring a tech consultant is that an experienced IT consultant is likely to have completed several previous similar projects. Knowing that an industry expert is guiding a business gives peace of mind and increases the likelihood of success. For instance, identifying what steps of a business process to substitute for efficiency requires experience from previous similar projects. This way, a suitable solution that fits a business is recommended.
Tech consultants have adequate knowledge of how to best implement a solution and what mistakes to avoid; they can also train a team on how to best use the new application. Hiring a tech consultant ensures that your project runs smoothly and is delivered on time.
Professional tech consultants can lend new perspectives based on their experience with a variety of projects and industry practices. This brings increased growth and improves the overall efficiency of an organisation.
Improve Productivity and Efficiency
Tech consultants are experts on new technologies, and their job is to help businesses find new ways to increase efficiency and productivity. Different technologies can be used to achieve these goals, such as file servers, mobile platforms, central databases, etc.
To best unlock the benefits of these complex technologies, they must be planned, implemented, and managed the right way.
Access to a Wider Breadth of Knowledge
Hiring a tech consultant allows SMEs to access the best expertise without having to commit long-term. Small businesses can tap into economies of scale and gain from the very best advice, as the tech expert works across multiple tech businesses. A tech consultant allows businesses access to expertise outside regular areas.
Managing IT staff brings additional burdens to managers of other departments. Just like adding new employees, there is an added cost for paid time-off, benefits, bonuses, etc., that do not come into play with hiring a tech consultant.
Choosing the right tech consultant can be difficult because distinguishing between different competent consultants can be arduous. So, instead of searching for the right tech consultant by yourself, it is preferable to look for a reputable IT consulting company.
Hidden Brains is home to experienced and competent tech consultants. We provide the right resources to cater to all your digital needs regardless of your business size and industry.
You can reach out to us on our website or email us at [email protected].
Looking for the best Tech Consultant for Your Business?